World Junior Track Championships - CM
Los Angeles, USA, July 28-August 1, 2004
Women Scratch 7.5 km
Cucinotta takes Italy's first gold
By Kristy Scrymgeour
Annalisa Cucinotta (Italy)
Photo ©: Mitch Friedman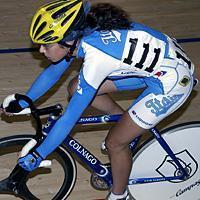 Italian Annalisa Cucinotta took out what was a very aggressive women's scratch race in Los Angeles today earning herself the title of Junior World Champion. Only thirty minutes after the gold medal performance, Cucinotta was back on the track racing the 1/8 final of the women's sprint, winning her heat against Franziska Konig of Germany.
When Cyclingnews caught up with her later in the night she was exhausted but very happy to be World Champion. "I felt good out there today," she said. "I felt like I could win." At the ripe old age of 18, Cuccinotta has been racing her bike for twelve years both on the road and the track, and with a Gold medal to her name, it is very likely she will be riding for some time yet.
The scratch race stated with a very early attack on lap four of the race. From there the action never stopped and with ten laps to go a move went then was very close to staying away. American Kimberly Geist and Paddy Walker from New Zealand, who coincidentally rode against each other for the Bronze medal in the Individual pursuit, broke away together and opened up a convincing lead.
With less than five laps remaining in the race they were chased down by Bianca Rogers of Australia and the race readied for a bunch sprint. Cuccinotta made her move with a lap to go and held off the bunch to take the win, with Jamila Machacova (Czech Republic) taking Silver and Rogers taking the Bronze for her second medal this week.
The scratch podium
Photo ©: Mitch Friedman

Rogers was also very tired after the race, commenting that even during the race she felt tired. "I had a 91 inch gear on which Gary [Sutton] thought it was perfect for me, but my legs thought it was a bit too big," she laughed.
Photography
Images by Mitch Friedman Photography
Results

1 Annalisa Cucinotta (Italy)            10:04.623
2 Jarmila Machacova (Czech Republic)    
3 Bianca Rogers (Australia)             
4 Stephanie Pohl (Germany)              
5 Pascale Jeuland (France)              
6 Roxane Knetemann (Netherlands)        
7 Karen Verbeek (Belgium)               
8 Andrea Wolfer (Switzerland)           
9 Paddy Walker (New Zealand)            
10 Berenice Castro (Mexico)             
11 Mylene Laliberte (Canada)            
12 Natalia Prokurorova (Russia)         
13 Paola Munoz (Chile)                  
14 Kimberly Geist (USA)                 
Rel Choe Sun Ae (Korea)                 
 
Final classification
 
1 Annalisa Cucinotta (Italy)            
2 Jarmila Machacova (Czech Republic)    
3 Bianca Rogers (Australia)             
4 Stephanie Pohl (Germany)              
5 Pascale Jeuland (France)              
6 Roxane Knetemann (Netherlands)        
7 Karen Verbeek (Belgium)               
8 Andrea Wolfer (Switzerland)           
9 Paddy Walker (New Zealand)            
10 Berenice Castro (Mexico)