World Junior Track Championships - CM
Los Angeles, USA, July 28-August 1, 2004
Amanda Spratt (Australia)
Photo ©: Mitch Friedman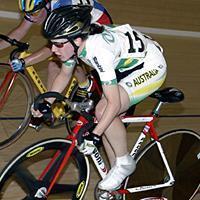 Women Points race 20 km
First Gold medal to Spratt
By Kristy Scrymgeour
Sixteen year old Amanda Spratt started her first Junior World Championship experience on a high note today when she took out the women's points race to win the first gold medal of the week. Racing a very smart and controlled race, Spratt showed traits of a rider with experience and definite promise of continued success.
Spratt dominated the early sprints by means of leading them out and holding off riders with her fast pace. Midway through the race Korean rider Choe Sun Ae went on the attack taking Kimberly Geist (USA) with her. Eventually the pace of the Korean was too strong for Geist and she fell of the wheel and got caught by the chasers. With a few laps to go Florence Girardet (France) made a very smart move and bridged to the gap to Sun Ae enabling her to take enough points to move into third place by the end. Sun Ae took second place and Spratt safely finished in the bunch to take the win.
Choe Sun Ae (Korea)
Photo ©: Mitch Friedman

Spratt was ecstatic when Cyclingnews caught up with her after the race. She had made multiple calls to her family back in New South Wales, Australia and said that it "still hadn't sunk in yet." Spatt said she went into the race wanting to "concentrate on keeping good position and not panicking. Gary [Sutton] told me to do everything that I would normally do in a race and not to think about it being an international race. That really helped me to relax," she added. Spatt, who comes from a long generation of cyclists said she is looking forward to celebrating the medal, "but right now I have to refocus for the pursuit tomorrow."
Exhausted after her ride was Sun Ae, but extremely happy to take second place in the event. This being her first ever race on an indoor track, Sun Ae said she felt good and "tried not to think about getting caught."
Photography
The women's points race podium
Photo ©: Mitch Friedman

Images by Mitch Friedman Photography
Images by Kristy Scrymgeour/Cyclingnews.com
Results

1 Amanda Spratt (Australia)            19 pts    27.30.57 (43.621km/h)
2 Choe Sun Ae (Korea)                  10
3 Florence Girardet (France)            8
4 Roxane Knetemann (Netherlands)        8
5 Karen Verbeek (Belgium)               8
6 Elena Raspopina (Russia)              8
7 Stephanie Pohl (Germany)              7
8 Jarmila Machacova (Czech Republic)    7
9 Rebecca Bertolo (Italy)               5
10 Andrea Wolfer (Switzerland)          3
11 Kimberly Geist (USA)                 3
12 Paddy Walker (New Zealand)           1
13 Paola Munoz (Chile)                  1
14 Berenice Castro (Mexico)              
                                          
One lap behind                           
                                          
15 Naomi Cooper (Canada)              -20

Sprints
 
1 - 70 to Go
 
1 Jarmila Machacova (Czech Republic)    5 pts
2 Elena Raspopina (Russia)              3
3 Amanda Spratt (Australia)             2
4 Paddy Walker (New Zealand)            1
5 Roxane Knetemann (Netherlands)         
 
2 - 60 to Go
 
1 Florence Girardet (France)            5 pts
2 Rebecca Bertolo (Italy)               3
3 Karen Verbeek (Belgium)               2
4 Roxane Knetemann (Netherlands)        1
5 Jarmila Machacova (Czech Republic)     
 
3 - 50 to Go
 
1 Amanda Spratt (Australia)             5 pts
2 Roxane Knetemann (Netherlands)        3
3 Andrea Wolfer (Switzerland)           2
4 Rebecca Bertolo (Italy)               1
5 Karen Verbeek (Belgium)                
 
4 - 40 to Go
 
1 Amanda Spratt (Australia)             5 pts
2 Karen Verbeek (Belgium)               3
3 Elena Raspopina (Russia)              2
4 Andrea Wolfer (Switzerland)           1
5 Rebecca Bertolo (Italy)                
 
5 - 30 to Go
 
1 Amanda Spratt (Australia)             5 pts
2 Karen Verbeek (Belgium)               3
3 Roxane Knetemann (Netherlands)        2
4 Paola Munoz (Chile)                   1
5 Jarmila Machacova (Czech Republic)     
 
6 - 20 to Go
 
1 Stephanie Pohl (Germany)              5 pts
2 Elena Raspopina (Russia)              3
3 Amanda Spratt (Australia)             2
4 Rebecca Bertolo (Italy)               1
5 Karen Verbeek (Belgium)                
 
7 - 10 to Go
 
1 Choe Sun Ae (Korea)                   5 pts
2 Kimberly Geist (USA)                  3
3 Roxane Knetemann (Netherlands)        2
4 Jarmila Machacova (Czech Republic)    1
5 Andrea Wolfer (Switzerland)            
 
8 - Final
 
1 Choe Sun Ae (Korea)                   5 pts
2 Florence Girardet (France)            3
3 Stephanie Pohl (Germany)              2
4 Jarmila Machacova (Czech Republic)    1
5 Andrea Wolfer (Switzerland)