World Junior Track Championships - CM
Los Angeles, USA, July 28-August 1, 2004
Women Keirin
Shuang Guo doubles up
By Kristy Scrymgeour
Shuang Guo
Photo ©: Mitch Friedman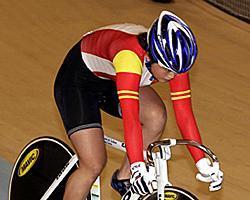 Guo stamped her dominance on the women's sprint events again today when she easily won the final of the women's Keirin to take her second gold medal of the week. Guo said her strategy was to wait for the derny to pull of "and then just go." This she did and was not to be touch, her gap opening up with each pedal stroke.
Fighting it out for second place wazs Miriam Welte (Germany) who also took second place in the 500m race yesterday, with the Bronze medal going to first year junior Skye-Lee Armstrong from Australia.
Guo has been racing the Keirin event against the senior riders in the world cup series this year and had two world cup wins to her name before coming here."It was good to get the experience in the world cups this year," she said. "It gave me confidence in today's race."
Guo simply said she felt "very happy" to win another gold medal and when asks if she is going to make it three in the women's sprint event, she said with a shy smile, "I hope so."
Armstrong who took third in the race was happy stating that she is "not a total sprinter. I mainly ride on the road," she
Keirin medallists
Photo ©: Kristy Scrymgeour/Cyclingnews.com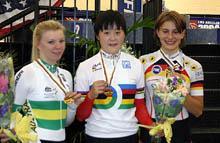 added, "but I suppose the Keirin is mainly who's got the most guts." Of her strategy, Armstrong said she had two choices. "Either to lead out or to do what my coach said and to sit on [Guo's] wheel. I tried to get her wheel, but I had to fight the German for it."
In the 7-12 final, the heat was stopped after a lap because the judges sighted a rider who was not supposed to be in the race. The stall was lucky for Olga Streltsova (Russia), who had been forced to pull out of the race because of trouble with her foot strap. When the race actually got underway it was the French rider Elodie Henriette who made the convicing move of attacking with a lap to go and holding off the other five riders by bikelengths to win the race and take seventh place overall in the women's Keirin event.
Photography
Heats
Images by Mitch Friedman Photography
Finals
Images by Mitch Friedman Photography
Results

7-12 Final
 
7 Elodie Henriette (France)                 12.248 (58.785 km/h)
8 Bridgette Broad (New Zealand)
9 Jennifer Loutit (Australia)
10 Olga Streltsova (Russia)
11 Irene Aravena (Chile)
12 Natalie Klemko (USA)
 
1-6 Final
 
1 Shuang Guo (China)                        12.298 (58.546 km/h)
2 Miriam Welte (Germany)
3 Skye-Lee Armstrong (Australia)
4 Natalia Prokurorova (Russia)
5 Jane Gerisch (Germany)
DSQ Annalisa Cucinotta (Italy)
 
Final classification
 
1 Shuang Guo (China)
2 Miriam Welte (Germany)
3 Skye-Lee Armstrong (Australia)
4 Natalia Prokurorova (Russia)
5 Jane Gerisch (Germany)
7 Elodie Henriette (France)
8 Bridgette Broad (New Zealand)
9 Jennifer Loutit (Australia)
10 Olga Streltsova (Russia)