World Junior Track Championships - CM
Los Angeles, USA, July 28-August 1, 2004
Main Page Results Qualification Round 1
Women Individual pursuit
Binnendijk succeeds
By Kristy Scrymgeour
Marlijn Binnendijk (Netherlands)
Photo ©: Mitch Friedman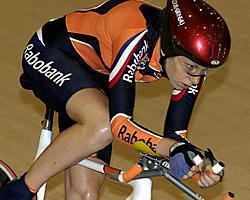 Marlijn Binnendijk won the gold medal ride off tonight when she beat Australian Bianca Rogers in the 2km individual pursuit. Binnendijk led from the start, but it looked like Rogers might come back with a few to go. In the final lap Rogers died and Binnendijk brought it home to win her first Junior World Championship, fulfilling her aim of bettering her bronze medal of 2003.
After the race Binnendijk was all smiles. "It was wonderful," she said. "I did the first lap fast and I thought 'wow, that's a good start.' After that in my eye I could see the Australian girl and I knew things were going okay, but the last laps were really hard. When I crossed the finish line I heard the first gun and I knew I had won."
Binnendijk said her improvement this year is because she has spent so much more time training on the track. "Last year there was only one track in Holland, but this year we have two. My aim was definitely to do better than my Bronze medal from last year."
Pursuit podium
Photo ©: Kristy Scrymgeour/Cyclingnews.com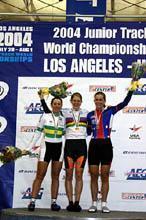 There will definitely be a party for Binnendijk tonight. "I don't know where," she said. "But Sunday night we will also party with the whole team."
Rogers who took second place was very pleased with the result especially since it is her first year competing at Junior World's. "Yesterday in my first pursuit I was shaking on the bike, I was so nervous," she said. "It's unbelievable how nervous you get."
During the ride Rogers was making a comeback with a lap to go before hitting the wall at the very end. "I saw the other coach on the other side and knew it was close. Gary [Sutton] was asking for more and I kept giving as much as I could but that was all I had."
Rogers said that her ride today has given her motivation for next year. "Obviously I want to break my personal best and by Nationals next year I want to aim for a world record on my home track in Adelaide. Then my goal is to go one better and win the gold in the World Championships in Austria.
Winning the ride off for third place was US National Champion Kimberly Geist who beat out Amanda Spratt from Australia.
Photography
Images by Mitch Friedman Photography
Round One
And then there were four
By Kristy Scrymgeour
The first round of the Women's Individual pursuit saw American Kimberly Geist beat World Points Race Champion Amanda Spratt to make it through to the Bronze medal ride off which will take place tonight. She will be up against Paddy Walker from New Zealand who won her round this morning against Rebecca Bortolo of Italy.
Racing each other in the final tonight will be Bianca Rogers (Australia) and Marlijn Binnendijk (Netherlands) who won their heats this morning against Nina Kohn (Germany) and Florence Girardet (France).
Binnendijk goes for one better
By Kristy Scrymgeour
This morning saw the women back on the track for the 2km pursuit qualifications with Dutch rider Marlijn Binnendijk riding 47.922 km/h to clock the fastest time of the day. Binnendijk won the Bronze medal in the 2003 Junior World Champs and showed today that she is on track to medal again and perhaps better her Bronze from last year.
The junior women's pursuit world record time is one of the longest standing junior records. Henka Kupfernagel of Germany set the time of 2.25.279 in August of 1992. Today's fastest time of 2.30.244 still does not come close to that.
Qualifying in second and third place today were Australian Bianca Rogers and Paddy Walker (New Zealand) with junior points race world champion as of last night, Amanda Spratt (Australia) qualifying in fourth place.
Photography
Images by Mitch Friedman Photography
Results
Qualification


1 Marlijn Binnendijk (Netherlands)         2.30.244  (47.922 km/h)
2 Bianca Rogers (Australia)                2.31.434
3 Paddy Walker (New Zealand)               2.33.242
4 Amanda Spratt (Australia)                2.33.301
5 Kimberly Geist (USA)                     2.33.448
6 Rebecca Bertolo (Italy)                  2.33.587
7 Nina Köhn (Germany)                      2.35.642
8 Florence Girardet (France)               2.37.348
9 Irina Zemlyanskaya (Russia)              2.38.476
10 Pascale Jeuland (France)                2.38.680
11 Stephanie Pohl (Germany)                2.39.742
12 Jarmila Machacova (Czech Republic)      2.39.974
13 Roxane Knetemann (Netherlands)          2.40.862
14 Natalie Klemko (USA)                    2.41.972
15 Mylene Laliberte (Canada)               2.45.599
16 Elena Raspopina (Russia)                2.46.564
17 Naomi Cooper (Canada)                   2.47.294
18 Berenice Castro (Mexico)                2.48.402

Round 1

Heat 1
1 Kimberly Geist (USA)                     2.32.334 (47.265 km/h)
2 Amanda Spratt (Australia)                2.32.518
 
Heat 2
1 Paddy Walker (New Zealand)               2.32.663 (47.163 km/h)
2 Rebecca Bertolo (Italy)                  2.34.273
 
Heat 3
1 Bianca Rogers (Australia)                2.29.883 (48.037 km/h)
2 Nina Köhn (Germany)                      2.33.775
 
Heat 4
 
1 Marlijn Binnendijk (Netherlands)         2.30.243 (47.922 km/h)
2 Florence Girardet (France)               2.37.118

Finals

3/4 Final
 
1 Kimberly Geist (USA)                     2:32.612 (47.178 km/h)
2 Paddy Walker (New Zealand)               2:32.911 (47.086 km/h)
 
Final
 
1 Marlijn Binnendijk (Netherlands)         2:30.202 (47.935 km/h)
2 Bianca Rogers (Australia)                2:32.468 (47.223 km/h)