Recently on Cyclingnews.com
World Junior Track Championships - CM
Los Angeles, USA, July 28-August 1, 2004
Women 500m t.t.
Guo defends title
By Kristy Scrymgeour
Shuang Guo (China)
Photo ©: Kristy Scrymgeour/Cyclingnews.com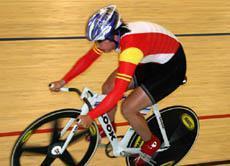 Defending champion Shuang Guo of China rode to another Junior World Championship title tonight in the women's 500m-time trial. Guo was the final rider on the track due to her seeding and lived up to expectations to take the win in a time of 35.821. "My time was slower than last year," she said, "but the track is different, so I am happy with my time."
Guo has been racing for four years on the track and came into the event relatively confident due to her successful season to date. Tomorrow she will ride the women's Keirin, an event she didn't compete in last year. "This year I rode the world cups," she said, " and I won two gold medals in the Keirin, so hopefully I can do well tomorrow." Tonight Guo says she will get some rest and prepare for tomorrow's racing, leaving the celebrations for later in the week.
Taking second and third place were the German duo of Miriam Welte (Germany) and Jane Gerisch (Germany) mirroring the results of their teammates Sascha Damrow and Patrick Gretsch in the men's pursuit. Welte was leading the race from mid way through the heats and had the suspense of waiting to see if her time would be beaten for quite some time. When Cyclingnews caught up with her after the race she was relieved and happy. "I was nervous whilst I was waiting," she said "Last year I came ninth, and today I did a personal best time so am very pleased with second place."
Photography
Images by Kristy Scrymgeour/Cyclingnews.com
Results
1 Shuang Guo (China)                   35.821 (50.250km/h)
2 Miriam Welte (Germany)               36.560 (49.234km/h)
3 Jane Gerisch (Germany)               36.719 (49.021km/h)
4 Elodie Henriette (France)            36.990 (48.662km/h)
5 Annalisa Cucinotta (Italy)           37.127 (48.482km/h)
6 Jin A You (Korea)                    37.413 (48.112km/h)
7 Hayley Wright (Australia)            37.436 (48.082km/h)
8 Jennifer Loutit (Australia)          37.577 (47.902km/h)
9 Marlijn Binnendijk (Netherlands)     38.050 (47.306km/h)
10 Bridgette Broad (New Zealand)       38.056 (47.299km/h)
11 Olga Streltsova (Russia)            38.655 (46.566km/h)
12 Laura Brown (Canada)                38.684 (46.531km/h)
13 Tela Crane (USA)                    38.895 (46.278km/h)
14 Irene Aravena (Chile)               39.046 (46.099km/h)
15 Natalie Klemko (USA)                39.307 (45.793km/h)
16 Mylene Laliberte (Canada)           39.780 (45.249km/h)
17 Natalia Prokurorova (Russia)        39.969 (45.035km/h)