World Junior Track Championships - CM
Los Angeles, USA, July 28-August 1, 2004
Men Team sprint
A third gold for Germany
By Kristy Scrymgeour
Team Germany
Photo ©: Mitch Friedman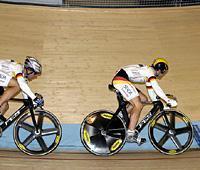 The German team, including Robert Forstemann, Benjamin Whitmann and Maximilian Levy, rode very strongly as a team today to take out the men's team sprint, posting fastest times consistently throughout the rounds. Aided by a very quick start and of course, the newly crowned Junior World Kilo Champion Levy to finish it off, the team was hard to beat.
Levy said it was a good feeling taking the gold for the second time this week. "It was great for me to give something back to my teammates," he said. "We had a good team and we worked very well together to win this race."
Qualifying with a time of 46.638 the Germans then faced the Czech team in the first round. Again they posted the fastest time of the round (47.102) which put them through to the Gold medal ride off. Coming up against them with a time of 47.110 would be Japan who beat out Russia in the first round. Also winning their first round heats were the US and Australia who's times of 47.268 and 47.226 put them in the Bronze medal ride off.
Team Japan rides to silver
Photo ©: Mitch Friedman
In the final, the Germans didn't disappoint and sped to victory with a time of 46.284 beating the Japanese by almost a second. "It wasn't easy," said Levy who has had a very full week of racing. "I was tired physically and in my mind, but I gave it everything because we had such a good atmosphere in the team." Levy, who is only 17 has another year as a Junior and will now go home to Germany and for the National Championships, then finally some rest before he starts into his training for next season.
The Japanese team were also ecstatic with their performance. "This is the greatest moment of our lives," they told Cyclingnews.
In the Bronze medal ride of the US team led from the start with Ben Barczewski very quick out of the blocks. Michael Blatchford took over from him and with one lap to the US was leading by half a second over the Aussies. Daniel Thorsen, however came home very strongly for Australia and pipped the Americans on the line by three tenths of a second for the Bronze.
The team sprint podium
Photo ©: Mitch Friedman

Photography
Images by Mitch Friedman Photography
Results
Qualifying
 
1 Germany                           46.638 (57.893km/h)
  Robert Förstemann
  Maximilian Levy
  Benjamin Wittmann
2 Australia                         47.273 (57.115km/h)
  Corey Heath
  Shane Perkins
  Daniel Thorsen
3 Russia                            47.386 (56.979km/h)
  Denis Dmitriev
  Mikhail Shikhalev
  Stoyan Vasev
4 France                            47.398 (56.964km/h)
  David Cabrol
  Denis Rivenaire
  Alexandre Volant
5 USA                               47.482 (56.864km/h)
  Ben Barczewski
  Michael Blatchford
  Ryan Nelman
6 Japan                             47.731 (56.567km/h)
  Yu Onishi
  Atsushi Shibasaki
  Kazumichi Sugata
7 Greece                            48.372 (55.817km/h)
  Panagiotis Barmpopoulos
  Dimitrios Kalamaras
  Athanasios Lefakis
8 Czech Republic                    49.489 (54.558km/h)
  Tomas Babek
  Zbysek Mityska
  Ivo Vildomec
9 Netherlands                       49.909 (54.098km/h)
  Bas Eckmann
  Lars Jun
  Yondi Schmidt
10 Canada                           51.463 (52.465km/h)
  Zach Grant
  Mark Macdonald
  Rene Regimbauld
 
3/4 final
 
1 Australia                         46.861 (57.617km/h)
  Corey Heath
  Shane Perkins
  Daniel Thorsen
2 USA                               47.096 (57.330km/h)
  Ben Barczewski
  Michael Blatchford
  Aaron Kacala
 
Final
 
1 Germany                           46.284 (58.335km/h)
  Robert Förstemann
  Maximilian Levy
  Benjamin Wittmann
2 Japan                             47.130 (57.288km/h)
  Yu Onishi
  Atsushi Shibasaki
  Kazumichi Sugata
 
Final ranking
 
1 Germany
  Robert Förstemann
  Maximilian Levy
  Benjamin Wittmann
2 Japan
  Yu Onishi
  Atsushi Shibasaki
  Kazumichi Sugata
3 Australia
  Corey Heath
  Shane Perkins
  Daniel Thorsen
4 USA
  Ben Barczewski
  Michael Blatchford
  Aaron Kacala
5 Russia
  Denis Dmitriev
  Mikhail Shikhalev
  Stoyan Vasev
6 France
  David Cabrol
  Denis Rivenaire
  Sireau Kévin
7 Greece
  Panagiotis Barmpopoulos
  Dimitrios Kalamaras
  Athanasios Lefakis
8 Czech Republic
  Tomas Babek
  Zbysek Mityska
  Ivo Vildomec
9 Netherlands
  Bas Eckmann
  Lars Jun
  Yondi Schmidt
10 Canada
  Zach Grant
  Mark Macdonald
  Rene Regimbauld