World Junior Track Championships - CM
Los Angeles, USA, July 28-August 1, 2004
Main Page Results Qualification Round of 18
Men Sprint
Second gold for Perkins
By Kristy Scrymgeour
Shane Perkins (Australia)
Photo ©: Mitch Friedman
Keeping the crowd on the edge of their seats for most of the night's session was the men's sprint finals. Shane Perkins (Australia) and Michael Blatchford (USA) won both heats of their semi final in the early evening, knocking out Maximilian Levy (German) and Kevin Sireau (France) respectively to come up against each other in the final.
In the first heat to the roar of his home crowd, Blatchford, who had the fastest qualifying time, led out the sprint to take the win and grab the advantage over Perkins in the best-of-three race event. Blatchford said it was good and bad to ride in front of a home crowd. "I know that they're all behind me," he smiled, "but on the other hand they're all watching me too."
It was the second heat where Blatchford really felt the pressure and this time tried to come around Perkins rather than leading it out. "After the first one, I think he thought he'd already won and was ready to shake my hand," said Perkins, "so I was determined to prove him wrong. He thought he could come around me and it didn't work."
Therefore the final heat became a fight to get in front to lead it out. "We are both pretty evenly matched in speed," said Blatchford, "so it was a matter of who got the lead."
In the end perhaps it was experience that decided the race. "I'm in very good physical shape and I've done the training," explained Blatchford. "In the last six months I've gained 20lbs of muscle mass and kept the body fat down. What I'm lacking is experience."
Matthew Crampton (Great Britain)
Photo ©: Mitch Friedman

With just over two laps to go Blatchford made his move and tried to come around Perkins to get the lead, but Perkins was ready for him and picked up the pace for an early start to the action. With positioning being his advantage, Perkins brought it home to take the win and claim his second gold medal of the meet.
After being "pretty damned nervous" before the start, Perkins was very happy to have won this battle "It's hard to believe," said Perkins of yet another Gold medal, "it hasn't sunk in yet."
For Blatchford the result was a bit of déjŕ vu. "The same thing happened to me this year in Cuba when I was up against Lopez," he explained. "I beat him in the first heat and then I got beaten in the next two."
Perkins lines up again tomorrow for the team sprint event and a chance to take a third gold. "Hopefully we can knock off another one," he said. "Especially for the other guys."
On the other hand Blatchford has other ideas. "I still have one more chance to take home a rainbow jersey. I'm not giving up that easily."
In the ride for Bronze, Maximilian Levy (Germany) won both heats against French rider Kevin Sireau increasing the German medal count to nine so far in the competition.
The sprint podium
Photo ©: Mitch Friedman

Photography
Images by Mitch Friedman Photography
Blatchford posts quickest 200
By Kristy Scrymgeour
Michael Blatchford (USA)
Photo ©: Mitch Friedman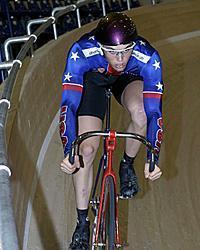 US National Champion Michael Blatchford qualified with the fastest time in the men's sprint this morning and went on to just edge out his teammate in round one. Blatchford will now compete against Alexandre Volant (France) in the next round tonight and has every intention of making it to the final. "I'll be up against Shane Perkins in the final unless he gets eliminated beforehand," said Blatchford when Cyclingnews caught up with him after the qualifier."
Blatchford said his win in the qualifiers, "certainly took a load of [his] mind, now I know where I stand. I was hoping for top three."
He went on to say that he has come a long way in the last six month. "I live at the training centre now which has allowed me all the tools to get where I am,"he explained. "As long as I'm in the sport that's where I'll be. Who knows maybe four years from now…here I come Beijing."
Because his teammate Ben Barczewski qualified in 18th position, he came up against him in round one and was certainly challenged. "I expect him to race me hard," he said beforehand, and on the line Blatchford won by inches on the line.
Other countries including Germany and Australian were also forced to go up against each other in the first round with Perkins (Australia), who won the Keirin last night, beating out Corey Heath and German Robert Forstemann knocking out his teammate Benjamin Wittmann in a photo finish.
Tonight will see six heats raced in round two of the team sprint, followed by the final shortly after.
Photography
Images by Mitch Friedman Photography
Results
Round of 18


Heat 1

1 Michael Blatchford (USA)                  11.592 (62.112 km/h)
2 Ben Barczewski (USA)

Heat 2

1 Shane Perkins (Australia)                 11.576 (62.198 km/h)
2 Corey Heath (Australia)

Heat 3

1 Matthew Crampton (Great Britain)          11.945 (60.276 km/h)
2 Alexandre Volant (France)

Heat 4

1 Kévin Sireau (France)                     11.458 (62.838 km/h)
2 Athanasios Lefakis (Greece)

Heat 5

1 Robert Förstemann (Germany)               11.755 (61.251 km/h)
2 Benjamin Wittmann (Germany)

Heat 6

1 Maximilian Levy (Germany)                 11.573 (62.214 km/h)
2 Ryan Nelman (USA)

Heat 7

1 Stoyan Vasev (Russia)                     11.412 (63.091 km/h)
2 David Cabrol (France)

Heat 8

1 Denis Dmitriev (Russia)                   11.810 (60.965 km/h)
2 Panagiotis Barmpopoulos (Greece)

Heat 9

1 Daniel Thorsen (Australia)                11.343 (63.475 km/h)
2 Mikhail Shikhalev (Russia)

Round of 18 repechage

Rep 1

1 Ben Barczewski (USA)                      11.541 (62.386 km/h)
2 Ryan Nelman (USA)
3 Mikhail Shikhalev (Russia)

Rep 2

1 Benjamin Wittmann (Germany)               11.199 (64.291 km/h)
2 Corey Heath (Australia)
Rel David Cabrol (France)

Rep 3

1 Alexandre Volant (France)                 11.479 (62.723 km/h)
2 Panagiotis Barmpopoulos (Greece)
3 Athanasios Lefakis (Greece)
Quarterfinals

Quarterfinal Heat 1 - Race #1
 
1 Michael Blatchford (USA)                  11.184 (64.378 km/h)
 Matthew Crampton (Great Britain)
 
Quarterfinal Heat 1 - Race #2
 
1 Michael Blatchford (USA)                  11.231 (64.108 km/h)
 Matthew Crampton (Great Britain)
 
Quarterfinal Heat 2 - Race #1
 
1 Shane Perkins (Australia)                 11.182 (64.389 km/h)
 Daniel Thorsen (Australia)
 
Quarterfinal Heat 2 - Race #2
 
1 Shane Perkins (Australia)                 11.471 (62.767 km/h)
 Daniel Thorsen (Australia)
 
Quarterfinal Heat 3 - Race #1
 
1 Maximilian Levy (Germany)                 11.773 (61.157 km/h)
 Ben Barczewski (USA)
 
Quarterfinal Heat 3 - Race #2
 
1 Maximilian Levy (Germany)                 11.115 (64.777 km/h)
 Ben Barczewski (USA)
 
Quarterfinal Heat 4 - Race #1
 
1 Denis Dmitriev (Russia)                   11.203 (64.268 km/h)
 Kévin Sireau (France)
 
Quarterfinal Heat 4 - Race #2
 
1 Kévin Sireau (France)                     11.267 (63.903 km/h)
 Denis Dmitriev (Russia)
 
Quarterfinal Heat 4 - Race #3
 
1 Kévin Sireau (France)                     11.709 (61.491 km/h)
 Denis Dmitriev (Russia)

Repecharges

Round of 18 Rep 1
 
1 Ben Barczewski (USA)                      11.541 (62.386 km/h)
2 Ryan Nelman (USA)
3 Mikhail Shikhalev (Russia)
 
Round of 18 Rep 2
 
1 Benjamin Wittmann (Germany)               11.199 (64.291 km/h)
2 Corey Heath (Australia)
Rel David Cabrol (France)
 
Round of 18 Rep 3
 
1 Alexandre Volant (France)                 11.479 (62.723 km/h)
2 Panagiotis Barmpopoulos (Greece)
3 Athanasios Lefakis (Greece)

Semi Final

Semifinal Heat 1 - Race #1
 
1 Michael Blatchford (USA)               11.091 (64.918 km/h)
 Kévin Sireau (France)
 
Semifinal Heat 1 - Race #2
 
1 Michael Blatchford (USA)               11.227 (64.131 km/h)
 Kévin Sireau (France)
 
Semifinal Heat 2 - Race #1
 
1 Shane Perkins (Australia)              11.012 (65.383 km/h)
 Maximilian Levy (Germany)
 
Semifinal Heat 2 - Race #2
 
1 Shane Perkins (Australia)              11.302 (63.706 km/h)
 Maximilian Levy (Germany)

Final Ride 9-12

1/8 Final 9th-12th
 
9 Benjamin Wittmann (Germany)            11.832 (60.852 km/h)
10 Robert Förstemann (Germany)
11 Alexandre Volant (France)
12 Stoyan Vasev (Russia)

Final Ride 5-8

Quarterfinal 5-8 Ride
 
5 Matthew Crampton (Great Britain)       11.495 (62.636 km/h)
6 Ben Barczewski (USA)
7 Denis Dmitriev (Russia)
DNS Daniel Thorsen (Australia)

Men Sprint Final

3rd-4th - Race #1
 
1 Maximilian Levy (Germany)              11.178 (64.412 km/h)
 Kévin Sireau (France)
 
3rd-4th - Race #2
 
1 Maximilian Levy (Germany)              11.590 (62.123 km/h)
 Kévin Sireau (France)
 
Final - Race #1
 
1 Michael Blatchford (USA)               11.065 (65.070 km/h)
 Shane Perkins (Australia)
 
Final - Race #2
 
1 Shane Perkins (Australia)              10.882 (66.164 km/h)
 Michael Blatchford (USA)
 
Final - Race #3
 
1 Shane Perkins (Australia)              11.047 (65.176 km/h)
 Michael Blatchford (USA)

Men Sprint Final Classification

1 Shane Perkins (Australia)
2 Michael Blatchford (USA)
3 Maximilian Levy (Germany)
4 Kévin Sireau (France)
5 Matthew Crampton (Great Britain)
6 Ben Barczewski (USA)
7 Denis Dmitriev (Russia)
9 Benjamin Wittmann (Germany)
10 Robert Förstemann (Germany)