World Junior Track Championships - CM
Los Angeles, USA, July 28-August 1, 2004
Men Scratch 10 km
Thomas takes Gold for Great Britain
By Kristy Scrymgeour
Geraint Thomas (Great Britain)
Photo ©: Mitch Friedman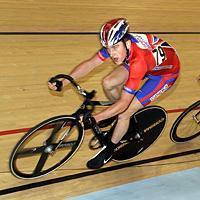 Geraint Thomas from Cardiff, Wales rode a very nice race to take out the men's 10 km scratch race this evening rounding off day one of racing at the Home Depot Center. Despite still having a few events to come, Thomas said he will definitely make time to celebrate tonight.
The race started at a blistering pace with Pavel Korzh making the first attack of the day. When the Russian went he sparked a following and Luis Mansilla (Chile), Kyle Swain (Russia), Alexandru Pliuschin (Moldavia) and Thomas went with him. Shortly after Adam Coker (New Zealand) and Joo Hyun Wook (Korea) bridged together to reach the front five and in an impressive move Rafâa Chtioui (Tunisia) soloed across making the break eight riders.
The break worked well together, but eventually Chtiuoi and the originator of the break Korzh were dropped and the remaining six riders lapped the field with 17 laps remaining. With seven laps to go Pliuschin attacked but was quickly reeled in and with two to go Patrick Kos (Netherlands) tried to go, but the race ended in a sprint with Thomas taking the honours, followed by Mansilla and Pliuschin.
Thomas said he felt "awesome" out on the track. "I did the pursuit in the morning," he explained, "and I think it opened up my legs up." Geraint added that when the Russian attacked, he knew he had to go. "He beat me in the European Championships this year so I knew I had to watch him." Finally after lapping the field Geraint was confident in the sprint but was watching the quick South African. Silver medal winner Mansilla was very happy with a medal, considering his goal was simply to "finish in a good position."
The men's scratch podium
Photo ©: Mitch Friedman

Going with the early move, Mansilla said that he too "was watching the South African rider. My coach told me to keep an eye on his, so I went and then I just kept it going. I just wanted to keep it going."
Photography
Images by Mitch Friedman Photography
Results
1 Geraint Thomas (Great Britain)    11.40.125 (51.419 km/h)
2 Luis Mansilla (Chile)                      
3 Alexandru Pliuschin (Moldavia)             
4 Adam Coker (New Zealand)                   
5 Kyle Swain (South Africa)                  
6 Joo Hyun Wook (Korea)                      
 
One lap behind
 
7 Patrick Kos (Netherlands)                  
8 Teruya Bosyu (Japan)                       
9 Jiri Hochmann (Czech Republic)             
10 Marcel Barth (Germany)                    
11 Kim M. Nielsen (Denmark)                  
12 Georg Tazreiter (Austria)                 
13 Enrico Biondi (Italy)                     
14 Rafâa Chtioui (Tunisia)                   
15 Charly Vives (Canada)                     
16 Alexandr Silaichev (Kazakhstan)           
17 Tuanua Zahn (France)                      
18 Michael Schnabel (USA)                    
19 Tim Roels (Belgium)                       
20 Daniel Thorsen (Australia)                
DNF Pedro Vélez Alcivar (Equador)            
DNF Simone Biaggi (Switzerland)              
DNF Yury Yurchanka (Bielorussia)             
DNF Kenardo Dunn (Jamaica)                   
DNF Pavel Korzh (Russia)