World Junior Track Championships - CM
Los Angeles, USA, July 28-August 1, 2004
Men Kilometer t.t.
"Best day of my life," said Levy
By Kristy Scrymgeour
Maximilian Levy (Germany)
Photo ©: Mitch Friedman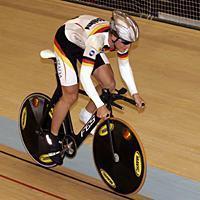 Maximilian Levy (Germany) surprised himself tonight when he took out the men's kilo to become a Junior World Champion. "It's the greatest moment of my life," Levy said, explaining that his primary event is the sprint and so to win this race is like "the icing on the cake. In my heart I am a sprinter," he added, "I am very surprised to win this."
Levy was one of the earlier starters of the day and came out and blitzed the fastest time setting himself up as the man to beat. Conisistently riders went out fast after him with promise to surpass his time, including his teammate Benjamin Wittmann, but all proceeded to fall off the pace in the last lap, leaving Levy as the winner at the end of the event.
Levy was very emotional after the race exclaiming to cyclingnews that it was "an awesome feeling" to become a Junior World Champion. I started cycling in 1996 on the road," he said, "but I wasn't good in the mountains, so I went to the track two years ago."
Maximilian Levy (Germany)
Photo ©: Mitch Friedman

Taking second place was Korean Kang Dong Jin, whose time of 1.05.751 was also set early in the round and held off the onslaught of riders to keep the silver medal. The medal was the second silver medal for Korea adding to the second place of his teammate Choe Sun Ae in the women's points race. Taking third was David Cabrol whose third placing also doubled the number of Bronze medals on the tally for France with his teammate Florence Girardet taking the Bronze behind Sun Ae.
Photography
Images by Mitch Friedman Photography
Results
1 Maximilian Levy (Germany)              1.05.307 (55.124km/h
2 Kang Dong Jin (Korea)                  1.05.751 (54.752km/h
3 David Cabrol (France)                  1.06.150 (54.422km/h
4 Stoyan Vasev (Russia)                  1.06.423 (54.198km/h
5 Benjamin Wittmann (Germany)            1.06.786 (53.904km/h
6 Kazumichi Sugata (Japan)               1.06.842 (53.858km/h
7 Joshua England (New Zealand)           1.07.158 (53.605km/h
8 Denis Rivenaire (France)               1.07.167 (53.598km/h
9 Maxim Tarakanov (Russia)               1.07.304 (53.489km/h
10 Aaron Kacala (USA)                    1.07.714 (53.165km/h
11 Corey Heath (Australia)               1.07.994 (52.946km/h
12 Yu Onishi (Japan)                     1.08.193 (52.791km/h
13 Tomas Babek (Czech Republic)          1.08.438 (52.602km/h
14 Athanasios Lefakis (Greece)           1.08.546 (52.519km/h
15 Francesco Kanda (Italy)               1.08.798 (52.327km/h
16 Yondi Schmidt (Netherlands)           1.08.896 (52.253km/h
17 Ivo Vildomec (Czech Republic)         1.09.160 (52.053km/h
18 Bas Eckmann (Netherlands)             1.10.068 (51.379km/h
19 Gregory Ferreira Martinez (Colombia)  1.10.082 (51.368km/h
20 Dimitrios Kalamaras (Greece)          1.10.324 (51.192km/h
21 Mark Macdonald (Canada)               1.10.553 (51.025km/h
22 Zach Grant (Canada)                   1.11.170 (50.583km/h
23 Christopher Sellier (Trinidad)        1.11.324 (50.474km/h
24 José Piedra Cobos (Equador)           1.11.599 (50.280km/h
25 Eduardo Duchimaza (Equador)           1.12.124 (49.914km/h
26 Patrick Knezevic (Austria)            1.12.546 (49.624km/h
27 Yury Yurchanka (Bielorussia)          1.13.772 (48.799km/h