World Junior Track Championships - CM
Los Angeles, USA, July 28-August 1, 2004
Main Page Results Heats Repechages Second round Finals
Men Keirin
Aussie's go one, two
By Kristy Scrymgeour
Keirin podium
Photo ©: Kristy Scrymgeour/Cyclingnews.com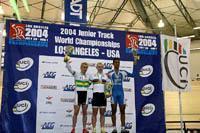 After winning both of their respective heats in the Keirin today, the Australian sprinters Shane Perkins and Daniel Thorsen dominated the final to take first and second place respectively with Perkins taking home his first ever rainbow jersey.
With a certain amount of confidence gained in the heats Perkins said he was still nervous because "you can't count anyone out." The rider he was looking out for most, however was his teammate Thorsen. "I was watching for him because I know how quick he is, but he was in front of me [coming into the sprint] so I could see him clearly."
In the end he nearly got boxed in by the British rider Matthew Crampton. "I was a bit worried for a second," Perkins smiled, "that was a bit of a scare." To get around this Perkins moved forward with a lap to go and lined it up against Thorsen on the back straight. His kick was too fast for everyone and he easily crossed the line to take the win in front of Thorsen, with Francesco Kanda (Italy) taking home the Bronze medal.
Shane Perkins (Australia)
Photo ©: Kristy Scrymgeour/Cyclingnews.com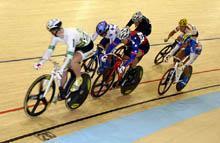 When Cyclingnews caught up with Perkins he had just got off the phone to his Dad in Australia and was "on top of the world." Perkins' father, Daryl Perkins is a former Olympian for Australia. "It's in the blood," said Shane.
For Thorsen, second place was a little disappointing as his results were a carbon copy of the same event last year. "Last year in Moscow I won both my heats and came second in the final," he said, so it's a little disappointing, but Shane deserved it."
Thorsen has been coached by his father ever since he started cycling and racing against Perkins since he was 15 years old. "We push each other in racing all the time, so it's good for both of us." Thorsen is now going to refocus for the team sprint which takes place on Sunday.
Keirin heats
By Kristy Scrymgeour
Ryan Nelman (USA)
Photo ©: Mitch Friedman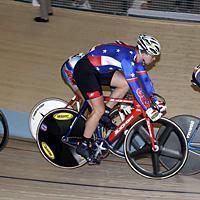 The first two heats of the men's Keirin saw the Australians on top once again with Daniel Thorsen coming off a German lead out to take heat one and Shane Perkins attacking on the back straight to win by a bike length in heat two. In the remaining two heats US Champion Ryan Nellman lifted the spirits of the home team when he led out the sprint in heat four to make it through to the next round and British rider Matthew Crampton won his heat against only three others due to a crash in the first lap that took out three.
Taking second place in each heat and making it through to the next round were Athanasios Lefakis (Greece), Francesco Kanda (Italy), Adam Coker (New Zealand) and Yondi Schmidt (Netherlands).
In the repechage heats making it through on their second attempt were Tomas Babek (Czech Republic), Panagiotis Barmpopoulos (Greece), Rene Enders (Germany) and Kang Dong Jin (Korea).
Photography
Images by Mitch Friedman Photography
Images by Kristy Scrymgeour/Cyclingnews.com
Results
Heat 1
 
1 Daniel Thorsen (Australia)              11.727 61.397 km/h
2 Athanasios Lefakis (Greece)
3 Robert Förstemann (Germany)
4 Ivo Vildomec (Czech Republic)
5 Zach Grant (Canada)
6 Eduardo Duchimaza (Equador)
DNS Diego Grosso (Argentina)
 
Heat 2
 
1 Shane Perkins (Australia)               11.176 64.424 km/h
2 Francesco Kanda (Italy)
3 Mikhail Shikhalev (Russia)
4 Denis Rivenaire (France)
5 Kang Dong Jin (Korea)
6 Tomas Babek (Czech Republic)
Rel Panagiotis Barmpopoulos (Greece)
 
Heat 3
 
1 Matthew Crampton (Great Britain)       11.286 63.796 km/h
2 Adam Coker (New Zealand)
3 Rene Enders (Germany)
4 Ben Barczewski (USA)
DNF Denis Dmitriev (Russia)
DNF Patrick Knezevic (Austria)
DNF Norifumi Takahashi (Japan)
 
Heat 4

1 Ryan Nelman (USA)                      11.587 62.139 km/h
2 Yondi Schmidt (Netherlands)
3 Gregory Ferreira Martinez (Colombia)
4 Michael L. Rodriguez (Puerto Rico)
5 Rene Regimbauld (Canada)
6 José Piedra Cobos (Equador)
7 Atsushi Shibasaki (Japan)
8 Simone Biaggi (Switzerland)
 
Repechage Heat 1
 
1 Robert Förstemann (Germany)             11.737 61.344 km/h
2 Simone Biaggi (Switzerland)
3 Michael L. Rodriguez (Puerto Rico)
4 Tomas Babek (Czech Republic)
5 Patrick Knezevic (Austria)

Repechage Heat 2
 
1 Panagiotis Barmpopoulos (Greece)        11.627 61.925 km/h
2 Rene Regimbauld (Canada)
3 Mikhail Shikhalev (Russia)
4 Norifumi Takahashi (Japan)
5 Ivo Vildomec (Czech Republic)
 
Repechage Heat 3
 
1 Denis Dmitriev (Russia)                 11.607 62.032 km/h
2 Rene Enders (Germany)
3 Denis Rivenaire (France)
4 Zach Grant (Canada)
5 José Piedra Cobos (Equador)
 
Repechage Heat 4
 
1 Kang Dong Jin (Korea)                   11.266 63.909 km/h
2 Ben Barczewski (USA)
3 Gregory Ferreira Martinez (Colombia)
4 Atsushi Shibasaki (Japan)
5 Eduardo Duchimaza (Equador)

Round 2
 
Heat 1
 
1 Daniel Thorsen (Australia)          11.266 (63.909 km/h)
2 Matthew Crampton (Great Britain)
3 Francesco Kanda (Italy)
4 Panagiotis Barmpopoulos (Greece)
5 Kang Dong Jin (Korea)
6 Yondi Schmidt (Netherlands)
 
Heat 2
 
1 Shane Perkins (Australia)           11.286 (63.796 km/h)
2 Ryan Nelman (USA)
3 Denis Dmitriev (Russia)
4 Adam Coker (New Zealand)
5 Robert Förstemann (Germany)
6 Athanasios Lefakis (Greece)
 
Final 7-12
 
7 Kang Dong Jin (Korea)               11.643 (61.839 km/h)
8 Adam Coker (New Zealand)
9 Panagiotis Barmpopoulos (Greece)
10 Athanasios Lefakis (Greece)
11 Yondi Schmidt (Netherlands)
12 Robert Förstemann (Germany)
 
Final 1-6
 
1 Shane Perkins (Australia)           10.995 (65.484 km/h)
2 Daniel Thorsen (Australia)
3 Francesco Kanda (Italy)
4 Ryan Nelman (USA)
5 Matthew Crampton (Great Britain)
6 Denis Dmitriev (Russia)