World Junior Track Championships - CM
Los Angeles, USA, July 28-August 1, 2004
Main Page Results Qualifying Round 1 Finals
Men's 3000m Individual Pursuit
Ford overcomes pressure
By Kristy Scrymgeour
Michael Ford (Australia)
Photo ©: Kristy Scrymgeour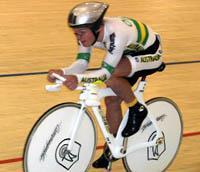 Australia took their third gold medal this evening when Junior World Record holder for the men's 3km pursuit, Michael Ford beat out German Sascha Damrow in the pursuit final. Ford said it felt "unreal" to get the rainbow jersey, the very item that has motivated him for the year leading up to this competition.
"The motivation I used all year was standing on the dais in second place last year and watching the Russian [Alexander Khatuntsev] put on the rainbow jersey," he explained. "Every time I was training I thought of that moment."
In the ride off for third place was Sascha's teammate, Patrick Gretch who's third place added another medal to Germany medal count putting them in the lead overall with five medals after day two of racing.
Sascha Damrow (Germany)
Photo ©: Kristy Scrymgeour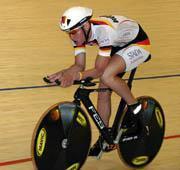 Ford has had an outstanding year with the major peak being breaking Bradley McGee's long-standing record in the pursuit at the Australian Junior Track Nationals in August. "This feeling is on par with that day," said Ford. But the pressure of holding the world record was quite stressful for Ford. "I felt a lot of pressure coming into this race because of that, especially this morning, but I was lucky in the first round because I went off last and I knew what time I had to do to make the final."
In the final ride Ford was content to ride for the win and not worry about the record. "I wasn't really interested in the record at all," he said, "so I was happy with my time."
Men's podium -
Photo ©: Kristy Scrymgeour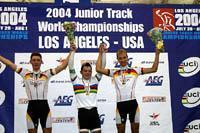 Like his fellow countryman and world record holder before him, Ford is interested in continuing to race on the track but to also venture onto the road. "I have two more years left of my cabinet making apprenticeship," he said, "but after hopefully I'll pick up a pro contract on the road."
For additional motivation, Ford says he loves watching Jan Ullrich race but that his coach; Hilton Clarke is his major motivation. "He's always calling me and making sure I'm on the bike," he said. "My coach is the best."
Tomorrow Ford will line up with his three teammates in the team pursuit.
Photography
Images by Kristy Scrymgeour
German knocks out second Aussie in round one
By Kristy Scrymgeour
Michael Ford (Australia)
Photo ©: Mitch Friedman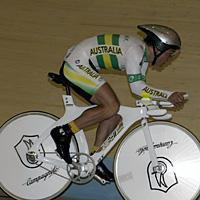 The first round of the men's 3km pursuit saw an upset for the Australian team with yesterdays second fastest qualifier Miles Orman being beaten by German Sascha Damrow who qualified seventh last night. Despite Orman riding the third fastest time of the day, the German's impressive ride knocked him out and he finished with a final placing of fifth place.
Current world record holder Michael Ford from Australia continued his winning streak however and went on to beat Kyle Swain (South Africa) putting him in the final of the Men's Individual pursuit against Sascha, which takes place tonight. Taking out heat one and two this morning were Patrick Gretsch (Germany) and Ivan Kovalev (Russia) who will face each other tonight to ride for the Bronze medal.
Photography
Images by Mitch Friedman Photography
Australians dominate individual pursuit qualifying
By Kristy Scrymgeour
Michael Ford (Australia)
Photo ©: Mitch Friedman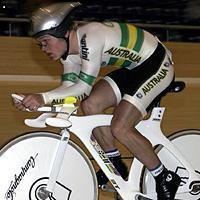 "I beat him once when we were 15 and I haven't beaten him since" said Australian Miles Olman when he qualified second to his teammate and best friend Michael Ford at the qualifying round of the Junior Men's three kilometer pursuit this morning at the Home Depot Center in Los Angeles, USA. Ford and Olman both rode times in the 3'20's, putting themselves six seconds ahead of the next fastest qualifier in the heats.
Ford came to this event relatively confident after he broke the Junior World record in this event back in April, which had been set back in 1994 by Bradley McGee. His time in April at the Australian National Championship was 3.17.775, taking 2.103 seconds off McGee's 3.19.878.
"This is the first pursuit they've done since April," said Australian Track coach Gary Sutton, so we are pleased with the way they are riding. Their preparation and their attitude over the past four weeks have been great."
The Home Depot Center
Photo ©: Kristy Scrymgeour/Cyclingnews.com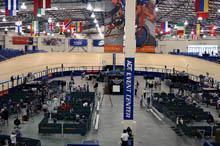 Twenty nine riders lined up this morning to try to qualify for the next round of the pusuit. Jeff Sparling (Can) and Yury Yurchika (Blr) were the first to hit the track for the first international event to take place on this new indoor velodrome. It was in heat four that a time was set that would remain the fastest time before the Aussies hit the track. German Patrick Gretsch clocked a time of 3'26".053, almost lapping Italian Daniel Oss in the process. Ivan Kovalev (Russia) and Alexandru Pliuschin (Moldavia) also clocked times in the 3;26" range, but at the end of the day, it is the Australian duo who remain the riders to beat.
Miles Olman (Australia)
Photo ©: Mitch Friedman

Olman said he "was fairly confident" leading up the this week's event. "I had last year to get some experience [at the World Championship]," he said, "so this year I'm not as nervous and I was a little more relaxed going into today's ride."
When asked whether he is concerned that his teammate will beat him this week, he said "hopefully it doesn't happen, but if it does, at least it will be another Aussie."
Both Ford and Olman said that the fact that they are best friends and have raced together for five years has helped them achieve such a level in cycling. "It's been good to train with [Olman]," said Ford, "considering we are best mates as well. Each day we push each other a little bit more."
Sutton said he is pleased with the whole team this year. "The whole team is very close," he explained. "It's like one big family. It's one of the best team units we've had in years." Sutton believes that his two riders may go close to breaking the record that Ford set back in April, but that it will be tough. "The track probably won't allow them to do it," he said. "Either of them are capable of it right now, on the right track."
Sutton has enjoyed coaching Ford and Olman for the past four weeks leading up to the championships, but he said his job was made easier because of the fact that both riders have excellent personal coaches in their home states of Queenland and Victoria. "Ken Tucker coaches Miles and Hilton Clarke coaches Michael and they have done a fantastic job preparing them for this."
Patrick Gretsch (Germany)
Photo ©: Mitch Friedman

The competition continues tonight with the Women's points race, the men's kilo and the men's scratch race, all of which will follow the opening ceremony.
Photography
Images by Mitch Friedman Photography
Images by Kristy Scrymgeour/Cyclingnews.com
Results
Qualification


1 Michael Ford (Australia)                      3.20.364 (53.902 km/h)
2 Miles Olman (Australia)                       3.20.429
3 Patrick Gretsch (Germany)                     3.26.053
4 Ivan Kovalev (Russia)                         3.26.872
5 Alexandru Pliuschin (Moldavia)                3.26.962
6 Matthew Haydock (New Zealand)                 3.27.574
7 Sascha Damrow (Germany)                       3.27.867
8 Kyle Swain (South Africa)                     3.30.172
9 Geraint Thomas (Great Britain)                3.31.430
10 Valery Valynin (Russia)                      3.32.103
11 Maxime Bouet (France)                        3.33.730
12 Daniel Oss (Italy)                           3.34.021
13 Raf'a Chtioui (Tunisia)                      3.34.098
14 Joo Hyun Wook (Korea)                        3.34.336
15 IsmaŽl Kip (Netherlands)                     3.35.017
16 Patrick Kos (Netherlands)                    3.36.547
17 Vojtech Hacecky (Czech Republic)             3.38.477
18 Kota Nishimura (Japan)                       3.38.669
19 Tim Mertens (Belgium)                        3.40.313
20 Alexey Zaitsev (Kazakhstan)                  3.40.618
21 Jonathan Balbuena (France)                   3.40.714
22 Daniel Holloway (USA)                        3.41.003
23 Berik Kupeshov (Kazakhstan)                  3.41.543
24 Filip Hanslian (Czech Republic)              3.41.569
25 Teruya Bosyu (Japan)                         3.42.243
26 Mark Macdonald (Canada)                      3.42.910
27 Jeff Sparling (Canada)                       3.45.006
28 Yury Yurchanka (Belarus)                     3.45.886
29 Elliot Gaunt (USA)                           3.48.619
DNS Thomas Walters (Great Britain)

Round 1


Heat 1

1 Ivan Kovalev (Russia)                         3.26.768 (52.232 km/h)
2 Alexandru Pliuschin (Moldavia)                3.27.354

Heat 2

1 Patrick Gretsch (Germany)                     3.25.326 (52.599 km/h)
2 Matthew Haydock (New Zealand)                 3.30.656

Heat 3

1 Sascha Damrow (Germany)                       3.23.197 (53.150 km/h)
2 Miles Olman (Australia)                       3.24.201

Heat 4

1 Michael Ford (Australia)                      3.21.599 (53.572 km/h)
2 Kyle Swain (South Africa)                     Caught

Placed 5-8

5 Miles Olman (Australia)
6 Alexandru Pliuschin (Moldavia)
7 Matthew Haydock (New Zealand)
8 Kyle Swain (South Africa)
    
Final for third & 4th
 
1 Patrick Gretsch (Germany)     1.08.984(1) 1.06.593(1) 2.15.577(1) 1.07.193(1)   3.22.770 (53.262km/h)
2 Ivan Kovalev (Russia)         1.09.505(2) 1.06.776(2) 2.16.281(2) 1.10.915(2)   3.27.196 (52.125km/h)
 
Final
 
1 Michael Ford (Australia)      1.08.224(1) 1.05.728(1) 2.13.952(1) 1.07.850(1)   3.21.802 (53.518km/h)
2 Sascha Damrow (Germany)       1.08.780(2) 1.09.856(2) 2.18.636(2) 1.11.817(2)   3.30.453 (51.318km/h)