Introduction to Track Racing - What's a Wheelrace? - Introduction to Six Day racing - UCI codes
Results and Reports for Australia
Promoters wishing to submit results should send them to cyclingnews
Queensland women's team pursuit championships
Chandler velodrome, March 21, 2004
Marcellettes win 3000m Queensland teams pursuit title
The Marcellettes
Photo: © Marcel Bengtson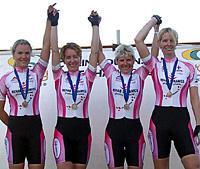 A little piece of track cycling history was made on Sunday at the Chandler velodrome in South East Queensland. The inaugural 3000m women's team pursuit was a success with five teams competing from Marcellettes (Lifecycle), Broncos, Rockhampton and Hamilton Pine Rivers cycling clubs.
In very windy conditions the 'Marcellettes' women's pursuit team (Liz Young, Wendy Habermann, Liz Lawson and Nicole Hanssen) qualified fastest, Broncos second, Rockhampton third, Hamilton fourth and Marcellettes second team fifth fastest respectively.
The Marcellettes rode against the Broncos for the gold and silver and Hamilton rode against the Rockhampton Rocksettes for the bronze.
After a slower start than the Broncos, the Marcellettes soon took over the pace as their superior endurance and smoothness saw them win the 3000-metre event by over six seconds. The Marcellettes have set the benchmark and now hold the 3000m Qld teams pursuit record. This team is also the current road team time trial champion.
Result
1 Marcellettes #1 - Lifecycle
2 Broncos
3 Rockhampton
4 Hamilton Pine Rivers
5 Marcellettes #2 - Lifecycle
Local results 2004