Recently on Cyclingnews.com
90th Tour de France - July 5-27, 2003
L'Alpe d'Huez - The first strike
No stopping Bernard Hinault in 1986
Photo: © AFP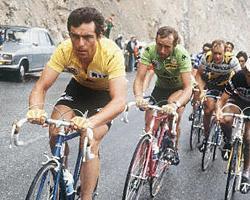 For those aiming for a high finish on overall classification, the first decisive stage and arguably most spectacular finish of the Centenary Tour de France, a 219 kilometre stage finishing atop the climb of Alpe d'Huez, is just hours away. Anthony Tan takes a stroll through cycling's history books on the Alpe that continues to claim scalps.
Average gradient 7.9%, 13 kilometres long, 21 hairpins, elevation 1860 metres: This is L'Alpe d'Huez.
Situated on the border of the French Alps near the town of Bourg d'Oisans, roughly an hour's drive from Grenoble, Alpe d'Huez is the most feared climb in the Tour de France for its abrupt, brutal ascent into the clouds. No other climb has a greater history of suffering, nor exudes the same emotions. It is what the Motirolo is to the Giro d'Italia, or the Angliru to the Vuelta - but with the charm, history and mystique of the Tour de France behind it.
Along with the Puy-de-Dôme and Sestriere, Alpe d'Huez was the first mountain-top finish in the Tour de France. Its history extends back to 1952, when the Tour's organiser at the time, Jacques Goddet, searched for the most demanding parcours possible in an era when cycling stars were abundant. Georges Rajon - one of just three hoteliers on top of a then rocky, pot-holed road - and two other businessmen offered roughly 2,100 English pounds (around 3,000 Euros or US$ 3,500) to Goddet to take one of the stage finishes up there.
Mano-a-mano in 1976
Photo: © AFP

Intrigued but not convinced by a proposition that verged on the ridiculous at the time, Goddet sent his assistant commissioner, Elie Wermelinger, up to reconnoiter the mountain in the middle of winter in 1952. After surveying the climb, Wermelinger was to write a report on the feasibility of L'Alpe of holding a stage finish in that year's Tour de France.
At the time, Alpe d'Huez was so non-commercialised, the whole area was unbordered with not a ski-lift or chalet in sight. Not only that, but Wermelinger needed snow-chains to reach the top of the mountain before he saw anything at all!
Quite unexpectedly, Wermelinger brought back a favourable report, so in that year, Goddet announced the introduction of Alpe d'Huez to the Tour de France. The first to win on the Alpe was an unbeatable Fausto Coppi; known as Il Campionissimo (the champion), Coppi desperately wanted to demonstrate his return to the highest level after two relatively mediocre years. After winning his fourth Giro d'Italia in dominating fashion, Coppi followed his return to form with a solo victory on Alpe d'Huez over Frenchman Jean Robic, and the rest, as they say, is history.
First to the top
1952 - Fausto Coppi
1976 - Joop Zoetemelk
1977 - Hennie Kuiper
1978 - Hennie Kuiper
1979 - Joop Zoetemelk
1979 - Joaquim Agostinho*
1981 - Peter Winnen
1982 - Beat Breu
1983 - Peter Winnen
1984 - Luis Herrera
1986 - Bernard Hinault
1987 - Frederico Echave
1988 - Steven Rooks
1989 - Gert-Jan Theunisse
1990 - Gianni Bugno
1991 - Gianni Bugno
1992 - Andy Hampsten
1994 - Roberto Conti
1995 - Marco Pantani
1997 - Marco Pantani
1999 - Guiseppe Guerini
2001 - Lance Armstrong

* The Tour de France visited Alpe d'Huez on two occasions in 1979.
Recorded times
37'35 - Marco Pantani, 1997 (fastest)
38'01 - Lance Armstrong, 2001
39'45 - Miguel Indurain, 1991
41'50 - Laurent Fignon, 1989
48'00 - Bernard Hinault/Greg Lemond, 1986
Fact: Alpe d'Huez was created in 1936.
Fact: Fausto Coppi's domination of Alpe d'Huez in 1952 was so great that organisers had to double the prize-money for second and third to maintain interest in the race.
Fact: Each of the 21 hairpin turns are numbered in reverse order, though for some unknown reason, the first, #21, is not signposted.
Fact: What makes Alpe d'Huez so hard is not only the steepness of the gradient, but the constant variation of the slope; with a gradient of 14%, the fifteenth hairpin (#6) is one of the most popular with spectators.
Fact: Lance Armstrong and Fausto Coppi are the only riders to have won the Alpe d'Huez stage and the overall classification in the TdF in the same year.
Pantani's ride in '97
Photo: © AFP
Interestingly, and possibly because of the decisive nature of the climb on the overall classification, L'Alpe d'Huez remained absent from the Tour for almost a quarter of a century before being reinstated in 1976. Perhaps more interesting was that in eight out of the next thirteen Tours de France where Alpe d'Huez featured, a Dutchman won the stage - unusual in a country where climbs like L'Alpe simply do not exist. The ensuing battles between Hennie Kuiper and Joop Zoetemelk (who both happen to be Dutch) brought crowds estimated at 300,000 on Alpe d'Huez alone, and one in three were said to have been a Dutch fan.
More recently, in 1986 Bernard Hinault and Greg Lemond staged an epic duel on the mountain. Hinault was riding for the same team as Lemond, and was supposedly helping the American, but as 'the Badger' put it, he wanted to give Lemond "an education". Some education - Hinault and Lemond may have crossed the line hand-in-hand, but Hinault's 'lessons' were so hard Lemond almost lost the race, and to this day, a deep grudge still exists between the two. After being shot in the chest while on a hunting expedition with a friend who mistook him for an animal, Lemond went on to win two more Tours in 1989 and '90.
Bugno and Big Mig
Photo: © AFP

Speaking of Americans, the first American to win atop Alpe d'Huez was the baby-faced Andy Hampsten in 1992. Riding for the American Motorola team (which later morphed into US Postal Service five years later), Hampsten's victory on the Alpe is considered on par with his win in the 1998 Giro d'Italia. When asked about his solo victory some years later, Andy told me his wife Linda was so excited at the time, she forgot to put her shoes on and burned her feet as she ran down from where she was to find and embrace him.
Equally confrontational as the Hinault and Lemond battle though for totally different reasons was Giuseppe Guerini's 1999 stage win. Beppe Guerini was soloing home to victory on the Alpe, when, out of nowhere, an over-enthusiastic amateur photographer stepped out into the middle of the road and collided with the flyweight Italian, quite literally getting a close-up he never imagined. Thankfully, Guerini, stunned by unhurt, bounced back on his bike and won the stage by a handful of seconds, and received an apology in person that night at his hotel.
In the past decade, arguably the most talked about victory is Lance Armstrong's win on Alpe d'Huez in 2001. Not so much for Armstrong's incredible power and speed (although just 25 seconds slower than Marco Pantani's record of 37'35 set in 1997), but more for LA's game of bluff he played with rival Jan Ullrich and what is universally known as 'the look'.
Same deal this year?
Photo: © AFP

Cheeky, unsportsmanlike, strategically perfect - call it what you will - Armstrong's clever little game, feigning vulnerability, worked a charm. During the course of the stage, the Texan appeared to be having an off-day, with Ullrich's Telekom squad seizing the opportunity to up the pace over the previous three mountain passes, leaving just one other Postie with Armstrong by the foot of the Alpe. All of a sudden, however, Lance came to life, and after peering into Ullrich's eyes through his rose-tinted Oakleys, gesturing words to the effect of "come with me if you can" (which Ullrich couldn't), Armstrong took off, never to be seen again, rocketing up the Alpe in 38 minutes flat.
From what we've seen so far in this year's Tour and the stage profile, with the climbs of the Col du Telegraphe and hors catégorie Col du Galibier to be tackled beforehand, viewers will most certainly be treated to a similar battle royale on the slopes of Alpe d'Huez in 2003. Only time will tell though, and in a handful of hours from now, we'll all know the answer.

A special thanks to Les Woodland's The Yellow Jersey Companion to the Tour de France (Yellow Jersey Press, London, 2003).
Photos
Images by AFP and http://home.wanadoo.nl/cycledutch/