Recently on Cyclingnews.com
On Test: Formula Oro Puro disc brakes, December 7, 2006
Lightweight stoppers with plenty of bite
Formula's new Oro Puro hydraulic disc brake is a true lightweight,
Photo ©: James Huang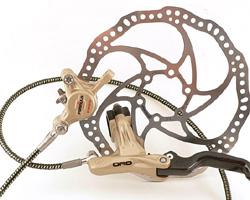 Few components demonstrate the trade-off between light weight and performance more plainly than disc brakes, but Formula somehow manages to walk the line to deliver a package that is not only easy on the scale, but offers impressive clamping power, as Cyclingnews Technical Editor James Huang discovers.
Formula has had a bit of a tough time in the hydraulic disc brake world. Although it has had its share of standouts, including the ultralight, but somewhat fragile, B4SL+, things just never quite caught on and the company was left standing squarely on the B-list while others gobbled up market share and race wins. Formula clearly wasn't content to stay on the lesser rung, though, as it introduced an entirely new brake last year that was a dramatic departure from its previous offerings.
Keep it in the family
Instead of introducing just one new hydraulic disc brake, Formula saw fit to launch a whole new platform. The Oro line consists of four distinct models: the wallet-friendly K18, the mid-level K24, the top-end Puro (caught on to the naming convention yet?), and the so-chromed-out-that-your-retinas-bleed Greg Minaar signature-edition Bianco.
Each member of the family shares the same basic ingredients but varies in features, materials, finish… and, of course, cost. On the whole, the Oro is a pretty slick-looking design. Common architecture includes a compact flip-flop master cylinder with a cleverly concealed reservoir for the DOT 4 hydraulic fluid, a tidy two-piece, two-piston aluminum caliper, and a full range of stainless steel rotors that start at 140mm in diameter (for rear only) and go all the way up to a pizza-sized 220mm. With the exception of the base-model K18, all Oro brakes also include Formula's neatly concealed Feeling Control System (FCS), which adjusts the pad contact point a la the Speed Dial on select Juicy models from Avid.
A variety of rotor sizes are available, ranging from 140mm
Photo ©: James Huang

The Oro Puro uses a compact master cylinder
Photo ©: James Huang

A flip-flop lever design makes it easy to set things up moto-style
Photo ©: James Huang

Formula equips the Oro Puro with a tidy two-piece, two-piston caliper
Photo ©: James Huang

Formula's Feeling Control System allows users to customize the pad contact point. A standard lever reach adjustment is also included.
Photo ©: James Huang

Unfortunately, the configuration of Formula's Oro Puro doesn't fit well
Photo ©: James Huang

Ergonomically, the Oro Puro works well with either of SRAM's shifter styles,
Photo ©: James Huang

Likewise, the Oro Puro meshes well with SRAM's twist shifters.
Photo ©: James Huang

The Oro Puro ups the ante with a healthy dose of bling, including carbon fiber lever blades, titanium and aluminum fasteners, aluminum-backed semi-metallic pads, braided Kevlar lines, and a classy-looking gold finish. The inclusion of all of those lightweight bits drops the mass of our test pair down to just 356g and 372g for the complete front and rear assemblies, respectively, including 160mm rotors, full-length hoses, caliper adapters, and all required hardware.
The setup
As far as disc brakes go, the Oro Puros were quite easy to install. Master cylinder fitment was particularly quick thanks to the split clamp that allows for installation without the need to remove any other components. Formula has also recently released an alternative set of clamping plates dubbed the MIXXmaster that directly incorporates mounts for SRAM's X.0 and X.9 trigger shifters, similar to what SRAM had done for its own Matchmaker system.
Formula adopts the increasingly popular (and versatile) direct post-mount caliper configuration that bolts directly on to Manitou forks as well as others that have adopted the pattern (ok, Manitou, you win!); International Standard tabs and/or alternate rotor sizes are readily accommodated with an additional caliper adapter. This style of attachment automatically includes a degree of lateral adjustment for centering the caliper, thus eliminating those pesky little shims that I absolutely despise. Major bonus points there, and also for the rotatable banjo fitting that allows for cleaner hose routing.
A few demerits must go to the braided Kevlar hose itself, though. Normally, the process of centering these types of calipers simply involves loosening the mounting bolts, pulling the brake levers to 'self-center' the caliper on the rotor, and then tightening the bolts. In the case of the Oro Puro, however, the hose is sufficiently stiff as to markedly restrict the free movement of the caliper when using this method. Ultimately, a bit of manual fidgeting had to be employed, but drag-free running was still rather readily attainable. I realize the Kevlar line is cool-looking and all, but a bit more flexibility would be welcome here.
Formula equips the hose from the factory with a crimped connector on both ends, but is at least thoughtful enough to include an additional barb and olive for the inevitable hose trimming. Shortening the hose can be done without having to bleed the system if you're careful, but bleeding the brake is a rather straightforward procedure in case you introduce a little bit of air.
As good as gold…
Formula touts the Oro as the "most powerful two-piston brakes on the market, bar none". While I can't attest to the absolute validity of that statement, it certainly can't be far off from the truth. In spite of their minimal mass, the Oro Puro brakes have power to spare and scrubbed speed quickly and easily. Those who desire even more bite can simply upsize the rotors as necessary or swap to Formula's sintered metallic pads that offer a claimed 15% more grip. The standard 160mm discs were plenty for the majority of the test, but were eventually upgraded to a 180mm front rotor when it became clear that my penchant for speed was not always adequately supported by skill!
Modulation was similarly outstanding so all that clamping force was also easily controlled and never grabby. Fade even on long downhills was imperceptible, likely due in part to the open caliper design that allows for a bit more airflow and composite pistons which help to isolate heat from the caliper body.
Overall lever feel was very good with reassuringly tactile feedback, and the pad contact point was also clearly defined. For the most part, the PCS feature worked as advertised and supplied a reasonably broad range of adjustment, but the total range of lever throw varied substantially between the two master cylinders.
…with maybe an impurity or two
The Oro Puro was a star in terms of functionality, but the ergonomics of the master cylinder leave a lot of room for improvement. First off, there is considerable distance between the mounting clamp and the tip of the lever. In order to set up for proper one- or two-finger braking, it's therefore necessary to slide the clamp <i>way</i> in on the handlebar. This isn't an issue in and of itself, but it can cause some problems in terms of shifter positioning.
The Puro master cylinder plays well with either SRAM's triggers or twist shifters as both mount outboard of the brake lever. However, Shimano's Rapidfire pods must mount inboard of the Oro clamps, and as such, you can either set the levers in the proper position, or the shifters, but not both. Invariably, either the brake levers end up positioned too far out on the bar and cramp your fingers, or the shifter paddles end up a long ways away. Shimano's new XTR pods can adjust around this steric incompatibility, but just about all of the other ones will still fall victim.
In addition, the lever pivot falls a considerable distance away from bar and forces the lever blade to trace a slightly inward arc when pulled. It's not overly offensive, but does feel a bit odd, particularly in comparison to some other designs on the market that display a more natural motion.
Final words
In spite of the ergonomic hiccups, Formula's Oro Puro still manages to pack in a startling amount of absolute power and precise control in a package that easily qualifies for the super-lightweight category. Of Keith Bontrager's "cheap, light, good: pick two," golden rule of bicycle parts, Formula has clearly opted for the latter two and has largely hit on all cylinders. Add in an eye-catching design and what has proven to be good durability so far, and you've got a winning combination.
Price: US$335 (master cylinder, caliper, and hose); US$26.62 (160mm rotor and hardware); US34.95 (160mm rotor, adapter, and hardware); US$44.95 (180mm rotor, adapter, and hardware); US$54.95-94.95 (200mm rotor, adapter, and hardware, depending on application); US$73-147 (220mm rotor, adapter, and hardware, depending on application and rotor material)
Weight: 356g/372g front/rear (with 160mm rotors, full-length hose, and all hardware and adapters)
Pros: Among the lightest options available yet also among the most powerful, excellent modulation and feel, multiple rotor options, lots of style points
Cons: Lever ergonomics, inconsistent FCS range
Cyclingnews rating:

Photography
For a thumbnail gallery of these images, click here
Images by James Huang/Cyclingnews.com