On Test: Mavic Ksyrium ES, June 22, 2006
Mavic serves up lightweight tasty treat for prebuilt wheel anniversary
It's ten years since Mavic changed the wheel world with the Helium wheels that ushered in the era of pre-built wheels. Created to celebrate the Helium's anniversary Mavic's Ksyrium ES is the company's lightest wheel pair ever. James Huang took a set on and off road to see how they fulfill the Helium's legacy.
Mavic's Ksyrium ES
Photo ©: James Huang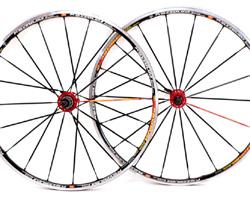 Regardless of whether or not you think pre-built wheels are a good thing, it's safe to say that Mavic has single-handedly revolutionized how we think about and purchase wheels over the last few years. Where once a decision about wheels involved choosing hubs, rims, and spokes (and a builder, most importantly!), today it's more of a single line-item affair. The then-revolutionary Helium road wheelset was one of the first of such offerings, and Mavic has chosen to honor the ten year anniversary of that introduction with the new Ksyrium ES (Edition Spéciale).
What's so special about it?
The ES is more of a lighter evolution of last year's Ksyrium SL road wheels than a completely new design, yet many of the individual components are brand new. The ES wears a new 22mm deep rim up front, a larger-diameter carbon fiber and aluminum front hub shell, and a new rear hub complete with a unique aluminum hub shell and a titanium and aluminum axle. Front and rear skewers are upgraded to titanium shafts, and last, but certainly not least, the new Ksyrium ES is covered in a particularly mean-looking black anodized finish with smatterings of red to commemorate the original Helium. As with the SL, the inner walls of both front and rear rims are heavily machined in between the spoke holes to shave precious grams.
For the most part, the benefits of the changes are fairly straightforward: as compared to the SL, the ES shaves 50g off of an already pretty light set of wheels. The new 22mm front rim obviously contributes to the weight savings, but the shallower section also makes the front wheel a bit more vertically compliant and less susceptible to crosswinds. The rear rim retains the standard 25mm depth for a rigidity and better power transfer, according to Mavic.
Just in case
Photo ©: James Huang

The Ksyrium ES front hub
Photo ©: James Huang

A simple twist
Photo ©: James Huang

Significant amounts of material
Photo ©: James Huang

Mavic's unique FORE drilling
Photo ©: James Huang

The new Ksyrium ES
Photo ©: James Huang

Mavic's new FTS-L freehub body
Photo ©: James Huang

Our test wheels hit the scales at a competitive 1490g (650g front, 840g rear), plus 83g for the titanium skewers. Also included with the wheels is a pair of snazzy red travel bags as well as a set of tools for both truing and bearing adjustment.
Things that will make your mechanic happy
As a whole, installing the Ksyrium ES wheels is quite standard but for a few notable exceptions. Mavic's unique FORE drilling process enables the nipples to thread directly into the rim which offers the nice side benefit of a solid outer rim wall that requires no rim tape. The rim channel itself is quite deep as well making tire installation a breeze, even with brand-new Kevlar beads.
Hub bearing adjustments are incredibly simple and are made with the wheels installed. A single tool is used to turn a threaded bearing collar… and that's it. Conveniently, the tool is included with the wheels and even doubles as a fairly reasonable tire lever.
As another bonus, our test wheels were dead straight right out of the box and required no truing.
Out on the road… er, I mean trail!
We actually received our wheels during the winter in the Midwestern US and they were promptly installed on a cyclocross rig. The racing season was just getting going, and we decided that subjecting the Ksyrium ES wheels to some off-road use would serve as a nice torture test.
So how were they? If I had to choose a single word to describe Mavic's newest set of road wheels, it'd be 'solid'. Particularly in cross, flimsy wheels just don't cut it, and the Ksyrium ES handled the abuse with aplomb and nary a complaint. Overall, the wheels tracked admirably well with minimal-to-no brake rub and very little sensation of wheel flex (to be fair, the Maxxis Larsen MiMo CX tires certainly helped on the grassy terrain). The same FORE drilling process that eliminates the need for rim tape may also play a role here as well as the solid outer wall also improves the rigidity of the rim (think convertible vs. hard-top). Regardless of whether or not the wheels really are stiffer, they certainly feel like they are!
Granted, riding across an expanse of dirt can mask a wheel's performance somewhat so we put the Ksyrium ES wheels through their paces in their more typical road application as well. In general, the more rigid the rim, the less work the spokes have to do, and in the case of our Ksyrium ES wheels that rigid rim allows Mavic to run just 20 Zicral aluminum spokes out back and 18 up front while still retaining the lateral stiffness that we experienced on the dirt. This lateral stiffness lent a good amount of confidence during fast and twisty descending, and the overall 'solid' feel carried over to the asphalt as well. Under hard accelerations on pavement, though (such as when sprinting full out), the rear wheel maybe felt just a smidge soft in torsion but, admittedly, I don't have numbers to verify this (yet!). To be fair, this was likely only noticeable because I was looking for minute differences between several sets of road wheels currently in my possession, and it's entirely likely that most riders would never notice.
One more bearing, please
As with just about anything, all was not perfect with the Ksyrium ES. Several years ago, Mavic replaced the inboard cartridge bearing of the original FTS freehub body in favor of a bushing in order to drop some weight with the newer FTS-L system. While this reduced the weight, it also sacrificed some long-term durability. Mavic's freehub internals are lubricated with fairly lightweight oil which should be replenished relatively frequently. On the old FTS system, running the pawls dry wouldn't signal the end of time, but the new FTS-L bushing rides directly on the hub shell and is much more prone to wear if the system isn't maintained properly. Riders in many parts of the world may not notice the issue, but those in more mountainous terrain where sustained coasting is more prevalent should pay heed and visit their local mechanic whenever they notice their rear hub sounding a bit dry and clackity.
As it turns out, a worn bushing necessitates replacing the entire freehub body (which, thankfully, isn't horribly expensive), but if left unchecked for too long, the hub shell itself becomes worn and isn't nearly as easy to swap out as it requires sending the wheel back to the motherland for a rebuild. This is one area where a bit of additional mass would be most welcome.
Other gripes? That same easy-to-adjust bearing preload collar unfortunately also requires relatively frequent adjustment as it relies on a single o-ring to lock in the setting. Thankfully, it's easy to do (and the tool is included), but a more positive locking mechanism would be nice.
Some cheap insurance
One thing worth mentioning is Mavic's Product Protection Program (MP3). Ponying up an additional eight percent of the cost of the wheels at the time of purchase buys you two years of no-fault insurance. Normal wear-and-tear isn't covered, but nearly everything else is, including accidents. This may not be terribly useful for a lot of casual riders, but for racers and any other riders that are particularly hard on their rolling stock (mountain bikers, take note!), that additional eight percent may be well worth it.
Survey says…
On the whole, and in spite of a few minor issues, Mavic's new Ksyrium ES is an excellent all-around high-performance option. Sure, there are other wheels that may weigh less, but few of them are able to strike the ES' excellent balance between light weight, rigidity, and overall durability. Provided the wheels are properly maintained, few riders should find much of anything to complain about here.
Weight: 650g/840g (front/rear, without skewers), 83g
Price: US$1100 (plus US$88 for optional MP3 insurance)
Pro: Solid feel, excellent balance between strength, rigidity, and light weight
Con: Maintenance-intensive freehub mechanism and bearing adjustment collar that is prone to inadvertent movement
Cyclingnews rating:


More information: www.mavic.com