On test: Fulcrum RacingLight wheelset, December 8, 2006
Carbo-Lite
Rounder than an old log - Fulcrum's RacingLight carbon clincher.
Photo ©: Paul Henderson-Kelly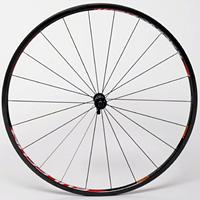 We've come a long way since caveman rolled that first log along the ground - Fulcrum's RacingLight clincher wheels are at the cutting edge of bike wheel technology, as Steve Beletich discovered.
Campagnolo's evil twin
It's no secret that Fulcrum Racing Wheels are an offshoot of the Italian giant Campagnolo. Although it's hard to find on their website and in their glossy product brochures, absolutely no effort is made to disguise the Campy technical manuals that accompany the RacingLight wheels in their sexy red wheel bags.
The wheels themselves comprise full-carbon clincher rims, which is a relatively new development in bike wheels - previously manufacturers were not sufficiently proficient with carbon fibre to produce a clincher rim with sidewalls strong enough to withstand the enormous forces applied by tyre pressure, braking and cornering. Things have progressed recently however, as evidenced by the Racinglights' near faultless carbon fibre mould, weave and finish.
The front wheel uses 22 radially laced spokes in a conventional pattern, but Fulcrum goes to great lengths to even out spoke tension on the rear wheel between the driveside and non-driveside. The rear rim is asymmetric, with spokes anchoring closer to the non-drive (left) side, which results in a higher degree of symmetry between left and right side spokes. In addition, Fulcrum's 2:1 Two to One design philosophy utilizes twice as many driveside spokes than non-driveside (16 and 8, respectively), which simultaneously decreases driveside tension while increasing it on the non-driveside.
Oversized drive side of rear hub.
Photo ©: Paul Henderson-Kelly

Immaculate carbon braking surface,
Photo ©: Paul Henderson-Kelly

A Campagnolo trademark - micro adjustable bearing cups.
Photo ©: Paul Henderson-Kelly

No, you cannot glue a tubular in there.
Photo ©: Paul Henderson-Kelly

Just in case you forgot,
Photo ©: Paul Henderson-Kelly

Having said that, plucking on the spokes revealed that there was, indeed, some serious tension in these things. Spokes are straight-pull, bladed and black - although each of our test wheels also had two silver non-bladed spokes opposite the valve holes, presumably to act as counterweights. Fulcrum opts for internally situated nipples all around, which makes for better aerodynamics but also requires tyre removal for rim adjustments.
Weight on our test pair was a featherlight 1355g for the pair, without skewers or rim tape. Going along with that unobtainium weight, though, was an equally unobtainium suggested retail price of US$4000!
Time to ride!
As you would expect from wheels with all-carbon, low-profile rims, these hoops are breathtakingly light. It's real one-finger stuff when you first drag them out of the bags and wave them around incredulously.
Getting tyres on and off the rims was no problem, although I was especially careful to use plastic tyre levers - there's no way I wanted any jagged metal edges near these babies. Once on the bike, the rear hub emitted the classic Campagnolo free hub click, which I delight in. Campy really should patent this sound, as Harley Davidson famously did with its unique exhaust note.
The RacingLight wheels gave a far less harsh ride than I anticipated - I was expecting that high spoke tension and carbon fibre rims would be very stiff. They were extremely responsive under load and displayed very little flex, but the ride quality was much softer than I had imagined.
Best of all, when climbing and accelerating (and especially both) these wheels are very noticeably LIGHT. Low mass at the outer circumference of the wheel (i.e. the rim) means low rotational inertia - indeed they spin up very, very quickly. Even in my ludicrously unfit state, I found that, near the top of a hill when I was pretty much blown, I could get out of the saddle and accelerate with relative ease - the final kick over the crest of the hill was a pleasure, even for a hack like myself.
On the flipside, I did notice that these wheels exhibited less of a flywheel effect. Once spun up, slightly more effort was required to keep them spinning, unlike heavier wheels, whose rotational inertia tends to keep them going. An extension of this phenomenon was that the RacingLights were a little flighty on fast (60+km/h) descents, especially if the road surface was rough. This was not a nice feeling the first time I experienced it - it reminded me of skateboard death wobbles. Heavier wheels do provide more stability through the gyroscopic effect. Speaking of descending, the modestly aero spokes were also faster than I expected - noticeable faster than my conventionally spoked low profile clinchers.
The RacingLights were also supplied with a set of Campagnolo carbon-specific brake blocks. For the sake of comparison, I first used the wheels with standard Campagnolo rubber blocks, and then with the supplied items. Surprisingly, I found little performance difference between the two; both performed well. Admittedly, though, I did not try either in the wet or during prolonged descents where overheating could be an issue, but regardless, Campagnolo strongly recommends their use. It should also be worth noting that neither left any score marks on the carbon rims, which remained flawless throughout the test.
All in all, these are an amazing set of wheels, but then again, they should be considering their stratospheric price tag. Ridiculously light, nice and stiff, and good braking characteristics, but giving a pleasing ride quality. There were some drawbacks to the inherently low rotational inertia, but this is par for the course in a wheelset that will climb and accelerate this well.
Price: US$4000
Weight: 1355g/pair, without skewers (760g rear; 595g front)
Pros: Low rotational inertia
Cons: Somewhat flighty across rough surfaces at high speed
Cyclingnews Rating:

Photography
For a thumbnail gallery of these images, click here
Images by Paul Henderson-Kelly