Tech feature: June 12, 2006
Behind Bianchi lines
The 2007 Reparto Corse road and MTB range
The opportunity for a world-exclusive preview of Bianchi's 2007 Reparto Corse road and mountain bike range is an invitation worth taking. Cyclingnews' Anthony Tan hopped over the border to their headquarters in Treviglio, Bergamo to discover what's in store for the Celeste brand next year.
Davide Brambilla, managing director of Bianchi International,
Photo ©: Anthony Tan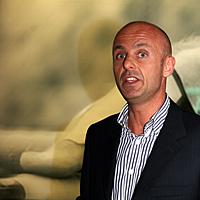 Releasing their 2007 range to a select group of journalists, over three months before the major bike shows get underway in Europe - and more than six months before the start of the new year - Bianchi International's managing director Davide Brambilla was nonetheless confident of what his company has to offer next year.
"In 2007, the Reparto Corse range will showcase new technological advances. Bianchi technical staff have engineered extremely light and stiff bicycles to help our champions win," declared Brambilla in his opening statement.
"Our high-tech bicycles have got a heart, too," he added. "They are constructed with the ingredients of dialogue and cooperation with the riders."
As well as a number of new bikes, Bianchi have divided both their road and mountain bike ranges into three distinct segments to simplify a potential customer's decision-making process. Said Brambilla to Cyclingnews: "Most of the customers did not understand exactly the philosophy behind the [previous] bike [ranges].
"We probably made some mistakes [in the past], understanding the customer needs and the way the customers feel about the bikes. That is why we decided to provide a clear picture of the segmentation, with specific uses depending on the bike."
In 2007, the Reparto Corse Road frames will be divided into three segments:
HoC (Hors Category): super-light frames, no compromise with materials, 'reactive' geometry;
B4P (Born for Performance): light frames, optimised weight-stiffness ratio for multiple purposes;
C2C (Coast to Coast): stable geometry with a less aggressive position in the saddle; use of BAT (Bianchi Active Technology) for long-distance riders, such as those who compete in the Ride Across America (RAAM).
Likewise, mountain bike frames will be separated into three categories next year:
Racing: super-light, racing geometry;
Performance: light frames guaranteeing high stiffness;
Leisure: comfortable upright position and high performance/price ratio; stable geometry.
Bianchi's flagship bike

The Hors Category FG Lite,

Bianchi's Born for Performance 1885 TB Hydro/Carbon,
The 'Born for Performance' Freccia Celeste,

Bianchi's 928 Carbon 'Coast to Coast' frame

The Coast to Coast version of the S9 Matta Titanium,

Bianchi intend to lure more females into the sport

One from the Bianchi's 2007 Sport range,

Also, for the first time, the use of carbon Nanotechnology - done in-house at Bianchi's Treviglio headquarters - has enabled the company to achieve a 30 percent weight saving on their flagship HoC road frames, namely the FG Lite C (aluminium/carbon), the FG Lite A (aluminium only) and the 928 C SL (full carbon).
The only other company employing such advanced manufacturing techniques is BMC, who employ the services of Easton to make frames using Nanotechnology for the Phonak cycling team. And the price of Bianchi's flagship 928 C SL frame with a Campagnolo Record 10-speed group and Bora tubular wheels, I hear you ask? 9,000 Euro.
Bianchi claims the frame will touch the scales at 900 grams for a size 55 sloping, and geometry will remain identical to the current 928 Carbon L. The name is derived from the three Giro-Tour double victories taken aboard Bianchi bikes: Fausto Coppi in 194(9) and 195(2), and Marco Pantani in 199(8).
The models of the 2007 range come from numerous tests, endless laboratory studies and thousands of kilometres on the road said Bianchi's R&D manager Luca Minesso. "The inspiration for a new frame can come from a sudden idea while you are riding. The ideas often come from our champions' needs as we try to satisfy their requests," Minesso said, adding: "We are also supported by some of the most renowned research centres, like the Polytechnic University of Milan, where we have recently done some tests in the wind tunnel."
Asked how often riders like Danilo Di Luca or world and Olympic mountain bike champion Julien Absalon approach Bianchi with constructive criticism, Minesso said: "They come here regularly. Sometimes too much!
"But no, for us, it's important, for them to talk about how they feel [on the bike] - stiffness, geometry, [handling] dynamics. They make very, very interesting suggestions. We are lucky that we have [Julien] Absalon and Danilo Di Luca, who are both very focused and precise about their bikes.
"We also use [feedback] from the riders from local teams quite a lot; it's often more reliable than [the feedback] from professional riders, because sometimes we feel the feedback is sometimes conditioned by their results. We have a lot of teams [that we sponsor]; in 2006, we have sixty teams - junior, under-23, professionals - that use our bikes, and the all feedback is very important."
Apart from the trademark Celeste colour that is recognised the world over, Bianchi are one of the few bike companies that offer fully-built bikes as well as frames. "It was a long time ago Bianchi decided to sell complete bikes. If my memory serves me correctly, at least 10, 15 years ago," said Brambilla.
Asked why the company went down this path, he explained: "First of all, we decided to follow our dealer needs, where the majority of customers now prefer to buy a complete bike. Obviously, there are still situations where a customer prefers just a frameset - by that, I mean frame plus fork - and the customer decides what kind of components he likes to build on the bike.
"The last two years, however, the statistics are quite clear: we receive more than 80 percent of requests oriented towards the complete bike. And that's the reason why we choose to continue in that same direction."
With 80 percent of a €55 million turnover (their biggest markets being USA and Italy, with €17M and €12M worth of sales respectively) coming from complete bikes, it's little surprise to see Bianchi forming alliances with Campagnolo, Shimano, FSA and Mavic, among others. However, Brambilla made a point of saying that ratio was even greater three years ago.
"If we look at the percentage then, around 95 percent [of sales] were coming from complete bikes, and a maximum five percent framesets," he said. "Now, we see from our dealers, the customers are asking more for just the frame, because they like to build for themselves exactly what they want.
"So this [selling complete bikes] is not a strategy where we always want to follow in the future; it will depend on what the market wants and needs. If we discover the trends change for Bianchi, then we will change - you have to adapt your strategy."
But for now, despite the complexities involved, it's a strategy worth pursuing: "It's absolutely true," said Brambilla about the added complications involved in outsourcing components and accessories.
"But you also have to consider the logistical point of view: how much you have to spend to collect all the components, to keep them in our inventory, and then to mix them based on different requests. It's quite complicated, but it's what we've decided to do, based on the market potential."
One thing will remains constant, however: that unique, unmistakable, often enviable, colour.
"Years ago, we discovered Celeste Bianchis were the best selling colour for sure. If we look at our sales [today], roughly 65 percent [of sales] are from the Celeste colour, the rest are different. But we decided that for the rest of the colours that are not Celeste, to keep a small thing that was Celeste, to help keep the identity of the brand.
"Most of the Bianchi fans around the world like the Celeste colour. It's exactly the same with Ferrari; most of the Ferrari cars are red because that is their flagship colour, and I don't recall another company like Bianchi or Ferrari that are so well recognised by their colour... it's incredible, eh?" said Brambilla, grinning.
Editor's note: photos of Bianchi's Reparto Corse MTB range will be available next week, along with a feature on Danilo Di Luca's Liquigas Bianchi FG Lite.
Photography
For a thumbnail gallery of these images, click here
Images by Anthony Tan/Cyclingnews.com
Images by Bianchi S.p.A.