On test: Wilier Triestina Le Roi - May 6, 2005
The royal revolutionary
Wilier Triestina is a name steeped in tradition, but the latest model from the Italian marque is bang up to date: the light, versatile carbon fiber Le Roi. Racer and bike mechanic Richard Mille took the Wilier out for a spin in sunny Provence, at the foot of the Mont Ventoux. Hedwig Kröner translated his appreciation.
Wilier Triestina Le Roi
Photo ©: Hedwig Kröner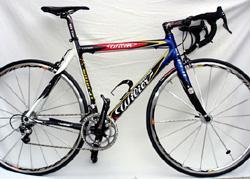 For the first ProTour season, as well as throughout 2006, Italian high-end bike manufacturer Wilier Triestina will provide the French Cofidis ProTeam with its race bikes, and one of the machines available to Cofidis riders is this one, the carbon fiber Le Roi. This bike is the choice of the team's leaders Sylvain Chavanel and David Moncoutié this season; Cofidis also has available Wilier's Team bike, in scandium-aluminium and carbon.
The Wilier Triestina Le Roi is majestically equipped with top of the range components and accessories, most of them in carbon of course. The frame is manufactured by a process Wilier calls MMS (Multi Monocoque System) which involves joining very lightweight carbon fiber tubes. It's similar to the manufacturing process developed by ScottUSA for its CR1 bike, and results in an extremely stiff and durable frame.
In fact, the Le Roi passes the German EFBe test lab's 'Top performance' standard for durability. The only other sub-1000g frame to make that mark is ScottUSA's CR1.
Cofidis team identity
Photo ©: Hedwig Kröner

Going up!
Photo ©: Hedwig Kröner

FSA SL compact cranks
Photo ©: Hedwig Kröner

Big down tube, big logo.
Photo ©: Hedwig Kröner

The ITM bar
Photo ©: Hedwig Kröner

The bottom bracket area
Photo ©: Hedwig Kröner

Git down!
Photo ©: Hedwig Kröner

Mavic brakes
Photo ©: Hedwig Kröner

Vittoria Open Corsa Evo-KS tyres
Photo ©: Hedwig Kröner

Large-weave carbon
Photo ©: Hedwig Kröner

Campagnolo Record rear derailleur
Photo ©: Hedwig Kröner

Campagnolo Record front derailleur
Photo ©: Hedwig Kröner

The extreme lightness of the Le Roi is the first thing that strikes you when you pick it up or, in the case of our test bike, pull it out of the box. And when all the parts are together, that's the impression that remains: this is a bike that feels and looks like a true top performance machine, made to provide a platform for the best riders in the world (not that I would be one of them!)
Wilier has clearly chosen the Le Roi's components for light weight and performance too, and as a result there's a lot of carbon fiber hanging off the composite frame in parts from FSA, ITM, Selcof, Selle Italia, and Campagnolo. With nearly everything being made out of the black fiber weave, I was almost surprised to find out that Le Roi had Mavic Ksyrium SL wheels instead of carbon ones - but of course, the Ksyriums are top-level equipment too, and carbon wheels still fall into the category of 'equipment for special occasions'.
Interestingly, the FSA crankset is in fact an SLK compact with 50/36 chainrings. The Campagnolo cassette has a 12-25 spread, giving a low gear of 36 x 25, the equivalent of the 32 x 23 you might use a triple ring to obtain. Our Le Roi is therefore clearly not intended to match a professional rider's abilities, but the ones of a passionate leisure cyclist who wants a top level bike to carry him through all sorts of different terrain.
Esthetically speaking, the clear varnish underlines the particularly large carbon fiber weave, and it's rather beautiful. However, I thought the team Cofidis blue, white, red and yellow colour scheme didn't fit with the black very well, but that of course is a matter of taste. The team's scandium frame for example, which is white, matches the Cofidis colours better to my eyes. I was surprised to find that Le Roi's logo, the 'Fleur de Lys' lily flower had disappeared from the front of the frame. Instead, it is now placed in an almost invisible spot underneath the down tube near the bottom bracket. Could that be a move to not offend the French supporters of the Cofidis team? Maybe the 'Grande Nation' would have a negative interpretation of the royalist symbol associated with the blue-white-red colours of the French Revolution?
The sloping geometry of the frame as well as the assembled stem and handlebar give the bike an aggressive look, which is further enhanced by the impressive size of the bottom of the down tube. The intersections of the tubes are practically invisible, making it hard to tell that you're not looking at a monocoque frame, though Wilier justify the use of the term by saying that the tubes are made by the same process used for true monocoque (one-piece) frames.
The two characteristics that riders look for in a bike are both comfort and stiffness, and they are very difficult to achieve at the same time. But when I saw the combination of the Wilier frame and the full carbon Mizuno fork, I looked very much forward to riding the bike with the prospect of it surely meeting both criteria.
The Selle Italia SLR Carbonio saddle is set up with a Selcof carbon monocoque seatpost of 31.6 mm in diameter. These components are thus more oriented towards a decrease in weight and greater performance than comfort.
The Mavic Ksyrium SSC-SL wheels are very popular in the professional and amateur pelotons. They provide essential rigidity when getting out of the saddle and are pleasantly lightweight when it comes to climbing. Mavic also supplied its SSL brakes to Le Roi, while shifting comes from the usual high quality of Campagnolo carbon Record 10-speed brake and shifting levers, driving front and rear Record carbon/titanium derailleurs. The front derailleur is a standard Record model, not the CT derailleur the Italian manufacturer created to fit compact cranksets.
Hitting the road
Have you ever driven a Porsche? At first, it's not very comfortable, but once the engine accelerates for the first time and you find yourself pressed into the seat, speeding in a curve, you realise the true purpose of such a machine - and you get a lot of pleasure out of driving it!
I had exactly that same feeling when taking out the Wilier Le Roi the very first time. The first kilometres left me feeling pretty uncomfortable, though I must admit that it was after a particularly inactive winter. The culprit, however, didn't seem to be the frame, but the Selle Italia SLR Carbonio saddle, a light weight and minimal seat which either fits you or it doesn't - there's not enough padding on it for any sort of middle ground. You do see SLRs very commonly in situations such as mountain time trials where the teams need the lightest equipment as possible - in that case, the SLR is the perfect saddle! I decided to wear my best-quality shorts, and wait to get used to it.
The ITM Sword handlebar also needs to be tamed, as positioning it even slightly wrongly can cause wrist pain when placing one's hands on the flat top part of the carbon handlebar. This flattened part has the shape of an aircraft's wing, a design that does help to make the position on the tops much more comfortable, as long as you get the angle right. Place your thumbs on top of the handlebar while climbing, and it takes a little pressure off your arms. With the ITM Sword, this feels very natural and comfortable, though you do need to you wear cycling gloves to absorb the vibrations and to prevent your hands from sliding, as there is no handlebar tape. Further to the sides, at the exterior bend, the ITM Sword has been modeled to fit the rider's hands to perfection. The Sword allows you to relax your chest muscles while feeling absolutely comfortable on the bike. I found this handlebar to be very ergonomic, providing for excellent handling. The only thing that isn't spot-on is the length of the bottom end of the bar. My hands aren't particularly large, but it seemed that one more centimetre wouldn't have hurt when I placed my hands in sprinting position. The flat top also means a special accessory is needed to mount a computer.
The Le Roi's comfort and ergonomic aspects put it in the category of bikes for hard racing specialists, and its response to your power input matches. On a flat stretch, merely getting out of the saddle brings home the Le Roi's ultra-performance nature as the bike surges forward. The Le Roi's response seems to come from the extremely stiff bottom bracket area. The bottom ends of the down tube and seat tube are almost as wide as the bottom bracket shell and as a result this frame has the stiffest bottom bracket area of any frame I've ridden. It's the sort of rigidity that really minimises the deformation of the frame and allows to transfer all the power to transmission. I just couldn't feel the crankset move to the left or to the right at every pedal push anymore, which is a feeling you still might get on another bike.
Of course, it's while climbing that you grasp the excellence of this frame to its full extent. Attack a hill in a big gear to exaggerate the effect and the bike responds flawlessly. The FSA carbon cranks do an equally superior job in taking on the pedalling forces and redirecting them to the rear wheel.
The one functional problem I came across was with the front shifting. The combination of compact rings and a standard front derailleur means the front shifting needs to be handled with a little more subtlety when shifting down - the Record CT front derailleur that is specifically made for this application would be a better spec, particularly if you were to fit a 34-tooth inner ring. Apart from that, nothing about the levers/derailleur set can possibly be criticised - the set worked beautifully as usual and added a definite elegance to the bike as the carbon fiber is present in every element.
The Look Keo pedals were new to me, but Look's pedals have always been a favourite and the Keos lived up to my expectations: very light, easy to click in, and extremely secure even when pushing and pulling hard - I never slipped out of the pedal once.
While I was testing the Le Roi one of my riding companions remarked, "You need to be strong to be able to use such a machine." But actually the contrary is true: this bike responds exceptionally well to everybody's abilities. You will regret that the climbs aren't a little bit longer! And the descents too, because the bike performs just as sharply when leaning into tight curves at great speed. The Mavic Ksyrium SSC-SL wheels are no stranger to highest quality road riding, and when combined with the Mavic SSC brakes, the result is a astonishingly powerful but surprisingly supple braking. Once you've built up confidence - as well as adrenaline - you'll lean into hairpins even further than before. The 50 x 12 top gear will not get you to surpass speed limits as easily as a 53 x 11, but you will attain 75 km/h with little effort and, more importantly, without any apprehension.
Although this machine is particularly suitable for climbing, it will be efficient on any sorts of terrain and for any level of usage. I can think of a multitude of cycling situations for the 'Le Roi': time trials, long solo rides or sprints. So, for which type of rider is it intended?
With a more comfortable saddle, the bike would be ideal for the performance-oriented cyclist who appreciates technical perfection, while still getting the chance to watch some beautiful countryside at their own pace. On the other hand, with a 53 x 42 crankset and an adapted cassette, you get a mean racing machine to get you to the finish line. It's up to you to get the most out of this bike's huge potential, but one thing is guaranteed: pure pleasure. And if somebody asked me if 'Le Roi' is revolutionary, I'd reply that it is - and that's really something for a bike which is branded with a lily flower! Vive Le Roi!
Pro: Ultra-high performance
Con: Higher gearing would be better for racing; saddle built for speed not comfort
Cyclingnews Rating:

Photography
For a thumbnail gallery of these images, click here
Images by Hedwig Kröner/Cyclingnews.com
Full specification: Wilier Triestina Le Roi Cofidis Record

Frame: Wilier Le Roi MMS Carbon
Fork: Mizuno Drome 1 1/8in carbon steerer
Colour: Team Cofidis 2005
Sizes: S (45x52.5), M (48x54.5), L (50x55.5), XL (52x57)
Seat Angle: 73.5° (varies - this is for size L)
Weight:7.4kg

Cranks: FSA SL-K Compact MegaExo, length 175mm, chainrings - 50/36
Bottom bracket: FSA Platinum MegaExo ISIS
Front derailleur: Campagnolo Record
Rear derailleur: Campagnolo Record
Levers: Campagnolo Record Ergopower 10s
Brakes: Mavic SSC
Rear cassette: Campagnolo Record 10s, 12-25

RRP: €5100

Wheels: Mavic Ksyrium SL
Tyres: Vittoria Open Corsa Evo 23mm


Stem: ITM K-Sword Carbon 120mm, 31.8 mm diameter
Bars: ITM K-Sword Carbon
Tape: Black
Head set: Integrated

Pedals: Look Keo
Seat post: Selcof Carbon Monocoque, 31.6 mm
Saddle: Selle Italia SLR Kit Carbonio

More information: www.wilier.it
Win a Cofidis Wilier Triestina Le Roi in the Cyclingnews Fantasy Giro 2005
Wilier Le Roi
Campagnolo Record

If this review has you salivating and wishing for your very own Wilier Le Roi, you can win one in the Cyclingnews Giro Fantasy Game! Wilier Triestina is offering a team Cofidis Le Roi bike for this year's grand prize, exactly as detailed above and ready for everything from the rigours of the Spring Classics to the mountains of the Giro - and beyond.
Campagnolo is also offering its record component group to the first runner-up. Campagnolo's Record component group is the ultimate in light weight and pro quality durability, with carbon and titanium parts and sub-components to shave weight, and Campagnolo's famous reliability to keep you roiling down the road however tough the going gets.
High-performance features of the Record group include carbon fiber crank arms; carbon fiber brake/shift levers; titanium rear derailleur bolts and carbon cage; carbon fiber front derailleur cage; carbon fiber seatpost; aluminium hub axles and much, much more. It adds up to a group that's still the most successful racing component ensemble of all time.
Join for free!
You can begin creating your team/s now. We will be adding additions to the startlist on a daily basis. The Tour games are easy to play, all you need to do to manage your own team is select 15 riders from the live start list then select 9 of these riders to race each day throughout the Giro. You score points according to how well each of the riders place each day in the Giro. You can play the first 5 stages for FREE! So try your team today and see if it's for you. It's a great way to follow the Giro. Create your teams now at fantasy.cyclingnews.com.