Tech review - March 16, 2005
Soma Fabrications Steel Core Tyre Levers
Steve Beletich's attempts at destructive testing go unfulfilled. These levers hack the pace - and then some.
Soma Steel Core tyre levers
Photo ©: John Stevenson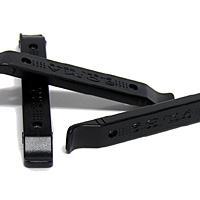 I used to think it was just me. Other guys would change their tube, prising the tyre on and off the rim using nothing but bare hands. When my turn came I'd be huffing and puffing, with a bunch of tyre levers, looking like the rank amateur that I am. Whilst I've been told that you need to practice the art of tool-free tyre changing for ten years in order to develop the required callouses, I've also heard the tough men tell me, usually over a few beers, that they can prise tyres on and off with their eyelids.
Cast that image aside for a moment then and picture this – me breaking my scrawny wrists trying to force the tyre off the rim using three tyre levers, two hands and both my feet. Twice I've broken tyre levers – no kidding – and now I realise why. I was unknowingly running tight-beaded tyres with large diameter rims (Continental Attack/Force tyres and Campagnolo Proton rims, if you must know). I only discovered this enlightening fact when I fitted another wheelset recently and found that my brake blocks needed to drop down about 2-3mm to suit the smaller diameter of the new rims.
Now don't get me wrong – the combination of a large rim with a tight bead is a very good thing when one is flying into a crit corner at 50 km/h and powering out like a man possessed. It's at these times one would be grateful for a near-impossible-to-remove tyre/rim combination. Beats learning the Joseba Beloki way about loose fitting tyres.
Heart of steel
Photo ©: John Stevenson

Of course the price for this comfort is the ability to get the tyres on and off the rims without a using string of expletives. It's fine when I am at home and can take my time, but I HATE puncturing on the bunch ride. Everyone stops to watch me change my tube, which I swear makes my heart race faster than when I'm on the bike. Call it stage fright, but I'd prefer to fix the puncture on my lonesome, without peer group pressure and calls to hurry up. You guys go on ahead, I'll take a short cut and catch you down the road...
Thankfully, the task of tyre removal and refit has been made a little easier. The Soma steel core tyre levers have, surprisingly, a steel core. It runs all the way to the ends of the levers, and the whole shebang is coated with nylon to protect your precious tubes, tyres and rims. The business end has a nice thin, scalloped section, which gets up and under the tyre bead without any fuss. The user end is hooked, which allows you to clip it under a spoke, thereby freeing up both hands.
In use, these babies did not miss a beat. They went in, hooked the tyre, lifted it over the rim. Eins, Zwei, Drei. They're so strong and stiff I reckon you could slide a two foot piece of pipe over the them, for leverage, without any breakage. Okay, they do weigh a little more than your all-plastic jobbies, but how many times do we have to learn that it's actually worth carrying some good tools? Either that or carry taxi fare.
The inside dope
Photo ©: Soma Fabrications

In conclusion, I'd agree that the simplest ideas are often the best. The Soma Steel Core tyre levers are an elegant solution to the ongoing problem of tight tyre beads on oversized rims. They're not quite my fantasy of being a Johnny Depp type character in 'Edward Tyre Lever Hands', but I'd call them the next best thing.
Suggested retail price: US$3.99 per pair
Materials: Steel, nylon
Pros: Durability, ease of use with tight tyre beads, protective nylon coating
Cons: Weight
More information: www.somafab.com
Cyclingnews Rating: