On test - March 8, 2005
Park PRS-15 workstand & PRS-15AP accessories
Go anywhere stability
If you work on bikes away from your workshop, you need a stand that tucks away easily but is solid once assembled and will take any bike. Park Tool's PRS-15 fits the bill, according to John Stevenson.
Park's PRS-15 in full effect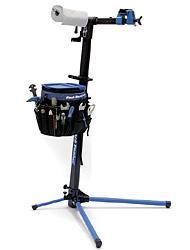 Park's most 'serious' portable workstand is a hardcore tool for race mechanics who need an easily-transported stand that will take any bike they encounter and that is rock steady in use. Our test stand came with Park's PRS-15AP accessory kit, which includes a bucket-cum-work tray, a handy 'tool kilt' for your equipment, a bag to transport the stand, a simple add-on wheel truing attachment and a mount for a roll of paper towels.
The main spar of the PRS-15 is a pair of tear-drop section aluminium tubes, fitted one inside the other to provide a telescopic support that provides a height range from 102cm to 152cm. At the bottom are four fold-out legs. The front pair is fixed, while the rear pair have screw adjusters so you can get the PRS-15 level even if the ground's uneven - and if you're wrenching in a field or car park at a race, it's likely to be.
Up top is Park's new 100-15 Extreme Range Clamp, which opens from 22mm to 75mm, and provides quick, easy support for your bike with a combination of a quick-release catch for gross adjustment and a large dial for fine adjustment. Like many Park stands, you adjust the angle by loosening the handle at the rear to slightly release the rotational lock.
The stand measures just 115cm x 30cm x 20cm when packed, and while it's by no means light, slide it into its bag and its easy enough to tote around. The bag is a must-have accessory as the folded-down stand is a spiky object without it.
Unfolding the stand for use takes less than a minute, and is so easy that there's nothing much to say about it. Slide the base assembly down the upright; lock it in place; fold out the legs; adjust the rear legs so it has four or five points of contact (if you leave the upright protruding a little it can act as an extra foot); loosen the rotational clamp; unfold the head; tighten the rotational clamp; pull the main beam out to desired height and close the quick-release. I think that took longer to write than it did to do.
| | |
| --- | --- |
| The bag is an essential accessory | The fully folded PRS-15. |
| In use | The central locking knob. |
| The head folds for storage. | Get on the level |
| The jaws of victory | Quick action |
| Height adjustment | The bucket and tool kilt |
| The PRS-15AP includes this wheel guage | The PRS-15AP wheel mount |
In use, it's extremely stable, and it took every bike we needed to shove in it at a recent mountain bike race, a range of middleweight cross-country machines mostly. The wide range of height adjustment is particularly welcome. Got a fragile frame that you just do not want to clamp by a tube, a carbon fiber bike for example? Whack the head up to its maximum and clamp the seat tube and the bike will still be at a convenient height. I'm probably showing my age if I mention the very old Park stand in my workshop that's not height adjustable, but I curse it every time I have to work on a bike that doesn't have an easily-clamped seat tube. These days that's, well, pretty much my entire fleet except for a couple of steel mountain bikes I'm sentimentally attached to, and for this feature alone the PRS-15 has already become my main workstand.
In fact, I used it to assemble a complete bike recently, the Planet X Superlight Team mentioned in New Arrivals here, and the Ultegra group that arrived at the end of last year. Now, assembling a complete bike isn't an ultimate test for a workstand, as - hopefully - no major torqueing, twisting, yanking or other brute force persuasion techniques will be required. But by the same token, bikes you work on at races will also have been well cared-for - again, so one hopes anyway - and you won't encounter the kind of jobs that really need a workstand that's bolted to the floor or the wall. For these 'no brute force' tasks, then, the PRS-15 works fine. It's easy to get the bike at a comfortable height, it holds firmly and stably and it's a doddle to change bike angle or height.
I haven't tried it, but I doubt the PRS-15 would be 100 percent happy if you were trying to do something brutal, like, say, persuade an unlubricated bottom bracket cup to give up its 15 year tenure on a frame that's been ridden in salty British winter slush. Fine as the PRS-15 is, it's just not quite heavy, beefy and downright grumpy enough. However, unless your workstand really is bolted to something, that's a job where the first - not last - resort is to find a tool that'll fit in a vise, make sure the vise is bolted to something really solid and shift the offending component by turning the whole frame. Of course you first a) soak it overnight in penetrating oil and b) get the owner to sign a disclaimer stating that he's a muppet for neglecting his bike for 15 years and you're not liable if brute force techniques trash the frame. But I digress.
As mentioned earlier, our stand came with a PRS-15 AP goodie set, which adds a bunch of useful features to the stand. In fact, in my opinion, you'd be mad to get one and not the other, or at least to get the stand and not at least two of the PRS-15AP's components, all of which are available separately. The BAG-15 bag is an absolute necessity (and should really be bundled with the stand); the BTK-1 bucket gives you somewhere to dump stuff that you're working on and the tool kilt helps keep you organized. I can't imagine using the PRS-15 without them.
The other two items in the kit are less compelling. I prefer the Morningstar R2.O.C.-Tech for truing wheels in the field - Park's single-sided TS-15 truing attachment is a bit wobbly for my taste. And I'd rather carry rags than the paper towels that mount in the PTH-1 paper towel holder as I find paper always disintegrates when you least want it to. But those are the smaller items in the package, and still handy to have for some.
Our PRS-15 also got a bit damp in its field outing. It was under cover, but when the Blue Mountains decides to unleash the full sturm und drang of a summer thunderstorm, it doesn't matter what you're under, if you're not inside a building, you get wet. Unpacking it afterwards, I noticed the various steel bolts were showing a bit of surface rust. It's purely a cosmetic things, but stainless bolts would be nice.
One other observation is that it's a surprisingly long way from the jaws to the handle that locks the head in place. When you need to loosen the head to rotate a bike, it's quite a reach across the bike to do so
Retail prices: PRS-15: US$269.95; PRS15AP: US$109.95; BTK-1 Bucket & tool kilt: US$59.95; TS-15 Truing stand: US$27.95; PTH-1 Paper towel Holder: US$9.95; BAG-15 Bag: $22.95
Materials: Heat-treated aluminium main support; composite head and clamp collars; steel bolts
Pros: Easily packed and assembled; stable; bag and bucket/kilt are must-haves
Cons: Some PRS-15AP parts more useful than others; stainless bolts would be nice.
More information: www.parktool.com
Cyclingnews Rating: