New Arrivals – February 9, 2005
Edited by John Stevenson
Got Tech? Send press releases, news, and tech questions to the Cyclingnews tech-heads.
Welcome to New Arrivals, a section showcasing the latest equipment that's landed on the Cyclingnews tech desk. Look out for reviews over the next few months when we've clocked up some saddle time with this stuff.
Polar CS100 & CS200 computers
Polar CS100

Polar CS200

Heart rate monitor maker Polar has always been known, one way or another, for things that strap to your wrist. Even its monitors aimed at cycling have come in wrist-mounted form. Until now, that is. Polar has just introduced two new monitors, the CS100 and CS200 that comprise full-function cordless bike computers and heart rate monitors and that mount on your bike's handlebars.
Both the CS100 and CS200 provide the full range of computer functions plus optional cordless cadence sensing; two bike settings; a semi-automatic backlight (you activate it once and it then remembers that you're riding in the dark and lights up whenever you use any other functions); display of calories expended and a feature Polar calls 'OwnZone' that suggests an optimal target heart rate based on your daily condition.
Both computers also feature three new functions: Polar Cycling Coach, a web-based coaching program and diary; estimated time of arrival, based on your speed; and automatic display scroll, which switches the information on the display according to your preferences.
The CS200 adds a number of additional sophisticated functions (as if the CS100's feature set wasn't enough!). It remembers your last seven rides; can download data to a PC through a microphone; and indicates if you're above or below your average speed. It also tells you how much food you should eat, or, as Polar puts it, explaining the new Cycling Intensity/Economy feature, "you can foresee your calorie consumption and secure sufficient intake on a long ride."
Price: TBA
More info: So new they're not there yet, but Polar is at www.polar.fi

Park Tool PRS-20
Park Tool PRS-20

Park Tool's PRS-20 workstand is a folding version of a style of portable workstand long popular with European team mechanics. The stand supports a bike by cradling the bottom bracket and clamping either from the front or rear dropouts after the wheel has been removed and in its classic incarnation, this design is made from square-section steel tube and is easily dismantled for transport. Park Tool's version simply folds, in a similar manner to the PRS-15 stand we mentioned a few weeks ago (and which has been doing sterling duty as our main stand ever since).
It's made from steel tubing so there's plenty of weight down low when it's erected, and it's consequently more 'luggable' than 'portable', but you'd have a fun time convincing airlines to let in aboard as hand luggage these days anyway…
Price: US$229.99
More info: www.parktool.com

Bergamo Peloton jersey
Bergamo Peloton jersey

Bergamo's peloton jersey uses a dual-knit polyester fabric that wicks sweat away from your skin to keep you comfortable, and mesh panels under the arms to help keep the sweatiest areas even cooler. There's a full-length zip for maximum versatility, waist gripper to keep it in place and the traditional trio of rear pockets.
Available in Red/Red, Navy Blue/Royal Blue, Royal Blue/White and in sizes S to XXXL.
More info: www.uplandsg.com

Bergamo Peloton bib shorts
Bergamo Peloton bib shorts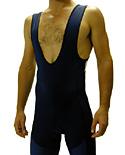 Bergamo's top bib short for 2005 is made from heavy 210-gram Lycra with the same highly breathable mesh for the upper section that's used in the Peloton jersey. The liner is a shaped, four-layer elastic insert that provides support where it's needed.
Avilable in Black, Navy Blue, Red, and Royal Blue in sizes S-XXXL.
More info: www.uplandsg.com

Oval Concepts R950 carbon handlebar
Oval Concepts R950

We seem to be on a weight kick today and at the other end of the scale from Park's necessarily hefty workstand, Oval's R950 handlebar is very light indeed at just 190g. It's also one of the most thoroughly thought-out shapes we've seen in a handlebar of any material, with a wide top and anatomic drop that's not as severe as some.
Oval says the lay-up incorporates a layer of Kevlar mesh to prevent catastrophic failure in the event of a crash doing hidden damage to the structure of the bar.
Weight: 190g
More info: www.ovalconcepts.com

Oval Concepts R700 stem
Oval Concepts R700

Oval's R700 stem is a 3d forged unit with 43mm handlebar clamp and four-bolt front cap with a twist: the bolts screw in from behind the bar, rather than in front, so the threads are in the cap. One obvious advantage of this is that if you have an attack of ham-handedness and strip the thread, you're only looking at replacing the cap, not the stem. Oval says there are other advantages, with the design increasing the fatigue life of the stem and providing extra space for handlebar-mounted computers and heart rate monitors. And of course, it looks trick.
Weight: 160g
More info: www.ovalconcepts.com

Oval Concepts Jetstream R900 fork
Oval Concepts R900

The R900 is the road racing version of Oval's A900 time trial fork, with the same striking slotted fork leg design, but a shape more akin to a conventional, curved road bike fork. At 460g it's no featherweight, but that's not the point - the idea here is that the slots in the fork help control the turbulent airflow from the wheel, reducing drag. Interestingly, Oval points out that regular road wheels are less aerodynamic than time trial wheels, so anything you do to improve aerodynamics has a proportionally better effect.
Weight: 460g
More info: www.ovalconcepts.com

Planet X full carbon fork
Planet X full carbon fork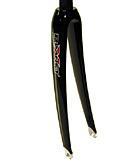 Complementing the Planet X Superlight Team frame we featured last week, Planet X's all-carbon fork weighs 380g, which puts it in the middle of carbon forks that have landed on our scales, between 300g the Look HSC5 SL and the 462g Bontrager Race X Lite. As well as being a reasonable weight, it's something of a bargain as far as cost goes, at just UKP175.
Weight: 380g
Price: UKP175
More info: www.planet-x-bikes.com

Planet X Superlight spacers
Planet X Superlight spacers
Here's one from the 'I wish I'd thought of that' box. Instead of making headset spacers light by using low-density materials that are absurdly expensive for the application, why not find a way to use good old cheap aluminium, but less of it. Planet X's Superlight headset spacers have the same inside and outside diameter as regular spacers, but less metal in the middle. A 37mm stack weighs just 15g. Nifty.
Weight: 15g (37mm stack)
Price: UKP1.50 each
More info: www.planet-x-bikes.com

Nikon 8800 digital camera
Nikon Coolpix 8800

I'm endlessly in search of the perfect digital camera for shooting cycling and bike products (although I don't seem to be able to 'commit' - most of the pics you see here were shot with my venerable Nikon 950!). The most interesting digital cameras of the last year or so have been the long-zoom models like Panasonic's DMC-FZ20 which boasts five megapixel resolution and a 12x optical zoom, and Nikon's new eight megapixel, 10X optical zoom Coolpix 8800.
The Coolpic 8800 is attempts to roll into one unit the versatility that comes from toting around an SLR and a bag of lenses, an approach that undeniably produces terrific images (in the right hands) but that has significant issues in terms of cost and hassle. As such, the 8800 is very 'SLR-like' in its shape and feel, and relatively bulky compared to many digital cameras. The zoom range is equivalent to 35-350mm lenses on a 35mm film camera and the lens uses Nikon's vibration reduction system to help with stability at long focal lengths.
As you'd expect from a high-end digital camera there are also more modes, functions and features than you can shake a Compact Flash memory card at, and I'll be back in a few weeks time, I hope, with some thoughts on how it all works and photo samples.
Weight: 620g
Price: US$999.95, Au$1899
More info: USA: www.nikonusa.com; Australia: www.maxwell.com.au