Recently on Cyclingnews.com
Reviews
Putting the pedal to the metal
Nalini Flystorm road shoe
By Anthony Tan
Coming soon to an Italophile near you
Photo: © Cyclingnews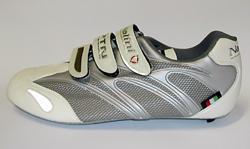 Known throughout the peloton for their range of pro team clothing, Italian cycling accessories manufacturer Nalini have recently developed a range of road and mountain bike shoes catering to the Italophile in all of us. The Flystorm is Nalini's top-shelf road shoe, and weighing a mere 280 grams each, these may well be the lightest cycling slippers out on the shelves today.
Open for inspection
At first, I really didn't want to take these out of the box. The fine Lorica mesh, the virginal white leather, and the cute little tricolore flag was enough to make an accessories junkie like myself weak at the knees. But further inspection revealed that these shoes weren't made for the mantlepiece: thick, generous padding from the heel cup, extending all the way underneath the buckles of the triple velcro strap closures, is indicative of a company that has placed plenty of thought towards consoling your tootsies on those four hour plus rides. Or two hours if you're time-poor (read: unfit) like me.
Depending on the time of day or the voltage coming from your fluorescent lights, sunglasses may be required when examining the base of the shoe: the sparkly silver sole is a carbon fibre/aluminium matrix, comprising 80% carbon and 20% aluminium - something my colleagues nor I hadn't seen before. A replaceable, hardened rubber insert, screwed in at the heel to make the trip from the cafe counter to your cappuccino a safe one, is a splendid idea, as is a plethora of screw holes to accommodate your favourite pedal/cleat combo, mine being the Shimano SPD-SL.
Set-up
Sparkly
Photo: © Cyclingnews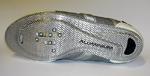 Once I had swapped the cleat over from my Specialized Pro Road shoe to the Flystorm, I went about the task of adjusting the fore/aft positioning of the cleat. Having being a previous Time pedal user for almost eight years, experience tells me that a Look-style pedal and cleat combination generally does not offer as much set-back to allow the ball of your foot to go beyond the imaginary centre line of the pedal axle, thereby discouraging a more circular pedaling motion. However, I was pleasantly surprised to learn that this particular model did allow for a little extra set-back compared to my current cycling shoes. Another noticeable difference is the width of the sole. In general, Italian-made shoes are narrower than their American counterparts at their widest point, so you may have to do what I did and go for a half or full size up to avoid squishing your foot around the toe-box. The downside to this, however, is an overly long shoe that may result in slippage when really pedalling hard out of the saddle.
My other gripe is the nylon insole. I, like many, exhibit a tendency to pronate (roll inwards) when walking, so a supportive insole is crucial both on and off the bike. For those without the dosh for orthotics (which are often a little too bulky for cycling shoes anyway), a number of manufacturers have begun to make insoles to cater for those tending to pronate as standard, raising the area around the heel arch with a hardened plastic insert. However, Nalini's road shoes haven't followed this trend, so I swapped my old insoles and put them inside the Flystorms.
Pedalling away
Used by the Sportsbook pros
Photo: © James Moro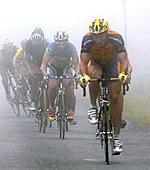 With the usual piss-farting that goes with a new item of swag and an anal-retentive person like myself, I was eventually on my bike and gleefully pedaling away. The carbon/aluminium sole was as stiff as buggery, becoming more apparent when you're dancing on the pedals up your local col or really putting down the power in an effort to beat your mate to a set of traffic lights. Yes, my life has come to this...
On longer rides, the Flystorms offer no real discomfort, my legs feeling the pinch some time before my feet. And despite wearing a shoe a full size up from current pair, I only experienced a minimal amount of slip - although being so new, it's still early days. Nalini's decision not to use carbon fibre velcro straps combined with the generous use of mesh was a good one; a bit of 'give' is a godsend on those blistering days where your feet swell up and scream for a little latitude.
Judgement day
Well, I've come to the end of my review and haven't even mentioned anything about looks! (good heavens, what was I thinking?) Rest assured, they don't disappoint - the Nalini Flystorm is a sexy pair of shoes, their rarity sure to encourage question time from your coffee-shop peers. Looks aside though, these shoes will suit those cyclists with a narrower foot who want an extremely lightweight, well-padded, well-ventilated cycling shoe. However, the insole could be improved, and the white leather is prone to scuff marks, so maybe you should make these your race shoes if you want to keep them pristine. With that funky carbon/aluminium sole, it's quite literally a case of putting the pedal to the metal.
Photos
Images by Cyclingnews/Paul Mirtschin
A side view of Nalini's Flystorm road shoe - these shoes weren't made for the mantle piece, but they'd sure look nice there.
Fine Lorica mesh and quality leather upper make those long hours in the saddle less painful on your tootsies.
The sole of the Flystorm is made made a 80/20 carbon/aluminium matrix. Super stiff and incredibly light.
Recommended retail price: US$219.95
Weight: 560g/pr (size 43)
Pro: Extremely light, excellent ventilation, well padded
Con: Narrow fit, insert not ideal for those with a tendency to pronate
More information: Nalini's website
Cyclingnews Rating:

What do you think of the Nalini Flystorm? Let us know