Reviews
Thomson Elite Setback seatpost
By John Stevenson
Laid back
Photo: © Cyclingnews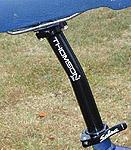 There are a few bike components that have attained near-legendary status because they are so 'right' in terms of design and function. Chris King's headset is one example, along with the Answer Hyperlite MTB handlebar or the Selle Italia Turbo saddle. LH Thomson's seatpost is rapidly looking like a member of this 'components everyone loves' pantheon for its combination of low weight and clever design.
The Thomson post uses a two-bolt clamp to hold your saddle, a design that's superior in most respects to the single bolt-clamp found on cheaper posts. Two bolt clamps allow precise adjustment of the saddle angle, whereas most single-bolt clamps use a ridged interface between cradle components that makes for 'indexed' adjustment. Your tender bits are going to spend a lot of time in contact with a seat: you can't have too much control over the angle.
Scaled up
Photo: © Cyclingnews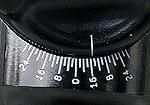 Moving down, Thomson doesn't glue the seatpost head to the shaft, it machines the two from one piece of aluminium. The joint between shaft and head is a potential weak point for many seat posts and while most manufacturers are cluey enough that failures are rare, it's a failure you really don't want to think about...
The shaft itself is made from high-strength 7000 series aluminium, and peering down the inside of the post reveals the walls are thicker at the front and back than at the sides, to save weight (Thomson claims 30-40g) by removing metal from where it's not needed.
Our 330mm long, 27.2mm diameter sample weighed just 184g, making it the lightest post we've had on the scale, and a 26.8mm, 250mm version was just 134g.
Installation was a doddle. All the components of the saddle cradle are 'captive' so it doesn't fall apart when you loosen the bolts. Slide the seat in from the side, tighten the bolts/adjust the angle and you're away.
And, er, that's it. It works. You can't really ask for a seatpost to do more than not weigh much and hold your seat firmly in place, and that's exactly what the Thomson does - with one advantage over many two-bolt posts: it holds your seat in the right place as far as fore-aft position goes as well as providing perfect angle adjustment.
Clamped
Photo: © Cyclingnews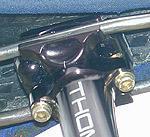 The most unusual feature of the Thomson post is the bend about halfway up the shaft. While it undeniably looks peculiar, it deals with the biggest problem I (and many other riders) have with two-bolt posts - they tend to plonk the saddle right on top of the shaft, instead of set back a little. Since bikes are generally designed on the assumption that you'll have some setback from the seatpost, a two bolt 'in-line' clamp puts you too far forward. There are two-bolt posts that deal with this by making the clamp larger (and heavier) to include some setback, but putting a bend in the shaft involves almost no weight penalty and does the job just as well.
At first glance, it looks as though the Thomson setback puts the saddle further back than a standard post, but in fact it's in more or less the same place. Seekers of lots of rearward saddle movement will have to look elsewhere.
One possible disadvantage is that damage will follow if you run one on a mountain bike (as I did for this test) and some comedian flips your seat quick release as you ride along. OK, you and your riding buddies may not be as silly as mine, but the Thomson has made me paranoid about games of 'grab the brake lever/flip the shifter' lately.
The consequences of on-ride silliness aside, for my money this is probably the perfect seatpost: adjustable, secure, light and easy to work with.
Price guide: $85.95 (USD)
Colours: Black, silver
Weight: 234g (330mm/27.mm), 184g (250mm/26.8mm)
Pro: Easy adjustment, low weight, correct position
Con: Keep your MTB seat QR tight!
More information: Thomson's Website
Cyclingnews Rating:

What do you think of the Thomson Setback post? Let us know