Interbike show
Las Vegas, USA, September 26-30, 2005
Main Page Previous Part Next Part
Part 20 - Park Tool, Cateye & Assos
Park Tool for slipped discs and more
DT-2 truing lever

Align your disc mounts

Tool maker Park Tool unleashed a veritable deluge of new products at Interbike (and spared our hard-working photographers some work by handing us a nice CD of pics!)
A dial gauge for the DT-3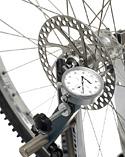 Disc brakes have opened up a whole new area for mechanics in maintaining and straightening rotors. There's almost nothing more annoying than rolling down a trail enjoying the peace of the great outdoors - except for the shink-shink-shink of a slightly warped rotor.
To aid in getting rotors perfectly true and disc calipers aligned, Park introduced four tools at Interbike. The DT-2 is a truing lever with two slots to grab a rotor and provide enough leverage to gently but firmly bend it back into shape. The DT-3 is a truing gauge that mounts on a Park TS-2 wheel jig and provides a reference point for truing rotors and the DT-3i is a dial indicator that mounts to the DT-3 to give a numerical measure of the truth of the rotor.
However, having a straight rotor is a bit moot if your disc brake caliper isn't perfectly aligned to start with, so park has also come up with the DT-1 disc mount facing tool. The DT-1 uses the rear dropouts as its reference and machines paint and excess material from the brake mounts to create flat surfaces.
The MB-1 magnetic bowl

Every bike mechanic knows that the most powerful force in the universe is Fridge Suck, the mysterious power that causes any dropped object to roll to the most hard-to-reach point under the nearest hard-to-move item of whitegoods, shelving, cupboard or bench. Park is hoping to combat the forces of Fridge Suck with the MB-1 magnetic parts bowl. As the name suggests, this is a bowl with a powerful magnet in the base which helps keep small steel parts under control.
PRS-21 pro race workstand

Park is also working on making life easier for mechanics who have to lug around their workstands. For pro mechanics, the PRS-21 is last year's PRS-20 race workstand but with aluminium replacing some of the steel components. Park says this knocks 35 percent off the weight, bringing it down to 6.2kg.
The lightweight PCS-11

Also available keeping the baggage weight under control is one of a pair of new home workstands. The PCS-10 and lightweight PCS-11 address some of the criticisms levelled at the PCS-9 home stand, which is just a bit too basic and awkward to use for many people's tastes.
The PCS-10 and PCS-11 have quick releases for height adjustment and set-up, cam action clamps and mounts for the PRS-15AP accessories intended for the PRS-15 pro stand. At 6.4kg the aluminium-bodied PCS-11 isn't going to be a back-breaker to carry either.
A home use pedal spanner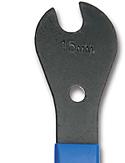 Speaking of home mechanics, Park has a couple of new tools for folks who do their own wrenching but don't actually work in bike shops. The PW-5 is a 15mm pedal spanner for home use, made from heat-treated spring steel and dipped in vinyl for comfort.
A headset press for home mechanics

In what we'd have to describe as a "brave" move, Park Tool also launched at Interbike the HHP-3, a headset cup press for home mechanics. In essence this is a tidier version of a classic DIY tool for the job. For years resourceful mechanics fitted headsets with a length of threaded rod and a couple of nuts and very big washers. The HHP-3 throws in some vinyl-dipped handles to make the job more comfortable.
Other small but notable items from Park include the SW-13 and SW-14 spoke wrenches for Mavic and Shimano wheels respectively; the three-and-a-half-sided SW-40 and SW-42 spoke wrenches for use with aluminium nipples; an updated version of the TB-2 tyre boot; a trio of screwdrivers; and Park versions of workshop essentials such as a 12in adjustable wrench, hammer, tape measure and utility knife.
The mighty MK-129 tool kit

Finally, for the mechanic who doesn't have everything, there's the MK-129 tool kit, which includes, well, everything - a complete set of Park Tool equipment for pro mechanics setting up serious workshops, or home mechanics with deep pockets and big sheds.
Cateye for the heart and eyes
Cateye captures your heart

Lighting and computer maker Cateye stepped into the huge heart rate monitor arena at Interbike with a pair of heart rate monitors, the MSC-HR10 and MSC-HR20. Cateye has long made computers with HRM functions such as the CC-HB100, but the MSC-HR10 and MSC-HR20 are the company's first wrist-mounted monitors, intended for walking and running as well as cycling.
Both monitors provide the usual 'basic' HRM functions including current heart rate; and heart rate zone timers. Also included is a fitness index function that tells you how fit you are (or aren't!) based on your personal information.
Both units have what Cateye calls 'exercise profile' function, in which you can set the duration and intensity of a workout and get beeped at if you are outside the target heart rate zone. The MSC-HR10 stores just one exercise profile, while the MSC-HR20 can store three different sets and also provides information about the speed of recovery, which can be very useful for tracking improvement and preventing over-training.
Cateye Double Shot

Cateye Triple Shot

Also new from Cateye is the HL-EL700RC Triple Shot front light, which uses three high-power LEDs to throw a beam Cateye claims is powerful enough to use off-road and equivalent to a 20W halogen.
The Triple Shot gets a claimed 3.3 hours of light from its 12V, 2700mAh nickel metal hydride battery pack and Cateye says that unlike other super-bright lights (HIDs, in other words) it won't interfere with wireless computers and heart rate monitors. Charging takes three hours, making this yet another candidate for the perfect endurance racing light.
To complement the Triple Shot Cateye also launched the Double Shot with, not surprisingly, two high-power LEDs. While the Triple Shot is intended for your handlebars, the Double Shot comes with a helmet mount as well as bar mounts and has a five-hour runtime from a battery that also charges in three hours.
Assos gets casual
Assos gets casual

As well as the enormous range or cool-weather clothing we mentioned in our EICMA coverage, Swiss clothing giant Assos is also working on a range of clothing for off-the-bike use. Dubbed 'Dopobici' (Italian for after-bike) and abbreviated to DB, this stuff is so new that Assos didn't even have samples at Interbike, just catalogues - so we swiped one and grabbed these scans.
More of the Assos range

The range will be extensive, with jackets, polos, pants, gillets, caps, bags and even pillows and towels (so there's no excuse for any Assos fan not to know where his or her towel is...). Styling is very sharp, dark and Italian.
Photography
For a thumbnail gallery of these images, click here
Images by Park Tool
Images by Cyclingnews
Images by Cateye
Images by Assos