Stars and stripes forever
Born in the USA
By John Stevenson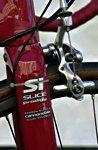 Flowing lines
Photo: © CN/Tom Balks
Saeco and Cannondale have had a long and successful relationship ever the since the Connecticut bike maker began providing frames to the Italian coffee machine team back in the '90s, a marketing initiative which helped build credibility and exposure among the road-racing community. Over the years, Cannondale's frames have become considerably more refined as a result of the relationship, while Saeco has had a partner whose imaginitive marketing complemented the high-profile team.
All Saeco's bikes are custom-made for the rider, and Cannondale also provides this service to Jo and Joe Bikeracer. As Cannondale's marketing chief Beppo Hilfiker puts it, "Every rider has his own unique position for maximum power output dependent on his biomechanical physiology. Di Luca for example rides a relatively steep seat angle almost like a triathlete."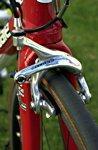 Campy stoppage
Photo: © CN/Tom Balks
2002 started well for Saeco - apart from Gilberto Simoni's appointment - with Fabio Sacchi taking the lead in the Jacob's Creek Tour Down Under and wearing the leader's jersey. Sacchi's bike (above) is the new Cannondale CAAD7, a frame that represents a landmark for Cannondale in that it's the first the company has built from an alloy other than good old 6061 aluminium. The CAAD7's Alcoa OptimO aluminium, shaped to Cannondale's specs, makes for a frame with a claimed weight of 1096g for a 54cm.
Also keeping down the gram count is Cannondale's carbon fiber Slice fork and HollowGram chainset. As the name implies, this is a hollow-everything, oversize-everything design, with a large bottom bracket shell in the frame to accommodate a 30mm aluminium axle that mounts hollow cranks. The objective is simple: keep down theweight while retaining and improving strength and stiffness.
Incentive?
Photo: © CN/Tom Balks
The rest of the main component group is Campagnolo Record 10: Vicenza supplies brakes and gears, as well as the Record carbon seatpost.
Perhaps the most unusual component on Saeco's bikes is Cinelli's rare carbon fiber, one-piece RAM bar and stem unit, a part that's clearly designed to lighten both your bike and, at around 400 bucks US a throw, your wallet. Still, as you can see, it does provide lots more space for graphics than your average stem, and it weighs a mere 350g.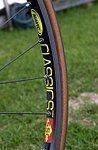 Rolls on Mavics
Photo: © CN/Tom Balks

Another contact point also comes from the box marked 'For Teams With Expensive Tastes': the Fizik Aliante saddle.
Saeco rolls on Mavic wheels, usually Ksyriums but when we snapped Sacchi's bike at the Tour Down Under it was running Classics. Not unusual, that: Mavic seems to put its whole wheel range at the disposal of its sponsored teams.
Wrapped round the wheels we find Continental tubulars, marking Saeco out as traditionalists in the rubber department.