Shiny

Photo ©: Lotto-Adecco
Unveiled at last
By John Stevenson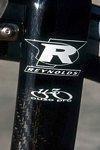 The big R
Photo: © Lotto-Adecco
Litespeed titanium bikes have been present in the European peloton for several years, but always rebadged as other people's bikes. 2002 is the first time Litespeeds have actually carried their own decals, and that's a move of which the bike builder from Chattanooga, Tennessee is understandably proud.
Litespeed is also pleased at how litttle customisation had to be done to produce bikes to fit all 26 members of Lotto-Adecco. The team uses a variety of bikes: the 6Al/4V Vortex for most races, the aerodynamic Blade for time trials and the superlight Ghisallo for time trials.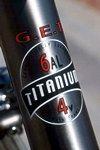 Top metal
Photo: © Lotto-Adecco
According to Litespeed's Herbert Krabel, "Most of the team bikes are actually 'stock' bikes. For example, Robbie McEwen rides a stock 53cm Vortex, as does Andrej Tchmil. Out of 26 riders there were about 9 customs or modified geometries. The most common alteration was a taller head tube, or a slightly longer top tube, there were actually no real angle changes."
Krabels adds that so few specials indicates that "Litespeed geometry and sizing is very much spot on, while the top tube and head tube changes seem to indicate that some riders try to squeeze on a smallest possible bike. For example there were several 57cm bikes with the top tube length of a 59cm bike, thus a lower center of gravity and a bit less weight."
Shimano
Photo: © Lotto-Adecco
Running gear on the Lotto-Adecco Vortex bikes is Shimano Dura-Ace, from the wheels to the shifters, while the riders perch on Selle Italia saddles. The team also uses Shimano pedals, though in the shot above, McEwen appears to be using, well, someone else's pedals…
Those Shimano wheels are shod with Michelin clinchers, a spec that's looking very much like the dominant choice in non-tubulars this year.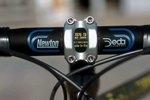 Deda
Photo: © Lotto-Adecco

Up front we find the ever-popular Deda Newton bar and stem, turning Reynolds Ouzo Pro forks – ultra-light parts as you'd expect on bikes where a main aim is to exploit the low weight of the frame and keep the whole-bike gram count as inoffensive as possible. Most Lotto-Adecco riders run 82 degree stems (or 8 degree, depending how you look at it) and length and bar width are tailored to fit, of course.
For pro-rider detail hounds, team leader Rik Verbrugghe runs 175mm cranks on his Vortex and goes up to 180s on his time trial Blade. The stock geometry puts both Tchmil and McEwen on 74 degree seat angles.