Shiny

Photo ©: Cyclingnews/Tim Maloney
"World's best"
By John Stevenson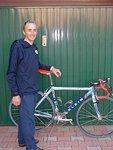 Engine
Photo: © CN/Tim Maloney
Gerolsteiner team manager Hans-Michael Holczer is very happy that this year sees his team aboard Klein Quantum bikes. "The world's best frame," is how he describes the US-made ZR 9000 aluminium alloy frame with carbon fibre seatstays, based on his experience as a team manager and bike shop guy.
Gerolsteiner's Kleins are "95 percent" standard, according to Holczer, though Rebellin himself says his bike is a custom job. Well, when you're number three in the world (Rebellin's UCI ranking at the end of 2001) you can ask for just the bike you want.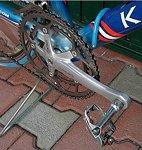 172.5mm
Photo: © CN/Tim Maloney
Shimano is the next stop on the Gerolsteiner shopping expedition. Brakes and transmission are Osaka sourced as are the seatpost and some wheels: Gerolsteiner uses a wide range of wheels, but Shimano Dura-Ace is there in the mix. One personal quirk of Rebellin's bike is the 172.5mm cranks. Obviously, getting things 'just so' matters to Davide.
As well as Dura-Ace wheels, Gerolsteiner also uses – for want of a better term – 'standard' wheels. These turn on Dura-Ace hubs and use Sapim spokes and a variety of Italian-made Ambrosio rims depending on the purpose. Ambrosio also supplies the team with disk wheels for time trials.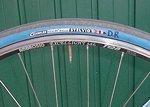 Schwalbe, from Germany
Photo: © CN/Tim Maloney
Unusually, Gerolsteiner isn't on one side or the other of the clinchers vs tubulars fence. Tyre sponsor Schwalbe makes both clinchers and tubulars, so Gerolsteiner uses both.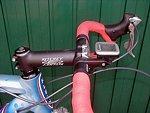 Ritchey
Photo: © CN/Tim Maloney
Bar and stem are Ritchey WSC. Like wheel maker Bontrager, Ritchey is another name that's moved into road bikes after being known as a mountain bike component maker. But before the MTB boom, Tom Ritchey was a fairly useful road racer when he first took up a welding torch and his first frames took skinny tyres.
Rebellin likes a round handlebar curve, as do quite a few of Gerolsteiner's riders, including Georg Totschnig.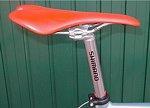 Selle Italia saddle
Photo: © CN/Tim Maloney
Selle italia supplies Gerolsteiner's seating. Rebellin goes for the ultra-minimalist and ultra-light SLR with carbon hull, titanium rails and general lack of mass.
Other useful bits come from Shimano (Flight Deck computer) and Elite (cages). What Holczer describes as "cleaning and oiling stuff" is by German lubricant maker r.s.p.