Blue or green?

Photo ©: Bianchi
A new start
By John Stevenson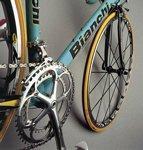 Campagnolo equipment
Photo: © Bianchi
Bianchi is the new bike sponsor for 2002 for 'the other German Division I team', and Team Coast must be hoping that between a new bike, lots of new riders – including Angel Casero – and new team manager Marcel Wüst, 2002 will be a better year than 2001.
Coast riders will certainly be well-equipped with bikes. Each rider gets at least five machines, according to Bianchi marketing guy Philip Addyman: an EV2 for training; EV4 for racing; two titanium bikes for Classics and general racing and one time trial bike. "Plus," says Addyman, "extra chrono bikes for team leaders and other 'special request' bikes – for instance a track bike for Frank Hoj, who did the Copenhagen six days recently."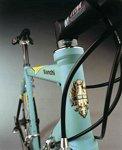 Integrated
Photo: © Bianchi
Built from Bianchi's own Dedacciai aluminium tube set, the EV4 is Coast's 'serious' frame, and Addyman claims a 56cm frame weighs just 980g. 20g of that is Bianchi's patented Structural Foam Injection, an addition to the bottom bracket area that is claimed to double frame life and increase rigidity by 15 percent.
Coast's frames are all custom-built for the individual riders. As Addyman puts it, "Geometry for all 27 riders has been painstakingly produced to their individual requests. This has pleased many of the riders, particularly Zülle, who commented to Bianchi President of Sporting Activity, Felice Gimondi: 'The EV2 is the best bike I have ever ridden.' "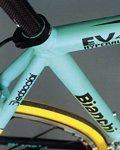 Tidy seat cluster
Photo: © Bianchi
As well as EV2 and EV4 bikes, Bianchi is currently busy building titanium frames for the Spring Classics. "These will be solid, reliable frames based upon a 1400g weight for a 55 frame, that should provide some comfort over the pavé, "says Addyman.
Once the season is underway, there will no doubt be some more tailoring for rider preferences: "As the major stage races draw closer we expect the team leaders to make specific requirements. One thing is for sure, major GC contenders like Casero will have two identical chrono bikes."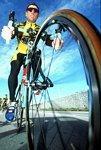 Mavic wheels
Photo: © Bianchi

Keeping with the Italian theme, Campagnolo is Coast's main component supplier, with everything but the wheels coming from Vicenza. The Campagnolo parts pick includes the Record carbon seatpost and of course Record 10 transmission and Record brakes.
Bar and stem are ITM Millennium. Coast rolls on Vittoria tubulars, wrapped round a variety of Mavic wheels depending on the race and conditions. For road racing Coast will use Ksyrium SSC SLs and Classics, while for time trials there are Cosmic Carbons and Cometes in the quiver.
Finally, the team has a choice of Selle Italia seats. Casero goes for a Turbo Matic, and you can read the rest of his preferences at the foot of the page.