Sloping

Photo ©: Acqua&Sapone/Specialized
American know-how
By John Stevenson
A small horde of A&S E5s
Photo: © A&S/Specialized
With this year's association with an Italian team, things have come full circle for Specialized. Although it's perhaps best known as a pioneer of production mountain bikes, Specialized started as a small import business, with founder Mike Sinyard bringing Italian components into California.
The bikes that Mario Cipollini's Acqua&Sapone team is riding in 2002 are built around Specialized's S-Works E5 compact frame, developed over the last several years out of Specialized's association with tye now-definct Festina team. The tubing is made for Specialized by another Italian connection, Columbus, from proprietary E5 aluminium alloy. This blend includes silicon, copper, manganese, magnesium and zinc and according to Specialized, E5 retains more of its strength after welding than other aluminium alloys.
About half of Acqua&Sapone ride stock frames – and Specialized makes a deal out of the fact that the S-Works comes in 11 sizes, unlike some maker's compact bikes – while the other team members have custom bikes to accommodate their personal needs and tastes.
Shimano provides Acqua&Sapone's braking and shifting, an unsurprising partnership given that the Specialized bikes you can buy are hung with the Japanese giant's parts.
The Shimano theme is broken with wheels and pedals, both of which come from France: a variety of Mavic models provide the hoops, while pedals come from Look.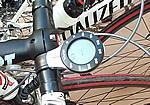 Numbers game
Photo: © A&S/Specialized
As well as bikes, Specialized is known for a vast range of accessories and components, so it's no surprise to see Specialized Turbo S tyres, Speedzone computers and bottles and cages on the Acqua&Sapone bikes.
Keeping Mario's boys pointed in the right direction are 3T Zepp bars and stems on Reynolds Ouzo Pro forks; the whole shebang turns in an integrated headset.