Just like USPS
New bikes on the block
By John Stevenson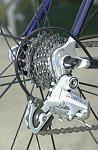 Shimano shifting
Photo: © CN/Tom Balks
The newest sponsorship deal on the Australian scene sees the Australian Institute of Sport riders on board Trek 5500 OCLVs, the same frame that US Postal uses for the less hilly stages of the Tour de France. However, where USPS' bikes are hung with a mixture of equipment from different sponsors, the AIS riders are issued with fully stock production bikes, just like the ones you can buy in your friendly local bike shop.
The 5500 frame is, in some ways, a modern classic. A factory in rural Wisconsin might not have the mystique of a decades-old workshop in Northern Italy, but Trek's bonded carbon fiber project has proven that a big American company can craft a frame that stands comparison with the output of Italian artisans.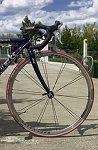 Bonty wheels
Photo: © CN/Tom Balks
Much of the equipment on the 5500 comes from other companies in the Trek stable. Trek were in the forefront of the mid-90s round of bike industry mergers and acquisitions, and as a result the company owns some significant names.
Wheels, for example, carry the Bontrager name. Originally a mountain bike frame builder, Keith Bontrager was well-known in the early 90s as the man who first had the apparently daft idea of cutting and rolling a 700C Mavic MA40 rim down to mountain bike size, creating the first narrow, light MTB rim. Trek acquired Bontrager Cycles a few years later and KB, as he's universally known, has continued to tinker with wheels ever since. Last year Bontrager introduced a range of road wheels and the paired-spoke Race X-Lites on the 5500 are the latest from the stable.
More Bontiness
Photo: © CN/Tom Balks
The bar and stem are also Bontrager Race Lite models, with a 31.8mm clamp. Not a Bontrager original idea, but a sensible place to upsize a component, increasing strength. Did the world need another bar clamp standard? The bike industry loves standards, that's why we have so many of them...
Most of the other running gear on the 5500 is Shimano Dura-Ace, about which it's hard to say anything new. It works, and for a team that gets around as much as the AIS does, flitting between Australia and its Northern-summer Italian base, it's important to be able to get spares easily wherever you are.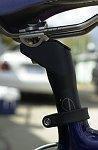 Iconic
Photo: © CN/Tom Balks

Alison Wright's bike differs from the nominal team spec in two areas. Stock 5500s come with Thomson seatposts, but Wright uses an Icon post. The Icon post has a couple of centimetres of set back, whereas the Thomson has its clamp in line with the shaft. Thomson does make an offset post, but the offset comes from a bend in the shaft and requires more exposed post than Wright uses.
Stock 5500s come with Selle San Marco Era saddles but like most of the female AIS riders, Wright uses a fi'zi:k Vitesse women's saddle.