On test: Specialized Tarmac Expert Compact, March 18, 2009
Specialized's race machine for the masses
The Specialized Tarmac Expert Compact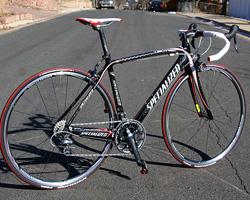 Mid-range bikes offer more value than ever these days and present a more fiscally responsible choice than top-end drool machines in a time of layoffs, pink slips and furloughs. Cyclingnews technical editor James Huang spends a Colorado winter on Specialized's highly capable Tarmac Expert Compact and says you don't necessarily have to max out your credit cards to go fast.
At US$3700, the Specialized Tarmac Expert Compact is US$6200 less expensive than the top-end S-Works Tarmac SL2 Di2 model yet still includes most of the flagship's high-tech features. In fact, the two bikes wear nearly identical shapes and stripped of the fancy paint jobs and 'look at me!' logos (of which there are many), most riders would be hard pressed to tell the difference between the frames without a test ride or a scale.
Indeed, the Tarmac Expert Compact includes the same tapered and oversized 1 1/8"-to-1 1/2" front end, well bolstered bottom bracket area - albeit with a conventional threaded bottom bracket shell - beefy chain stays, slim seat stays, and overall swoopy styling as on the SL2. However, a lesser carbon fiber content and more conventional 'triple monocoque' construction bring the actual bare frame weight up to a heavier 1200g (52cm size) while the Expert-level fork also climbs to 390g with its carbon steerer cut to 185mm.
One thing that thankfully hasn't changed though is the Tarmac's well refined handling characteristics. Markedly shorter, steeper and lower than its Roubaix brethren, the Tarmac line is far more eager to change direction with an especially quick turn-in. It's not quite crit bike-twitchy mind you and is still confidently stable at high speed but the Tarmac demands attention nonetheless: you'll quickly stray offline if you fall asleep at the wheel and even riding no-handed requires a bit more care.
The handling may be quick but the gigantic front end at least makes it predictably quick. In addition to bolstering the fork itself for improved precision, the tapered steerer design affords more surface area to join the down tube and head tube, thus making for a reassuringly rigid front end that faithfully goes where intended, especially in tight, fast corners where the grip is good.
The down tube, seat tube, and chain stays make good use

As a side benefit, the tapered front end also squelches fore-aft flex and makes for more confident braking, especially when you're trying to dump a lot of speed in a hurry.
The Tarmac Expert's cheaper ingredients and construction simply can't compare to those of the SL2 in terms of stiffness and ride quality though - that massive cost savings to have an effect on performance somewhere, right?
Bottom bracket and front triangle torsional stiffness are both slightly off the SL2's high marks though admittedly, not by as much as one would expect. Hit the gas and the bike faithfully builds speed but the effect is more muted and less immediate - those hoping for Porsche acceleration at Honda pricing are going to be a tad disappointed. Just like that high-revving Honda, it's better to wind up the Tarmac Expert and steadily build momentum than try to muscle it from corner to corner.
On the plus side, Specialized's frame designers have done a surprisingly good job of infusing the Tarmac Expert with a good dose of comfort, especially for a dedicated racer. Small buzz is effectively smoothed out by the slim seat stays and both tire contact patches stay noticeably more planted in corners than on some ultra-stiff rigs we've sampled in the past. Bigger hits aren't handled nearly as well but we'll accept that given that the Tarmac is hardly intended to be a cobble machine.
As was the case with overall stiffness, ride quality also isn't quite up to SL2 levels as the flagship's more premium carbon content yields a noticeably livelier ride. We wouldn't characterize the Tarmac Expert as totally dead mind you but the difference is tangible nonetheless.
The finishing kit
The compact gearing comes in handy

Shimano continues to impress us with its mid-range Ultegra SL package given its near-Dura-Ace 7800 overall performance. Shifts are equally crisp and precise, the brakes provide excellent power and control, and overall fit and finish are superb. Save for the extra 200g or so we challenge you to discern one from the other with your eyes shut.
Our Compact test version (the Tarmac Expert is also offered with a standard-sized drivetrain) included 50/34T chainrings and a 12-27T cassette for a decidedly versatile setup. Though we missed the 11T cog on downhills, the lower gearing proved most welcome for early season climbs. Stronger riders will scoff at the easier ratios but a mere cassette swap can quickly net a more suitable spread (and we remind you that a 50/11T is taller than a 53/12T).
Specialized also complete the ensemble with a pair of matching Shimano Ultegra aluminum clinchers, which were dependably robust and suitably stiff throughout testing with no maintenance required but also a bit sluggish-feeling at about 1700g per pair. We also found the corresponding Specialized Mondo tires's diamond-shaped cross-section to feel rather odd.
Specialized is openly against the idea of integrated seatposts.

The Moto GP-like casing shape may yield a faster roll in a straight line and put more rubber on the ground at certain cornering angles but the transition between the two is unnervingly abrupt and needlessly adds to the frameset's quick handling, crossing over into 'nervous' territory. We swapped rubber shortly into the test and got more predictable straight-line handling traits in return.
The STI Dual Control levers were also mounted unusually high on the Specialized Pro alloy bar such that there was virtually no difference in effective reach between the hoods and the tops. In addition, Specialized also add 2.5mm of its gooshy-feeling Bar Phat padding beneath the tape.
Though the Bar Phat adds to the comfort, it also detracts from road feel - something we feel is critical on a race bike, compact gearing or not. We were much happier once we shed the gel pads and moved the levers to a more conventional position.
We have nothing but praise for the Specialized Toupé saddle. Novices will take issue with the minimal padding but the shape was spot-on for the most part and offered excellent support and supreme long-distance comfort.
A lot for relative little
We were at odds with the handlebar bend

Just as the law of diminishing returns predicts, the Specialized Tarmac Expert Compact comes admirably close to the top-end SL2's performance at a fraction of the cost. In fact, even Specialized confirmed our impressions when we wrapped up testing: in-house bottom bracket and torsional stiffness test figures are both off by just 6 percent - something many riders might not even notice.
The SL2 is obviously still a noticeably higher-performing package overall but if value ranks especially high on your list of priorities and you can live with the Tarmac Expert Compact's extra mass and modestly tempered edge, step right up.
Price: US$3700
Weight: 7.71kg (17.0lb), complete 52cm tester without pedals
Pros: Razor-sharp handling yet still reasonably stable at speed, pro-level looks, good comfort for a race bike, versatile gearing range, cleverly adjustable stem, comfy Toupé saddle, near-SL2 performance and cutting-edge features at closeout pricing
Cons: Wheels a tad weighty, stock lever position far too high on bars, thick Bar Phat bar padding inappropriate for genre, frame is not particularly lively, Superbike-like tire profile feels strange, pro bike graphics package
Cyclingnews rating:


More information: www.specialized.com
Photography
For a thumbnail gallery of these images, click here
Images by James Huang/Cyclingnews.com