On test: Specialized Roval Roubaix 322x, January 13, 2008
Aero, schmero
The Specialized Roval Roubaix 322x bucks the aero trend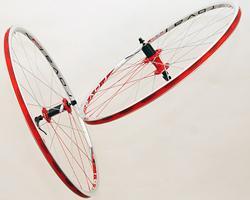 Specialized's Roval Roubaix 322x road wheels buck the aero trend with shallow box-section rims and lots of spokes. It might not be a terribly speedy formula but Cyclingnews technical editor James Huang says there is still plenty to like about this old-yet-new-school wheelset especially in rougher conditions.
Specialized eschews slippery aerodynamics on its Roval Roubaix 322x road wheels in favor of a more traditional-looking build. The aluminum clincher rims measure just 21mm-deep, the spoke count is rather generous at 24/30 front/rear, and there isn't a single radially laced spoke to be found. Aerodynamic performance was one of the original Roval tenets, though, and Specialized does build the wheels with bladed DT Swiss stainless steel spokes and hidden self-aligning nipples. Even so, let's be realistic here: few people are going to reach for these when a time trial looms.
The payoff to the shallow rim and fully crossed spoke lacing is a subtly smoother ride even on washboard dirt roads or broken pavement and the increased comfort only becomes more noticeable as the hours stretch out. As compared to most - but not all - deeper-section rims, the softer Roubaix 322x hoops are a more apt to flex over small obstacles rather than bounce off of them and it's no wonder top pros still reach for wheels like this come Classics time. Speedy they're not but they definitely move further up the list if we know we're going to be hitting the rough stuff.
Not just for the bumps
The rear hub uses DT Swiss star ratchet internals

The Roubaix 322x is also a very confident descender. While its non-aero rims don't offer any advantage as speeds increase, their minimal surface area also means it takes a heck of a crosswind to knock them off line - we even felt comfortable in swirling Rocky Mountain canyon winds that invariably force us to leave deeper wheels at home for fear of being behind on our life insurance premiums. More subtly, the slight amount of radial give also yields a touch more grip on the road for a decidedly sure-footed feel.
Specialized doesn't peg these things as climbing wheels and they spin up noticeably more slowly than lighter sets but they're capable ascenders nonetheless. Total weight is held to a reasonable 1586g (712g/874g front/rear, plus 92g for skewers) thanks in part to an interchangeable aluminum freehub body and carbon-tubed front hub shell.
The generous helping of pulling spokes on the rear wheel also helps put the power down with little noticeable wind-up whether climbing or sprinting. Drive internals come courtesy of the familiar DT Swiss star ratchet system (borrowed from the 240s) and though eminently reliable, it also still carries with it the languid 20-degree engagement speed.
None of this would mean anything without longevity and our Roval Roubaix 322x samples have thankfully proven pleasantly durable through nearly a full year of testing. Credit goes to the excellent build, high quality components, and admirably consistent spoke tension as measured with our FSA tension meter. Moreover, Specialized's DoubleDrive lacing pattern - which uses twenty driveside spokes and ten non-drive ones - also yields unusually even tension between the two sides.
Bumps in the road
Extra-wide flange spacing on the front hub

It's a good thing these have remained straight, though, since truing them is a major hassle. In addition to the purported aerodynamic benefits, the self-aligning internal nipple system is also designed to relieve spoke stress and distribute the tensile load over a larger area of rim while also requiring a smaller hole in the non-eyeletted rim - all good things in terms of durability and seemingly effective but a serious inconvenience in terms of maintenance.
Specialized intends for this wheel to see its fair share of abuse and while we didn't knock these out of true ourselves, someone is bound to. Given that it already has a non-aero box-section rim, we would have preferred external nipples for ease of repair, not to mention standard J-bend spokes as straight-pull versions - let alone bladed ones - can be exceedingly difficult to source when needed.
We also ran into an unusual fitment problem when swapping the Roubaix 322x across various test bikes. Specialized uses widely spaced flanges for the front hub to increase lateral rigidity yet at a whopping 80mm from center to center, they might be a little too wide. Fork blade clearance was sufficient - just barely - on most models we tested but wholly nonexistent on some, including an older LeMond carbon model and even a new Trek Madone. We obviously weren't able to check every model out there, though, so be sure to do a trial installation if possible.
Old school is good but…
Hidden nipples are marginally more aerodynamic

Save for the odd fork interference issue and difficult truing procedure, there is little to complain about with Specialized's Roval Roubaix 322x wheels. They offer a comfortable and stable ride, a reasonably quick feel, plus excellent build quality and might just be the ticket for those living in perpetually windy environments as long as aerodynamic performance doesn't sit at the top of your priority list.
Coincidentally, all of the attributes listed above could also apply to something built ten years ago albeit in a less fancy-looking wrapper and therein lies the rub. At US$1000 a set, the Roubaix 322x set is rather expensive and a competent wheelbuilder - with an emphasis on 'competent' - could provide a comparable level of performance for substantially less money using conventional components.
Alas, while the Roubaix 322x recalls the benefits of old-school wheel configurations, the flipside is that there will be little reason for some to pay extra money for something that has effectively been around for ages already.
Price: US$1000
Weight: 1586g (712g/874g front/rear, plus 92g for skewers)
Pros: Notably compliant ride, supremely stable in crosswinds and high-speed descents, proven DT Swiss hub internals, clever DoubleDrive rear spoking pattern, good build quality, predictable aluminum braking surface
Cons: Hidden nipples needlessly complicate maintenance, straight-pull spokes harder to source for replacements, questionable advantage over traditionally built wheels
Cyclingnews rating:


More information: www.specialized.com
Photography
For a thumbnail gallery of these images, click here
Images by James Huang/Cyclingnews.com