On Test: Schwinn Paramount 70th Anniversary, March 4, 2009
Rekindling an old flame
Schwinn celebrates the 70th anniversary of its Paramount division
Photo ©: James Huang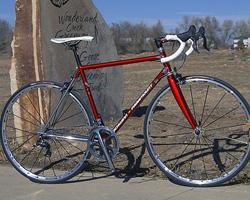 Paramount was once one of the brands to have and Schwinn hopes to capitalise on some of that storied heritage with a 70th anniversary edition of its elite nameplate. Cyclingnews technical editor James Huang trades in his usual carbon fibre for one of the most advanced steel tubesets on the planet and finds there is much to love about this limited edition creation.
Normally we prefer to evaluate a bicycle solely - or at least primarily - on its performance attributes: how well it rides, climbs, descends, handles, how much it weighs. But in the case of the Schwinn Paramount 70th Anniversary, the aesthetics are such an inherent and key part of the appeal that it's impossible not to give them equal billing.
Set it out in the sunlight and the metallic paint and chromed rear triangle and head tube lugs glimmer gloriously. The artful lugs cleverly integrate Schwinn's trademark four-pointed star and the pierced seat stay caps are wondrous creations of metalwork. Classic bicycle aficionados will draw their attention to the short-point bottom bracket lug with its neatly integrated chain stay bridge and the open-architecture rear dropouts. During our photo shoot, the bike actually drew a small crowd of admirers (seriously) and you simply can't help but stare for a moment.
Only this is no 'classic' bike and that's not chrome; it's polish.
Each Paramount 70th Anniversary frame is hand built by Waterford Precision Cycles - a former Paramount producer back in the 1980s and by all accounts one of the premier small-batch steel builders in the modern era - using the latest Reynolds 953 stainless super steel and a set of stainless steel lugs designed just for Schwinn. The look is old school but the materials used are decidedly new and the craftsmanship is unmatched by mass manufacturing.
Though not nearly as light as modern carbon, our 56cm test frame was still just 1720g (3.79lb) and the complete bike as tested with matching Reynolds UL carbon fork, Shimano Dura-Ace 7900 and Mavic R-SYS wheels a thoroughly competitive 7.5kg (16.66lb). Not bad for a material supposedly past its prime.
Drop-dead gorgeous looks, killer ride
Pictures don't do the fully custom stainless steel lugs justice
Photo ©: James Huang
We bicycle journalists speak often of a bike's 'liveliness, 'springiness', or 'snap', yet as close as some carbon frames come to the ideal, this Schwinn Paramount epitomises the gold standard of how a bike should feel and communicate to its rider and establishes a mark to which others should strive. On smooth pavement it's firm and direct yet even nasty washboard dirt roads that would normally detach your retinas are uncannily smoothed out as if you were following behind a turbocharged steamroller.
The steel pipes admittedly don't damp vibrations the same way as carbon does but small buzz transmits through in such melodious harmony that you almost begin to actually like it, and there is sufficient flex in the frame to take the sting out of harsh potholes, too. Even so, we were happy to have painted-to-match Reynolds' superb UL carbon fork up front.
Though steel makes for one of the finest riding frames around, we've yet to find a ferrous fork that can beat a top-notch carbon prong. In this case, the Reynolds UL's feel complements the rest of the bike nicely and its 330g weight also shaves a bunch of mass, too.
The short-point bottom bracket lug
Photo ©: James Huang

Best of all, the Paramount 70th Anniversary is absolutely alive beneath you with that characteristically resilient personality that high-end steel exhibits almost exclusively; it's nearly impossible to convey the sensation in words alone. Those who are familiar with it will know exactly what we're talking about and those who aren't… well, let's just say your bicycle quiver isn't quite full yet.
Much as we love the Paramount 70th Anniversary's ride quality, though, carbon fibre's anisotropic material properties (i.e. its stiffness varies with the loading direction) still give it a clear upper hand in terms of overall performance and tuning potential.
The seat stays are topped with these unique caps
Photo ©: James Huang

The difference is most obvious up front. Remember that springy feel we enjoyed on washboard and broken pavement? Unfortunately the front triangle is equally springy in torsion, which manifests in a bit more twist than usual when sprinting out of the saddle and some flex in hard cornering. It still feels better than the equal amount of movement in a carbon frame but the movement is a bit distracting at times; especially coming off of something stiffer. Shaping the tubes would help but for now, Reynolds only offers 953 in round cross-sections.
The disparity is subtler out back though still noticeable. The beautiful rear triangle is admirably rigid under power but it just doesn't quite deliver that immediate surge of speed that full-on carbon race bikes now provide; you can still get up to the same speed but the build-up is more deliberate (think lots of horsepower but not so much torque). In essence, there's a bigger reward by remaining seated and winding things up than by getting out of the saddle and muscling the bike around.
However, if your primary purpose in cycling is just getting out and clipping off some enjoyable miles and not screaming off the front at your local crit, there are few better ways to do so than one of these that we can think of.
(Almost) as you wish
Buyers have a range of options should they decide to pull the trigger on one of these. However, the list isn't as long or open-ended as one would get if they bought something similar direct from a small builder (be it Waterford or otherwise).
The steel tubes look tiny in comparision to most carbon models
Photo ©: James Huang

As the lugs are fully custom creations, Waterford can accommodate nearly any geometry so you can make the handling as edgy or sedate as you wish. Waterford can also select tube wall thicknesses based on the particular circumstances though the still-limited availability of 953 means that there is currently no choice in tube diameter. Buyers can choose from any color imaginable - as long as it's 'New Flam Red' with white decals along with a polished rear end and head tube lugs. Yup, sorry, no freedom there.
Braze-on options are a more open affair and range from water bottle locations (as long as it's just two of them), fender eyelets, and more traditional items such as a chain hanger and pump peg, though the latter two bits aren't yet available in stainless. Likewise, we would have preferred derailleur housing stops up on the head tube instead of the old-tech down tube adapters but stainless ones apparently aren't offered there, either. Customers can, however, opt for a stainless braze-on front derailleur mount.
Oh, and what about the price? Perhaps you should sit down...
Retail price for the frame and fork - as in no components - is US$7000. Add in a suitable build and you're looking at well, well north of US$10,000.
Included with the frame is a Reynolds UL full carbon fork.
Photo ©: James Huang

Now that you've regained consciousness, Waterford's Richard Schwinn (and yes, there is a relation) offers this explanation: "Schwinn told me the range was $6-7K. It's definitely on the high side, but the lugs are each individually designed [with] none of the angle constraints we live with on our regular bikes. Add in the 953 (which starts at $3300) plus those cool details like the seat stay treatment, and it's not out of line. We don't do a lot of these, but they certainly won't be the most expensive framesets we'll sell this year. Just don't order one of these to save money!"
Even so, considering the price we expect utter perfection and were slightly let down. For example, there was a bit of paint chipping around the seat binder and edges of the bottom bracket shell and the 'S' in the 'Schwinn - Paramount' down tube logo is obscured by the large chainring. And we were initially put off by the tacky stick-on chromed plastic head tube badge but consumer models will thankfully be equipped with a proper brass piece. Whew.
So who's it for?
The Schwinn Paramount 70th Anniversary's Reynolds 953 tubeset
Photo ©: Marty Caivano

It goes without saying that only the (very) well-heeled need apply here but even then, the range of potential buyers is most likely going to be limited even further to those that carry a strong personal soft spot for the Paramount nameplate and can appreciate something of this calibre. Schwinn will limit availability to just 70 framesets (no word on how many have actually sold so far) so Paramount 70th Anniversary owners will be in decidedly rare company and if the brand's past popularity is any indication, there are a lot of fans out there in their prime earning years.
Even so, that same amount of money would net you a greater range of customisation if you were to go directly to a qualified 953 builder instead of buying something commissioned specifically for Schwinn - meaning you would potentially have a true one-of-a-kind ride, not number 13/70. But then it wouldn't say 'Paramount' on the down tube and that means something to the right audience. Alternatively, you could also spend a lot less for the same tubeset - and get a similar ride quality - by forgoing the fancy custom lugset or just going with TIG welds.
For those in the target audience, your chariot awaits; try not to strain yourselves hastily pulling out the chequebook. For the rest of you... well, cachet and nostalgia surrounding a particular brand is hard to quantify and you either get it or you don't. If you don't, then you probably stopped reading quite a while ago.
Price: US$7,000 (frame and fork)
Weight: 1720g (frame only, 56cm sample); 330g (Reynolds UL carbon fork); 7.5kg (16.66lb) (as tested with Shimano Dura-Ace 7900, Mavic R-SYS clinchers, 3T and Selle San Marco finishing kit)
Pros: Simply sublime ride quality utilising the pinnacle of steel technology for bicycle frames, excellent craftsmanship, timeless aesthetics combined with modern materials, limited edition cachet, custom geometry and options
Cons: Exorbitant cost, no choices in colour or tubing diameters, not as stiff or responsive as top-end carbon, more custom options available for same price through other outlets... Did I mention the exorbitant cost?
Cyclingnews rating:

(if you're a Schwinn Paramount devotee)

(if you're not)
More info: www.schwinnbikes.com/paramount
Photography
For a thumbnail gallery of these images, click here
Images by Marty Caivano
Images by James Huang/Cyclingnews.com
Frame: Schwinn Paramount 70th Anniversary w/Reynolds 953 stainless steel tubing, custom stainless steel lugs
Available sizes: custom geometry only
Fork: Reynolds UL
Headset: Chris King NoThreadset 1 1/8"
Stem: 3T ARX Team
Handlebars: 3T Ergosum Team
Tape/grips: Selle San Marco Lorica
Front brake: Shimano Dura-Ace BR-7900
Rear brake: Shimano Dura-Ace BR-7900
Brake levers: Shimano Dura-Ace STI Dual Control ST-7900
Front derailleur: Shimano Dura-Ace FD-7900-F
Rear derailleur: Shimano Dura-Ace RD-7900-SS


Shift levers: Shimano Dura-Ace STI Dual Control ST-7900
Cassette: Shimano Dura-Ace CS-7900, 12-27T
Chain: Shimano Dura-Ace CN-7900
Crankset: Shimano Dura-Ace FC-7900 53/39T
Bottom bracket: Shimano Dura-Ace SM-FC7900
Pedals: n/a
Wheelset: Mavic R-SYS clincher
Front tyre: Vittoria Diamante Pro Light, 700x23c
Rear tyre: Vittoria Diamante Pro Light, 700x23c
Saddle: Selle San Marco Zoncolan
Seat post: 3T Doric Team