On test: Rudy Project Slinger, March 16, 2009
Quality performance at bargain pricing
The Rudy Project Slinger offers very good performance
Photo ©: Paul Verkuylen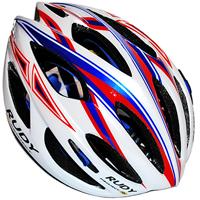 Rudy Project's latest helmet, the Slinger, ticks many of the same feature boxes as better known and more expensive helmets on the market, leading Cyclingnews' Paul Verkuylen to conclude it is one of the best helmet buys for the more price conscious cyclist out there.
Rudy Project's new Slinger helmet boasts a pleasingly simple design that visually sets it apart from others in the bunch. That it comes in at just US$99 is a most welcome bonus.
The thirteen-vent count may sound low but their ample size and intelligent placement do a good job of keeping the breeze flowing through your hair and keeping your head cool. In spite of its modest price, the Slinger never once turned our heads into burning cauldrons of lava even on brutally hot Australian summer days upwards of 35°C (95°F). Six vents are situated right up front while five larger vents in the midsection and two exhaust ports help to keep the air flowing from front to back.
However, the Slinger is no ice bucket either (though few things are at those temperatures short of an actual ice bucket) and it is here where more expensive helmets tend to pull away a bit with airier designs and deeper interior channels. Enlarging holes is easy but doing so while still maintaining safety is the trick - while those high-end models are generally further reinforced with interior frameworks that maintain structural integrity during a crash, the Slinger makes do with just a co-molded shell and simply requires more foam to stay together.
The simple retention system circumference
Photo ©: Paul Verkuylen

Still, at just US$100, we're not going to complain much about the Slinger's ventilation.
Fit ranks high on the scale, too, with an easy-to-use and comfortable retention system. Circumference can be adjusted on the fly with one hand using the intuitive dial while height is tweaked simply by sliding the unit up or down on the straps. The straps also use locking sliders for set-and-forget adjustments and the thick hypoallergenic interior padding is plush feeling on bare skin.
All in all the Slinger is a relatively cool and comfortable alternative to some of the bigger brands and wouldn't look out of place in a peloton capped with far more expensive lids. While those other more premium models may move more air and dress themselves up with generous swaths of composite reinforcements, riders looking for a stylish and well-designed helmet at an economical price could definitely do far worse than this.
Another patch of padding on the retention system
Photo ©: Paul Verkuylen

In times of a global financial meltdown, Rudy Project has definitely hit the nail on the head - no pun intended folks with this one.
The Slinger is offered in five colours and is available in sizes S/M and L.
Price: US$100
Weight: 280g (size S/M)
Pros: Economical price, good ventilation, comfortable and simple retention design
Cons: Not enough vents for some, helmet profile may not be to everyone's taste
Cyclingnews Rating:


More information: www.rudyproject.com and www.rudyprojectusa.com
For a thumbnail gallery of these images, click here
Images by Paul Verkuylen/Cyclingnews.com