On test: Hincapie Flanders Rain Jacket, May 4, 2009
Solid features, so-so fit
The Hincapie Flanders rain jacket offers impressive protection
Photo ©: Marty Caivano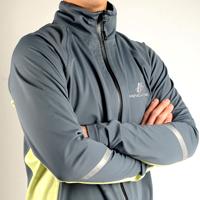 April showers may bring May flowers but they're still a bummer to ride in. Cyclingnews technical editor James Huang says Hincapie's Flanders rain jacket is more than just a basic rain shell but the fit needs some work.
Hincapie Sports' Flanders rain jacket instinctively conjures images of soaking precipitation, ominously overcast skies, and wet pavement - or cobbles - not to mention a vicious attack or two or a spirited assault up one of the region's countless steep climbs.
Fittingly, the jacket's Cocona softshell material - which mates an outer shell to a unique Cocona fabric liner - does an excellent job of keeping you dry with its durable water repellent finish, fully taped seams, adjustable neck, and waterproof YKK zippers that are a tad stiff to operate but still good to have in this application. Even with Mother Nature's worst - or when standing in the shower - we stayed admirably dry save for the typical bit of moisture that got in through the neck or sleeve openings.
The capacious single rear pocket holds plenty of gear
Photo ©: Marty Caivano

Moreover, the Flanders rain jacket is also quite breathable. Cocona's claim to fame is a uniquely treated polyester yarn with supposedly ten times more surface area than a round one, thus providing more surface area for wicked perspiration to evaporate. Whether or not those numbers hold true, the end effect is convincing nonetheless as we stayed drier than usual inside as well as out even during some harder efforts - something most waterproofs can't claim. Though the breathability is admittedly still not as good as something less substantial, the Flanders is still impressive considering the level of protection.
Hincapie also fit the jacket with generously long mesh-backed pit zips if temperatures get a tad warm - a particularly good feature to have since the jacket's relative bulk means you can't easily stuff it in a jersey pocket and it's a bit more insulative than a pure shell.
Unfortunately, the fit of the garment leaves significant room for improvement - literally in fact. The torso is unusually loose for a supposedly performance-oriented piece of cycling outerwear with lots of excess fabric left to catch the wind plus a curiously oversized waist fitted with gripper elastic that never has a chance to grip on to anything.
To be fair, this also leaves plenty of leeway for adding layers during chillier mornings or evenings but sadly, the sleeves are noticeably more taut so you're mostly limited to insulating vests and whatnot.
The reflective stripe on the rear of the shoulders
Photo ©: Marty Caivano

In addition, the full-width reflective strip running across the shoulders is good for visibility - as are the ones on the sleeves - but its lack of stretch totally negates the give of the underlying Cocona softshell. Though fine when relatively upright, the back of the shoulders is noticeably restrictive when in riding position. We would suggest moving this further down towards the midsection where stretch is less important and where approaching drivers would be more likely to see it anyway.
Other nitpicks include the single rear pocket. It holds a lot of gear but is wholly lacking in organization so smaller items are tough to find, the stiff waterproof zipper is hard to operate while on the bike, and left-handed riders are totally out of luck as it can only be accessed from the right. The grey-and-lime color scheme is also a definite love-it-or-hate-it affair and the reflective elements' bland aesthetics don't help, either.
Overall, the Hincapie Flanders Rain Jacket provides an excellent level of protection from the elements along with very good breathability but its somewhat sloppy fit makes it better suited as a high quality commuter piece than the intended serious training shell. We might very well see George himself riding in one of these around his Greensboro, North Carolina home base but we'd say more likely on the way to pick up some groceries than while doing intervals.
Price: US$199.99
Pros: Excellent protection from rain, very good breathability, waterproof zippers, high quality Cocona softshell fabric
Cons: Sloppy fit that is both too tight and too loose, single rear pocket that is inoperable while riding, questionable styling, expensive
Cyclingnews rating:


More info: www.hincapiesports.com
Photography
For a thumbnail gallery of these images, click here
Images by Marty Caivano