On test: Gaerne Carbon G.Myst, March 26, 2009
Just like Cadel's - but without the kangaroos
The G.Myst is Gaerne's new high-end road shoe.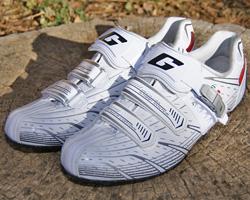 Gaerne revamp their top-end road shoe with an all-new upper, a sleek appearance and a hefty US$100 price increase. Cyclingnews technical editor James Huang straps up a pair to see if they're worth the money.
Gearne have given their top-end road shoe a major facelift, carrying over the old G.Air Carbon's full-length carbon sole plate - one of the stiffest we've ever sampled - but now mating it to a new upper to create the Carbon G.Myst.
As compared to its predecessor, the G.Myst definitely provides a more luxurious and sock-like feel. The nominally one-piece upper eliminates a lot of stitching and combines with the fully lined interior for a smooth fit that doesn't irritate even with barely-there socks. The more supple materials up front also make the toe box feel a tad roomier than before, too.
The G.Myst uses the same highly adjustable main strap and twin ratcheting forefoot straps as on the G.Air though the former now wears a new low-profile aluminum buckle that is easy to use but still lacks a one-step release feature for easier on-bike adjustments. Just like before, the straps hold on as tightly as you dare - lest you tear them off the shoe they are as snug at the end of a ride as they were at the beginning.
The replaceable heel pad is a welcome feature

Unfortunately though, Gaerne have also carried over the straps' same shortcomings: the plastic anchors are too rigid and don't conform to the top of the foot very well while the main strap 'pad' really isn't all that well padded, is too stiff and flat, and has some sharp edges that tend to cut into the top of your foot. Moreover, the padding on the tongue is relatively thick but far too soft to effectively temper any of these shortcomings.
Gaerne have replaced the G.Air's polyurethane heel cage with a more conventional external counter and a novel memory foam-infused 'Heel Grip' system that is supposed to provide a better and more secure fit. But alas, it doesn't seem to work very well - we got more heel slip than we would prefer - and the foam feels more like the simple low-density type than the much more dense viscoelastic stuff we were expecting.
By now some of you may be wondering about the new upper's breathability and for good reason - it isn't very good. The material itself doesn't breathe very well and the sprinkling of laser-cut holes do little to temper that fact, either. In fact, we didn't even need shoe or toe covers on near-freezing days at the beginning of our test period but still ended up with clammy feet. And on warmer rides towards the end of our testing… well, you get the picture.
The natural leather insole is a nice touch.

Want more? At 746g per pair (sz43), the Carbon G.Myst is also 36g heavier than the already somewhat weighty G.Air Carbon we tested two years ago.
Price: US$399
Weight: 746g/pair (sz 43)
Available sizes: 39-47 (42-45 in half sizes)
Pros: Smooth one-piece upper and luxurious-feeling fully lined interior, ultra-rigid EPS carbon sole, secure strap hold, comfy real leather insole, highly adjustable main strap
Cons: Poor upper material breathability, ineffective tongue padding, heavy, stiff plastic hardware doesn't conform to shape of foot, no single-step release on buckle, could use more arch support, so-so heel hold, far too expensive for what you get
Cyclingnews rating:


More information: www.gaerne.com, www.veloeuropa.com
Photography
For a thumbnail gallery of these images, click here
Images by James Huang/Cyclingnews.com