On test: Easton EC90 Equipe SLX3, January 5, 2008
Comfy bars with a versatile bend
The Easton EC90 Equipe SLX3 handlebar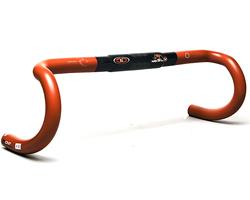 Road handlebar bend has always been a personal thing. Eddy Merckx made the Belgian bend popular back in the 1970's, while in the 1990's the buzz word was ergonomic. Paul Verkuylen takes a look at an interesting alternative from Easton that strikes a fine balance between flexible lever position, reach and comfort.
Flexible positioning is the key with Easton's top-end EC90 Equipe SLX3 carbon road bar. The shallow 130mm drop and short 75mm reach make for an easy transition into the drops while the compound-radius bend blends the best of old and new: pressure is more evenly distributed across your palm like an ergonomic bar yet you also get the easier brake lever access and a wider range of hand placement options like with a traditional bend.
There is an abundance of cockpit room up high, too, as the relatively small-diameter tops hide cables well and remain straight almost the full width of the bar before kicking forward in a tight-radius bend. Easton keeps this section nominally level just before curving into the drops with a fairly abrupt and odd-looking bend. Though it looks somewhat strange out of the box, that kink makes for a comfortably level perch on the hoods with every lever we installed, just as Easton intends [though Shimano and Campagnolo have both altered their shapes since the bar's release].
The relatively shallow drop and short reach

The combination yields a roomy feel with a narrow profile that is perfect for bunch rides or racing alike. The level hood position and wide tops is just the thing during long climbs and the easy-reach drops make for right-now braking as needed when racing through a bunch or just while navigating in traffic.
Easton's carbon nanotube-reinforced Taperwall carbon construction makes for a light bar, too; our 44cm tester (center-to-center) weighs just 200g.
Though comfy and light, the EC90 Equipe SLX3 is also markedly softer than some other high-end carbon bars we've tested. The so-called 'Intelligent Flex' design undoubtedly adds to the bar's comfort on rough roads but riders that praise rigidity above all else might find the extra movement somewhat unnerving.
Assuming the flex pattern suits you, it's otherwise hard to find fault with these bars. They're light, reasonably stiff (for the right rider), comfortable and offer a variety of good hand positions plus easy brake lever access. The price is rather on the expensive side, though, but at least it comes with the proven carbon experience of the Easton name and a generous five-year warranty.
Price: US$250
Weight: 199g (44cm, c-c)
Pros: Comfortable design, roomy, easy lever reach
Cons: Somewhat soft feel, expensive
Cyclingnews rating:


More information: www.eastonbike.com