On test: Easton EC90 crank, May 7, 2009
Light, stiff - and good!
Easton's EC90 road crank is notably lighter than Dura-Ace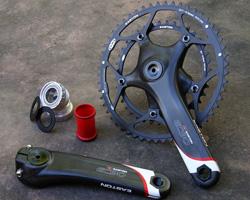 Easton tap their considerable composites capabilities to produce the EC90 road crank, an impressively lightweight option that still delivers the goods according to Cyclingnews technical editor James Huang.
As Shimano have often reminded us with their Dura-Ace benchmark, lightweight carbon road cranks can be lighter than forged aluminum ones but not always without sacrificing some level of performance.
Easton's EC90, however, manages to offer an appreciable weight advantage (676g complete vs. 739g for Dura-Ace 7900 or 750g for 7800) while maintaining an admirably close overall rigidity level and standard-sized replacement parts. Stomp on the pedals during the fiercest sprint or steepest pitch and there's only minimal mush to be found - still not quite as rock-solid as 7900 or more exotic models such as Zipp's Vuma Quad but an excellent balance of light weight and stiffness and only the burliest of thighs are apt to discern the difference.
Easton toss their full array of tricks into the arm design: Taperwall construction offers precise control of material placement, carbon nanotube-enhanced resins add strength and require less material, and a stiffening spine runs the full length of each arm to create a dual-chamber cross section similar to FSA's excellent K-Force Light. Instead of a full-length alloy spine, individual bits are molded in at the spindle and pedal ends.
The beefy integrated spider is available in both standard and compact.

Additional system stiffness is provided by the beefy five-arm integrated spider - offered in both 110mm and 130mm BCD for road plus 130mm BCD 38/48T for 'cross - and the 24mm chromoly spindle that rotates on a familiar external-type bottom bracket with optional hybrid ceramic bearings.
To further reduce friction, Easton forego the usual plastic bearing sleeve/seal in favor of a smoother-running dual-lip external unit similar to what Enduro use to great effect on their aftermarket kits. The cartridge bearing's inner race can also be made slightly smaller in diameter as result so ball bearing size also increases for improved overall durability.
Without the plastic sleeve to take up slight bottom bracket shell misalignments, though, potential users should take extra care to face and chase properly but the reward is a noticeably silky-smooth spin.
Rather than develop their own design, Easton have wisely tapped Stronglight for their excellent Teflon-coated chainrings - frequently favored by top pros when given the option and a perennial go-to choice for weight weenies. Shift quality is admirably smooth under power - though still not quite on par with Shimano - chainring wear is superb, the system runs whisper-quiet and replacements are also reasonably priced.
The pinch bolt clamp is somewhat bulky

Complaints are minmal: the non-driveside arm uses a tried-and-true dual-bolt pinch clamp but an unusually bulky and awkward-looking shape. Though it might look smooth and flowy on some frames, it looks disjointed and blocky on others and might not work with some newer models with directly integrated bearings as the arm partially overlaps the cup. In addition, the hexagonal pedal insert is a bit on the budget side in terms of aesthetics. Form-follows-function is always good from an engineering standpoint but it may have been good to get more input from the ID guys in a couple of areas.
Aside from that, the only other obstacle is its heady price tag - US$699 for the crank alone plus US$80-200 for the matching bottom bracket - or roughly the cost of an entire SRAM Rival group depending on the configuration. To be fair, other carbon cranks may be lighter and/or even stiffer but those are generally even more exotically priced. Mac and cheese for a week or a month? You decide.
For riders seeking to shed grams at any price, though, the Easton EC90 is a good way to do so with virtually no performance sacrifices to make in return.
Price: US$699.00 (crank only); US$80 (bottom bracket with standard bearings); US$200 (bottom bracket with ceramic bearings)
Weight: 574g (170mm crankarms with 53/39T chainrings and all hardware); 102g (ceramic bearing bottom bracket)
Pros: Excellent stiffness-to-weight ratio, smooth hybrid ceramic bearings, high-quality Stronglight chainrings, compact and 'cross options also available, reassuring five-year warranty
Cons: Bulky non-driveside crankarm may create some fitment issues, shift quality still not quite as good as Shimano, expensive
Cyclingnews rating:


More information: www.eastonbike.com
Photography
For a thumbnail gallery of these images, click here
Images by James Huang/Cyclingnews.com