On test: CycleOps SuperMagneto Pro, January 29, 2009
Versatile stationary trainer for indoors or out
The CycleOps SuperMagneto Pro mates a clever magnetic resistance unit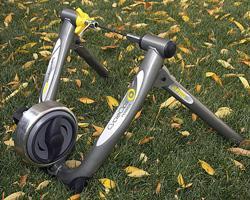 CycleOps overhauled its trainer line for this winter season with all-new frames and resistance units. Cyclingnews technical editor James Huang finds the SuperMagneto Pro expensive but packed with excellent design and a surprisingly flexible resistance unit.
The resistance unit
CycleOps' new SuperMagneto Pro trainer does its unique Magneto model one - or rather three - steps better with four user-selectable settings to suit the task at hand, all of which boast nominally progressive resistance curves thanks to the way the internal magnets move outward as rotational speeds increase.
Not surprisingly, the 'easy' setting offers the lowest resistance and is intended for low power, high cadence warmups (think pre-race at the car) or riders just getting back in the saddle after an injury. Only around 40W is required to maintain 16km/h (10mph), 32km/h (20mph) is achieved at about 120W and a leg-churning 48km/h (30mph) is easily hit at approximately 230W. Reasonably fit riders will likely run out of gears before running out of energy here but given the intended usage that's perfectly fine.
The 'road' position feels nearly identical to 'easy' at 16km/h but the power requirements jump up to about 190W and 390W at 32km/h and 48km/h, respectively, to more closely mimic real-world riding on flat pavement. Though still no lung buster, we found it a comfortable setting for just churning out some time on the bike.
The new mounting system is easy to use

The four-position dial offers an ultra-easy spin setting

The legs stand a generous 70cm-wide for rock solid stability.

The legs lock in both the extended and folded positions.

As expected, the 'interval' and 'mountain' settings juice up the resistance significantly for when it comes time to do more serious work. Things still don't feel much different at 16km/h but 32km/h requires a much more vigorous 270W and 350W or so. At 48km/h you'd better bring your A-game: we had to put out over 500W on 'interval' and a painful 600W+ on 'mountain' so most serious riders shouldn't have much of an issue getting enough resistance out of the SuperMagneto unit.
Numerically gifted readers will note that all of the curves are progressive though not quite as much as fluid-type trainers, which still offer a more realistic feel (in that case, CycleOps also offers the JetFluid Pro). Riders seeking a trainer for specific workouts probably won't care, however, and those concerned about fluid leakage - however unlikely - on expensive flooring will find comfort in its oil-free design. Though the SuperMagneto unit isn't the quietest we've encountered, it's still subdued enough to hear a television set at a reasonable volume.
The frame
The new Pro frame is superb in its simple, stable and compact design. The locking legs angle outwards to yield a generous 70cm-wide (27") footprint that remains rock solid during even the most frenetic sprints while the grippy soft rubber feet and adjustable-length leg protects floors and keeps the trainer from moving around much.
There is also a new resistance unit clamp that sets up far more quickly than before (say goodbye to endless knob twisting) and provides more consistent tire contact on wheel sizes ranging from 650c road to 29" mountain. In addition, the whole thing folds much more compactly - down to just 17cm (7") thick - than before and the resistance unit now locks in the folded position for easier storage and transport. Total weight is an easily portaged 8.5kg (18.7lb).
CycleOps also fitted the new frame with an easier-to-use mounting system that comprises just a single rotating knob. Our unit held well enough for us but apparently the design is prone to loosening and prompted a voluntary recall. Replacement models and all current units are now fitted with a supplemental locking pin.
A purposeful solution
Riding indoors is still among our most hated activities but the CycleOps SuperMagneto Pro at least makes it time well spent so you can hit the early season fitter than if you just sat around watching Oprah all day. The frame is among the most stable we've encountered - recall issues aside, the resistance unit offers a fantastically broad range of usability, and setup is brutally easy. Add in the high quality construction and CycleOps' reassuring lifetime warranty and its expensive US$399.99 asking price becomes a little easier to swallow.
Price: US$399.99
Pros: Idiot-proof setup, ultra-stable frame, folds compactly for storage, versatile SuperMagneto resistance unit, smooth operation with minimal vibration, steel-capped skewer and surprisingly useful training DVD included
Cons: Resistance curves progressive but not as much as on a fluid trainer, fluid trainers still a bit quieter, somewhat expensive, requires separate riser block for front wheel, earlier models subject to recall
Cyclingnews rating:


More information: www.saris.com
Photography
For a thumbnail gallery of these images, click here
Images by James Huang/Cyclingnews.com