On test: Castelli Quantum Radiation jacket, February 27, 2009
Superb three-season jacket
The Castelli Quantum Radiation jacket
Photo ©: Marty Caivano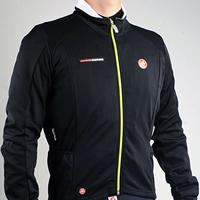 'Revolutionary' is a word liberally used in bicycle industry marketing speak but in the case of Castelli's Radiation technology it is actually well justified. Cyclingnews technical editor James Huang dons the Quantum Radiation jacket and finds it to be a tremendously warm - when you want it to be - and surprisingly versatile piece.
Castelli's Quantum Radiation jacket trades conventional insulating materials for a paper-thin metalized fabric liner and the result is remarkably effective at keeping you warm in spite of its lack of bulk and relatively light 540g weight (size medium).
Even with just a summer-weight, long-sleeved Castelli base layer beneath, we were pleasantly toasty down to around -4°C (25°F) yet the jacket is far more versatile than just a strict winter-only garment depending on how it's configured - a good thing considering its painful US$399.99 asking price.
The key to the warmth is the unique Radiation metalized fabric liner, which reflects body heat just like a Mylar-based space blanket rather than trap it in a layer of air around you. In fact, the liner is so efficient at retaining warmth that Castelli wisely graces it with a generous array of holes to keep the Quantum Radiation from being too toasty.
Perforations throughout the liner
Photo ©: Marty Caivano

The material itself is practically airtight though so the holes are also needed to provide some breathability. As temperatures climbed and efforts increased, we found the overall breathability to be quite good considering the warmth the jacket provides but as always, we'd still prefer more. We'd guess that Castelli could conduct some temperature mapping research to selectively increase hole sizes in certain areas for more moisture evacuation without affecting heat retention too much.
Even so, the Radiation liner is fully removable and the remaining jacket is commendable in and of itself. The Gore Windstopper X-Lite shell material, snug-fitting collar, elastic cuffs, and full-length windflap are highly effective at blocking incoming chills. Relatively light insulation brings the comfort range up to around 10°C (50°F) - perfect for the chillier mornings and warmer daytime temps of spring or for those fortunate enough to live in mountainous areas where conditions can vary wildly depending on altitude.
Moreover, the trim Euro-style tailoring is nearly perfect for use on the road with an appropriately dropped tail, suitably long sleeves and a collar that is fairly low-cut in the rear. There is virtually no excess material to flap in the breeze, either, yet it's also not so tight as to be restrictive. Some riders may complain about the lack of room for thicker winter jerseys but in all honesty, the Radiation liner is so effective that you almost certainly won't ever feel the need for one anyway.
In contrast to most cooler-weather cycling outerwear, the Quantum Radiation is fitted with a gloriously generous row of pockets - five in total! There is a large zipped one right dead center that is perfectly sized to stow the Radiation liner, two standard-sized ones flanking it to hold energy bars and the like, and another two smaller ones - one zipped - out towards the very sides. Pack all you want; there's likely a place for it.
Minor stumbles
The key to the Castelli Quantum Radiation jacket's performance
Photo ©: Marty Caivano

As always, there is still room for improvement. Zippered chest vents would go a long way towards alleviating the breathability issue already mentioned and would extend the Quantum Radiation's comfort range even further. Given the liner's insane level of warmth, we might also argue that including the sleeveless liner - currently available as an add-on for another US$119.99 - as standard equipment instead of the full-blown sleeved version might be more applicable to more people. Yes, it's that warm.
The Radiation liner is also nearly completely non-stretch so a bit of care is required to avoid tearing it. Precise tailoring by Castelli yields a surprisingly good fit but you still need to shimmy around in the jacket a bit after putting it on to get the liner to shift into proper position.
In addition, the Radiation material isn't particularly comfortable on bare skin - base layers are a must here - and it isn't machine washable, either, so you'll have to remove it prior to chucking it in with your favorite pair of Diesels.
And finally, while the removable liner makes for a one-jacket-does-all garment in varying conditions, you obviously have to strip off the entire shell to do so - thus momentarily exposing you to the cold - and the attachment method for securing the pieces together seems a bit primitive for our liking.
Score!
If the sleeved liner is too warm,
Photo ©: Castelli

Issues aside, the Castelli Quantum Radiation jacket is still a fantastic piece of clothing. It's phenomenally warm when you want it to be, versatile enough for true three-season use, and carries with it top-notch materials and superb tailoring.
Sure, it's expensive, but when you consider how much use you'll get out of it it's far from being a bad value. This one's a winner.
Price: US$399.99 (Castelli Quantum Radiation jacket with long-sleeved Radiation liner); US$119.99 (optional Radiation sleeveless liner)
Pros: Incredible warmth with minimal weight and bulk, spot-on fit, wide temperature range depending on configuration, lots of pockets, classy subdued styling, excellent Windstopper outer shell
Cons: Might actually be too warm for some, liner could use more breathability, liner requires more care in use and washing
Cyclingnews rating:


More information: www.castelli-us.com