On test: SRAM Rival, January 15, 2009
No real rivals for Rival
SRAM's revamped Rival group makes it an even better value
Photo ©: James Huang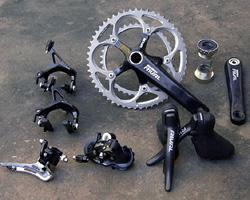 Cyclingnews technical editor James Huang spends a few months on the latest version of SRAM Rival and declares it the hands-down winner in the mid-price segment.
SRAM Rival has been a value leader since its introduction in 2006 but new trickle-down technology borrowed from Red has now made it even more so. In fact, if one were to run one against the other back-to-back blindfolded (not recommended outdoors!) it'd be difficult to tell the two apart.
The biggest changes are in the heavily revamped DoubleTap levers, which now bear Red's 10mm-longer brake lever blades (now upgraded to carbon fiber) and larger shift paddles along with the flagship's independently adjustable reach for both. Internally, the left-hand shifter gains the Zero Loss cable spool design and outer trim position (though at the loss of the inner ring position), again borrowed from Red.
The most noticeable effect of the changes on the road is far easier access to both the brake and shift levers while in the drops and especially so for anatomic-type bends. No longer do you have to awkwardly reach upwards - or uncomfortably far - to snag the end of the brake lever and the shift paddle is now but a flick of the finger away. Moreover, the end of the brake lever has a slightly more prominent hook than before for more secure one-fingered control.
We can continue to live without Zero Loss on the revamped right-hand Rival shifter as lever throws are still notably shorter than most but the new left-hand cable spool design provides a 10-degree improvement from last year and makes for markedly quicker shift. Otherwise, both the front and rear derailleurs, the OpenGlide cassette, and the fundamental chain and chainring shapes remain identical so shifting is still positive and precise, if not quite Shimano-smooth. In fact, Rival's front shifting seems a tad better than that of Red thanks at least in part to its stiffer steel derailleur cage.
The rear derailleur is unchanged for 2009
Photo ©: James Huang

Save for the new black finish, the brake calipers are carryover items from last year and continue to deliver the same very good levels of power and modulation we've grown accustomed to. They're still impressively light for the price but we can't help but think it might be about time SRAM beefed up the outer arm a bit for even less flex and a more positive lever feel.
In addition, there are still unfortunately no fine adjustments for either centering or spring tension although the former is easily worked around and the latter is generally only an issue on especially poorly designed cable routing. The pad holders receive a small yet significant improvement, however: the pad fixing pins now insert from the sides instead of the top, vastly easing tool access.
Other than the levers, the Rival crankset is the only major bit in the group to receive a significant update. Last year's optional hollow-forged OCT (Open Core Technology) upgrade is now standard along with its 24g weight savings and increased rigidity relative to the old solid-forged unit. The bottom bracket is really the only letdown here as the GXP design continues to run with more friction than we would prefer. Thankfully, smoother-running aftermarket upgrades are readily available.
Weight-wise, Red still holds a sizeable 300g lead over Rival so while the overall performance is now incredibly close, Rival users will still have a little extra weight to lug up the mountain with a total package weight of 2281g.
Rival vs. the competition
SRAM previously offered the hollow-forged Rival crankset as an optional upgrade
Photo ©: James Huang

Rival may be markedly heavier than Red (as it should be) but ignoring personal preferences in shift actuation style and feel - such as two levers vs. one, light vs. firm action, etc. - and intangibles such as aesthetics, it still holds a significant weight advantage over comparable groups from Shimano and Campagnolo.
For example, Shimano's 105 group is a near match for Rival price-wise but Ultegra SL is much closer in weight. Still, even that group is about 100g heavier and roughly US$300 more expensive. Right-hand lever throw for upshifts is also much longer - as in 20 degrees vs. just 10 - though Shimano still edges out SRAM on the other side even with the new Zero Loss spool at 25 degrees vs. 35.
It's a similar scenario with Campagnolo: Veloce is closer to Rival in price but Centaur is a better match for weight. Yet Centaur is still 150g heavier and nearly US$400 more - and we're talking the alloy version here, not the carbon one. Both also receive new-shape Ergopower levers (which feel fantastic, by the way) but carry on with previous-generation 10-speed operation, which will assuredly be replaced by Campagnolo's new 11-speed platform soon.
The levers receive the most complete makeover
Photo ©: James Huang

Indeed, Rival's biggest 'rival' may be big brother Force. SRAM gave its middle child the same lever enhancements this year so the two still share 100 percent identical functionality but various materials upgrades still leaves Force with a 130g advantage. Though SRAM has wisely narrowed the pricing gap between the two (suggested retail price on a complete Force group is now US$1399 vs. US$919 for Rival) that still leaves a considerable US$480 jump for a modest US$3.69 per gram weight loss and you don't get Red's ceramic bearings, either.
Screaming bargain
General debate over which of the three major component companies will undoubtedly go on and we won't even try to settle the overall score here: Shimano is still the undisputed king of smooth and quality control, Campagnolo still rules the multiple-shift game and arguably carries the greatest cachet, and all three offer similarly admirable functionality.
Rival's most recent updates now truly make it a Red group for the masses, though, and neither of the other two do nearly as good a job of mimicking the performance of its top dog this far down the line. Based solely on an overall performance per dollar metric, Rival is a winner by a knockout - and we're talking the lying-face-down-in-a-puddle-of-drool kind, not a TKO. If your heart is on SRAM and you insist on having the cream of the crop, Red is still the obvious choice but dollar-for-dollar, there's simply no competition.
| | | |
| --- | --- | --- |
| SRAM Rival DoubleTap levers, pair | 325g | US$356 |
| SRAM Rival rear derailleur | 186g | US$79 |
| SRAM Rival front derailleur, braze-on | 89g | US$46 |
| SRAM Rival OCT crankset, 170mm, 39/53T | 745g | US$193 (includes BB) |
| SRAM Rival GXP bottom bracket | 124g | |
| SRAM Rival brake calipers, pair, with hardware | 273g | US$115 |
| SRAM OG-1070 cassette, 12-26T | 261g | US$95 |
| SRAM PC1030 chain, 114 links, with PowerLock | 278g | US$35 |
| | 2281g | US$919 |
Price: US$919
Weight: 2281g
Pros: Red-clone features and performance at less than half the price, significantly improved lever shape and crankset construction, sleek black finish
Cons: GXP bottom bracket still has more seal drag than we'd like, OpenGlide cassette design still can't match Shimano for smoothness, shift levers still don't offer the solidity of Campagnolo, sleek black finish
Cyclingnews rating:


More information: www.sram.com
Photography
For a thumbnail gallery of these images, click here
Images by James Huang/Cyclingnews.com