On Test: Trek Madone 6.9, March 17, 2008
Trek's top dog offers lightweight option
Trek's Madone 6.9 sits at the top of its range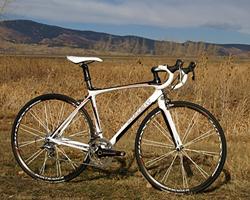 We recently reviewed Trek's mid-level Madone 5.2 and found it to be the virtual epitome of what an all-around road racer should be. Yet is the top-shelf Madone 6.9 that much better? Cyclingnews Technical Editor James Huang takes a look.
We found Trek's mid-priced Madone 5.2 to be a near perfect road machine, offering a reasonably light weight, superb ride and handling characteristics and an intelligent parts spec that offered a good balance between performance and cost. In addition, the innovative frameset design incorporated a number of novel features such as the no-cut integrated seatmast, 90mm-wide bottom bracket shell with drop-in cartridge bearings and correspondingly oversized down tube and chain stays, and the tapered and oversized 1 1/8"-to-1 1/2" steerer tube.
Even so, the 5.2 sits just fourth in the lineup which is topped by the premium Madone 6.9 model. As expected, the 6.9 is quite a bit lighter: our identically proportioned 54cm tester weighed just 6.7kg (14.7lb) without pedals as compared to the 5.2's 7.3kg (16.1lb). The top-end OCLV Red Series frame accounts for 120g of the difference and the carbon-steerered fork another 90g.
The other 480g is accounted for by the high-zoot build kit which includes Shimano Dura-Ace Dual Control levers, derailleurs and brake calipers, a Bontrager Race X Lite compact crankset and Bontrager Race XXX Lite carbon clincher wheels. A SRAM OG-1070 cassette and Dura-Ace chain round out the drivetrain while the Bontrager label is also fitted to the superb Race XXX Lite VR carbon bar, Race XXX Lite Carbon stem and carbon-shelled Race X Lite saddle.
The ride
The bottom bracket shares the same

Even the front hub is carbon fiber…

Trek swaps in its Bontrager Race X Lite crankset

…surrounds the similarly tapered and oversized E2 fork.

Given the OCLV Red Series frame's high modulus fiber additions we expected our Madone 6.9 to deliver a somewhat stiffer ride and snappier response. However, once we swapped out the wheels to our reference Mavic R-SYS set, we actually couldn't tell much of a difference which wasn't exactly a bad thing. The same comfy ride, neutral handling and snappy response were all still there just as we'd remembered them.
As it turns out, that similarity was by design and this ironically turns out to be both the Madone 6.9's best and most disappointing quality. According to Trek road brand manager Scott Daubert, Trek intentionally kept the frame stiffness and ride quality consistent across the entire Madone range. That is no small feat, but it reduces the primary difference between the two solely to reduced mass.
Don't get us wrong; 0.6kg (1.3lb) is a fair amount of weight to shed and is noticeable in most situations, especially during extended climbs, and we'll take a Shimano Dura-Ace package and full carbon clinchers any day. But consider this: of the roughly 600g total weight difference, 360g comes purely from the upgrade to the Race XXX Lite wheels. Those wheels carry a retail price of US$2,000, yet the total difference in cost between the Madone 5.2 and 6.9 is US$4,000.
As such, one could purchase the Madone 5.2 and a set of Race XXX Lite wheels outright and make up more than half of the weight gap in the process (more if you went with the tubular variety). The end product would deliver nearly identical performance as the full-on Madone 6.9 thanks to the nigh Dura-Ace quality of the new Ultegra SL. What's more, you'd then also end up with a perfectly usable set of training wheels as a bonus and still have about US$1800 left over (forgot about the race-worthy tubular tires at US$100 a pop, didn't you?) for additional upgrades, clothing, gas, dinners out, a vacation… you get the point.
The verdict
Ignoring cost, Trek's Madone 6.9 takes everything we loved about the 5.2 and only adds to it. It's also admirable that the OCLV Red Series frameset manages to shed 210g while still retaining all of the 5.2's excellent handling manners, stiffness, overall feel and ride quality.
Even so, the huge premium between the two models makes it difficult for us to justify the 6.9 to most buyers. If you absolutely have to have the best (and have the money to do so), be our guest. We have no doubt that you'll be happy with your purchase and will pedal into the sunset with gleeful show tunes looping in the background. For the rest of us, though, some simple math points to a more logical option.
Price: US$7,699.99
Weight: 6.7kg (14.7lb), 54cm, without pedals
Pros: Same great ride and handling characteristics as other Madone models but 600g lighter
Cons: 600g lighter than mid-level Madone 5.2 but the price gap is far too wide
Cyclingnews rating:

(ignoring cost);

(factoring in cost)
More info: www.trekbikes.com
Photography
For a thumbnail gallery of these images, click here
Images by James Huang/Cyclingnews.com