On test: Trek Fuel EX 9.5, August 8, 2008
Trek's best trail bike yet
The Trek Fuel EX 9.5 sits at the top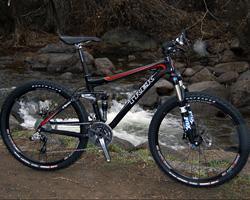 Trek's full-suspension designs have made giant leaps forward as of late and the carbon-framed Fuel EX can now finally be considered a serious contender. Cyclingnews technical editor James Huang puts one through the wringer for the better part of six months and it still comes out (mostly) sparkling.
Trek's mountain bike lineup has undergone a dramatic transformation as of late with new models that are highly competitive in each of their respective segments, including the Session DH and FR, Remedy, and newly revamped Top Fuel. Leading the charge though, was the 120mm-travel Fuel EX trail bike which was the first to integrate all of the company's new technologies into one platform and is arguably responsible for restoring Trek's reputation as a mountain bike company.
Meet the EX
While the Active Braking Pivot, Full Floater or EVO Link features each would have improved the Fuel EX predecessor on their own, the combination yields an end product that is more than the sum of its parts.
Trek's unique Active Braking Pivot places a concentric suspension pivot right at the rear axle, rather than above or below it as is more common. While this still setup maintains the Fuel EX's status as a single-pivot layout in terms of axle path, having the disc caliper mounted on the seat stay effectively yields a built-in floating brake mount that is better able to track the ground.
The Full Floater concept is equally clever. Instead of having one static mount and one dynamic mount for the rear shock, neither mount is fixed in space, leaving new Trek suspension designer Jose Gonzalez more freedom to tune the shock rate at a particular point in the travel.
Dual floating rear shock mounts
The Bontrager Race XXX Lite stem

Trek specs the Fuel EX 9.5

Shimano's XTR crankset

The Bontrager Jones XR tires

The Bontrager Race X Lite hubs
The carbon-shelled Race X Lite saddle

Tying this all together is a one-piece EVO Link that Trek claims is twice as rigid, twice as strong and yet substantially lighter (and better looking) than the old three-piece bit. Further bolstering things is an asymmetrical all-aluminum back end.
Our top-end, medium-sized Fuel EX 9.5 tester includes a magnesium version of the EVO Link as well as a svelte OCLV carbon front triangle that brings the actual frame weight to just 2.53kg (5.57lb) including the rear shock, bottle cage hardware and seat collar. Add in a gaggle of premium spec from Fox Racing Shox, Avid, SRAM, Shimano and (of course) Bontrager and the end result is a relatively light 11.25kg (24.8lb) package (without pedals).
Ok, so it looks good… but can it go?
Yup, it sure does.
Whereas the Fuel EX used to be just another ho-hum single-pivot rig, this new iteration is a superb example of the genre. We know this is an oft-used cliché, but the general feeling is one of bottomless and well-controlled wheel movement. Gonzalez' careful Full Floating shock tuning delivers supple small bump response and excellent bottom-out control on the trail, plus it doesn't wallow in its mid-stroke like all-too-many others. As a result, we rarely used the ProPedal setting on our test bike's rear shock, preferring instead to take maximum advantage of the bike's obstacle-eating capabilities without the subtle harshness of any sort of platform valving.
The ABP design doesn't quite resemble a true floating brake mount (it's no perfect parallogram) but the effect on the trail is real and most obvious on braking bumps and washboard. Whereas our back wheel would normally be skipping about in such conditions, the Fuel EX's rear end was distinctly well-planted. This not only allowed us to brake harder and deeper into a corner, but (ok, this is a stretch) it might even inflict less trail damage as there's less skidding. Moreover, the reinforced rear end no longer wags side-to-side or twists excessively like the old three-piece linkage-equipped bikes did so everything is nicely predictable when technical sections start coming at you hard and heavy.
As long as you're in the middle ring, pedaling response is excellent, too, though we should keep in mind that this is still a single-pivot bike. We were generally moving too fast in the big ring to tell too much about what was going on then but there's definitely a slight degree of pedal-induced movement in the inner chainring. It's not excessive to any extent but the overall get-up-and-go feeling doesn't quite match up to, say, a DW-Link or Maestro-equipped design.
Trek seems to have nailed the handling target here with the Fuel EX's reasonably rigid front triangle and all-conditions-friendly geometry. The 69° head tube angle, short 43cm (16.9") chain stays and relatively low 33.5cm (13.2") bottom bracket height combination isn't as razor-sharp and quick as a true XC machine in tight conditions but it's not far off, either. Even so, it's far more confidence-inspiring as you hit ridiculous speeds and definitely more entertaining.
Why your EX should stay your EX
We loved the Fuel EX chassis and the couldn't have been more satisfied with the tried-and-proven Shimano XTR, SRAM X.0 and Avid Juicy Ultimate bits of our tester but much of the remaining spec gave us undeniably mixed messages as to the bike's intentions. Basically, the bike has a bit of an identity crisis.
The 185mm front rotor, versatile (but heavy) TALAS RLC fork, and upright positioning of the 12° stem and 40mm-rise bar all proclaim, 'I'm a trail bike; push me harder', yet some bits whisper none-too-quietly in the background, 'I'm a race bike; easy does it.'
For example, the Jones XR tires are labeled as 2.25" and 2.2"-wide for the front and rear, respectively, yet neither one measures 2" across, even knob-to-knob (meaning the casing width is markedly smaller). As such, we ran out of tire long before we came close to the frame's capabilities. Sure, they're relatively light and fast-rolling but also woefully inadequate on anything other than tacky, hardpacked dirt. Perhaps they'd be alright if their stated width and measured width were more in agreement but as it is, most users would be better served with different rubber.
Likewise, the Race XXX Lite carbon riser bar and Race X Lite foam grips are racer-friendly but undermatched for what the frame is capable of. At 630mm wide, the bar is perhaps too narrow for some and the foam grips are simply dreadful: they're too short, too large in diameter, slippery when wet (and not much better when dry) and downright dangerous if their required bond to the handlebar fails.
Our advice would have been to pick a genre and stick with it: if you want it be a race bike, then go all-out. Likewise if you want it to be a lightweight trail bike.
So that's exactly what we did.
We traded out the stock bits for a standard Fox Float fork with 120mm of travel, a slightly wider Race X Lite riser bar, a 2.4" and 2.2" Jones ACX front and rear tire, and sensible grips and never looked back. The end result gained exactly zero weight yet we were far more confident, ended up moving much faster, and definitely had more fun.
Still a winner
Thankfully, it seems that Trek's product managers were thinking the same thing as '09 bikes have more logical and balanced spec sheets to go along with their updated frames. This will include fixed-travel forks, 7° stems and real grips, although the 630mm-wide bar and skinny tires unfortunately still carry over. The latter will be paired with wider Bontrager Rhythm wheels instead of skinny Race X Lite hoops though, which will effectively increase the casing size to something a little more reasonable.
Even if you can't get your hands on a '09, our experience on the 2008 model suggests that users will likely be awfully happy with either one. Save for a few spec gaffes (most of which can be corrected at the time of purchase), the Fuel EX is easily Trek's best trail bike yet.
Price: US$5,199.99
Weight: 11.25kg (24.8lb) (complete bike as tested, without pedals); 2.53kg (5.57lb) (frame only with rear shock, bottle hardware and seat collar)
Pros: Rear suspension is superb on bumps of all sizes, good pedaling response, ABP actually works, relatively light for a trail bike
Cons: Questionable trail bike spec, front triangle could be more rigid
Cyclingnews rating:

Photography
For a thumbnail gallery of these images, click here
Images by James Huang/Cyclingnews.com
Frame: Trek Fuel EX 9.5, 120mm travel
Available sizes: 15.5, 17.5 (tested), 18.5, 19.5 and 21.5"
Rear shock: Fox Racing Shox RP23
Fork: Fox Racing Shox 32 TALAS RLC, 90-130mm travel
Headset: Cane Creek S-8
Stem: Bontrager Race XXX Lite
Handlebars: Bontrager Race XXX Lite, 40mm rise
Tape/grips: Bontrager Race X Lite
Front brake: Avid Juicy Ultimate, 185mm rotor
Rear brake: Avid Juicy Ultimate, 160mm rotor
Brake levers: Avid Juicy Ultimate w/MatchMaker mounts
Front derailleur: Shimano XTR FD-M971
Rear derailleur: SRAM X-0

Shift levers: SRAM X-0 trigger w/MatchMaker mounts
Cassette: Shimano XTR CS-M971, 11-32T
Chain: Shimano Dura-Ace CN-7701
Crankset: Shimano XTR FC-M970
Bottom bracket: Shimano XTR FC-M970
Pedals: n/a
Wheelset: Bontrager Race X Lite
Front tire: Bontrager Jones XR, 26x2.25"
Rear tire: Bontrager Jones XR, 26x2.2"
Saddle: Bontrager Race X Lite
Seat post: Bontrager Race X Lite ACC