On Test: SRAM Red, March 6, 2008
SRAM aims for the Red bull's-eye
SRAM's new Red group is its best yet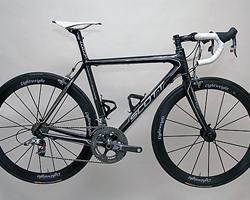 Cyclingnews Technical Editor James Huang wraps up three months of testing and discovers that the line separating hype and reality has gotten blurry indeed.
SRAM made a big splash with its Force and Rival groups and the positive reception was well-earned. Its novel DoubleTap levers proved to be remarkably intuitive, the Exact Actuation geometry really did deliver what is arguably the most precise (and robust) shifting in the road business and weights were roughly on-par with the best offerings from Shimano and Campagnolo.
Even so, all was not perfect with Force when we reviewed it in 2006 (although it wasn't far off). As much as we liked it overall, we found the brake and shift levers to be a tad short, there was too much drag in the bottom bracket and we were somewhat disappointed that the cassette and front derailleur were wholly shared with Rival (save for the finish in the latter). We also had some niggling gripes with the brake pads and cable routing.
SRAM has apparently taken those previous criticisms to heart in developing the new Red group, though, and try as we might, we have to admit that it's difficult to find fault in this latest round.
Shifting away
Retaining pins on the milled-out pad holders

The new DoubleTap levers are easily the group's highlight

Both shift and brake levers are longer

The levers are also independently adjustable for reach

…and this small cam for the shift levers.

The rear derailleur has been upgraded

Ceramic bearings keep things spinning smoothly.

The front derailleur receives a titanium cage

The other star of the group

The all-steel cogs are milled in one piece

The new SRAM Red crankset

Just as with Force and Rival, the DoubleTap levers remain at the heart of the group and the Red version beats noticeably stronger and longer with a number of key upgrades. New Zero Loss internals virtually eliminate the shift paddle free play found in Force and Rival, shift and brake levers are now longer, the newly carbon shift paddle is bigger, and both shift and brake levers are independently adjustable for reach. As compared to Force, the Red levers are about 10g lighter per pair and Gore Ride-On coated cables and housings are included (the low-friction kind, not the sealed ones).
Different users will likely have their own favorite new feature of the lot but it's really the combination of all of them working in concert that delivers the biggest improvement over Red's predecessors. Lever throw is roughly half that of Force/Rival (and about 40% of what's required for Dura-Ace) to yield noticeably faster and more precise shifts and the new shapes and adjustable reach mean that the controls are easier to manage, especially when in the drops or for riders with smaller hands.
Brake lever adjustments are easily made with an Allen head bolt hiding under the hood but shift lever adjustments aren't quite so simple. SRAM suggests using a pick or other sharp option to simultaneously depress and rotate the small cam located at the lever's base but we had a far easier time just using our fingertips. Either way it's a bit of a pain but thankfully not something you have to do often.
Some readers might question how significant Zero Loss is, but think of it this way: if you were take the amount of lever travel required just to take up the slack in Force and transfer that same movement over to Red, you've already made a shift. More to the point, upshifts on Red requires less than half the lever travel of the current Dura-Ace generation. The only drawback we can think of here is that riders who might regularly swap back and forth between Red and Force or Rival (think 'cross bikes) may have some difficulties shifting the intended number of cogs.
The front shifter is now equipped with a outer chainring trim position, although SRAM has curiously eliminated the inner trim position in the process. Admittedly, we've always been able to set up Force/Rival-equipped bikes to run rub-free in the big ring without the trim position in the past as SRAM intended but we can understand that many users could never get used to the idea. Unfortunately, though, now we get cross-chain rub in the inner ring which we can't dial out; can't we have both?
Finally, users now have the option of running the derailleur housing on either the front or back of the handlebar a la all but the earliest versions of Campagnolo Ergopower.
Derailleurs, mechs, poe-TAY-toes, poe-TAH-toes, whatever you want to call them
Speaking of front derailleurs, the biggest change with Red is the new titanium cage which drops 30g as compared to Force. As with SRAM's other road groups, the Red derailleur can be used with both compact and standard cranksets and seemed to work equally well with both.
Sharp-eyed readers will note from the images that the trailing edge of the cage seems to arc away from the big ring… and you'd be correct. We were surprised at this, too, when SRAM road PR/media manager Michael Zellman swung through town to drop off our test kit back in November but he assured us that it was correct. More alarming, though, is the titanium cage's marked flexiness as compared to comparable steel cages. Cage flex is generally bad as far as front derailleurs go but in spite of that and the odd shape the bit works as intended, even under power. Go figure.
Out back, the rear derailleur remains functionally equivalent to Force (at least in terms of shifting) but drops 31g courtesy of a carbon fiber inner link and more dramatically relieved aluminum outer link. The newly included ceramic bearing-equipped pulleys, however, supposedly spin with less friction than before.
Drivetrain stuff
The other notable star of the group is the new OG-1090 'PowerDome' cassette which foregoes alternative materials in its quest for lighter weight in favor of a remarkably innovative construction technique. Save for the lockring and backing plate, the new cassette is made of good old-fashioned steel. Instead of usual stack-of-plates arrangement, though, the PowerDome cassette is essentially just a hollowed-out cone with teeth on the outside courtesy of the magic CNC milling machine. A thick aluminum backing plate seals it all up and transfers the power into the freehub body. Weight on our 11-26T sample was a superb 169g (the Force equivalent is 232g).
SRAM uses the same OpenGlide tooth profiling on the new cassette as in previous versions and shift quality was as we expected, which is to say excellent (though still not quite as smooth as Shimano). In theory, the PowerDome concept should yield a significantly stiffer cassette although we couldn't tell much of a difference given our meager bike journalist power outputs.
The idea of transferring that torque through a 3mm-thick aluminum plate has caused some concern amongst potential buyers, though. Contrary to popular expectations, we're happy to report that we noticed exactly zero galling (or scuffing for that matter) even on soft aluminum freehub bodies. As such, weight weenies out there will happily note that the unique cassette construction also means that there is now a whole lot of 'unnecessary' freehub body spline that you can happily grind away to your heart's content (Gunter, stop drooling). Not that we would ever dream of advocating such a practice, though...
There's no official word on whether or not SRAM will introduce the PowerDome concept on mountain bike cassettes but it seems like a no-brainer to us even with the seemingly diminished benefit of the additional surface area. Sure, there is the issue of mud and/or dirt clogging up the shallow channels in between the cogs but we'd imagine that machining deeper channels or adopting a more open-shelled structure might provide a solution but we'll leave it up to the SRAM engineers to figure that one out.
The new Red crankset shares the carbon-over-aluminum spine construction of Force but bears a sleeker (and slightly narrower) profile, a new unidirectional finish and standard ceramic bearings in the GXP bottom bracket. A new outer ring adopts a Dura-Ace-like near-solid architecture to improve stiffness (and thus, shift performance). As with Force and Rival, Red is offered in both standard and compact versions; arm lengths range from 165mm up to 180mm. Weight of our standard 172.5mm crankset drops to 639g without the accompanying bottom bracket.
Hold up
And finally we come to that unsung hero, the brake caliper. The new Red version is more aggressively machined than Force but only slightly lighter at 260g per pair (a modest 13g loss). The more heavily triangulated upper arm adds a bit of rigidity, though, and SRAM has finally managed to fit the Red calipers with proper spring tension and centering adjustments. The aluminum brake pad holders are milled out as well but more importantly, move the fixing bolts from the top to the sides for easier maintenance.
It'd be an utter lie if we said we could actually feel a difference in our hands on the road with the new calipers; we were quite satisfied with the performance of Force and these are certainly easily as good. However, the new adjustments make these far easier to live with than before so we'll consider the 13g weight loss a nice bonus.
Survey says…
Red is undoubtedly a marked improvement over Force: it's more ergonomic, it works better and it's lighter (by about 150g in all). From a purely functional perspective it's quite possibly the best out there at the moment and let's face it, some people are also drooling over the bold appearance. The professional ranks have embraced Red as well as it's now found on the bikes of Saunier Duval-Scott, Astana, Agritubel, Bissell and Kelly Benefit Strategies-Medifast among others.
Unfortunately, the group is also substantially more expensive at US$2142 for the complete package, setting it roughly 50 percent pricier than Force, well more than double the cost of Rival and more to the point, in excess of US$1 per gram. Is it worth it? That's a tougher question and not one we're going to attempt to answer for you.
We will say, however, that all of the Red bits are fully compatible with Force and Rival. Since the biggest gain comes with the DoubleTap levers, current Force or Rival users might consider just upgrading those to reap most of the benefits. If your tax rebate is burning a hole in your pocket, though, we're certainly not going to try to talk you out of it.
Weight: 1953g (complete group, including 172.5mm arms, 39/53T chainrings, braze-on front derailleur and 11-26T cassette)
Price: US$2142
Pros: Super short shift lever throws, big ring trim position, superb ergonomics, sub-2kg total weight, stock ceramic bearings, new cable routing option, available in standard or compact, bold graphics package
Cons: Expensive, no small ring trim position, bold graphics package
Cyclingnews rating:


More info: www.sram.com
Photography
For a thumbnail gallery of these images, click here
Images by James Huang/Cyclingnews.com