On test: Shimano SH-R300 road shoes, June 13, 2008
Custom-fit performance and comfort for the masses
Shimano's top-end SH-R300 road shoes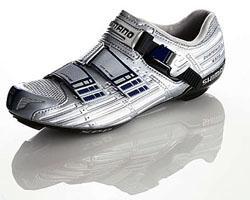 Custom-fit cycling footwear used to carry with them a hefty price tag and a long wait but the rising boom in heat-mouldable materials has changed the scene forever. Paul Verkuylen warms up the oven and checks out some top-end road shoes from Shimano.
Warm and toasty
Shimano's latest SH-R300 road shoes incorporate heat-mouldable materials throughout nearly the entire upper and even the insole for a quality of fit that approaches some of the best custom models. The vacuum-assisted fitting process does require a trip to a Shimano dealer for a proper fit but the results are well worthwhile as it yields a more even feel around the foot than more manual processes.
While we already found the shoes plenty comfortable straight out of the box during an initial five-week period, having them precisely formed around the anatomy of our feet took the level of fit from very good to sublime. In fact, the feel is almost akin to a Sidi but with more support. Riders with bony protrusions - or other slight anatomical 'features' - will also be happy to find that they're easily accommodated during the moulding process (as long as you're dealing with a competent fitter). Those with wider feet can tap into a generous range of E-width sizes, too.
Another vent is located towards the middle of the shoe.

Heat-mouldable materials throughout the upper

The moulding process is far from an at-home process
Special decals indicate when the shoes are ready

If this looks uncomfortable, that's because it is.

Shimano supplements the solid hold of the sock-like fit with its now-standard mix of a wide ratcheting main strap and two offset Velcro forefoot straps. Out back, a special 'cat's tongue' heel lining incorporates small metal fibers for an even more heel hold. When paired with the stiff and lightweight double-hollow carbon sole plate (which wraps partially around the heel), the result is a fantastically secure fitting shoe with excellent power transfer, limited heel lift on the upstroke and comfort that lasts straight through to the final 10km of a race.
Ventilation has also been well addressed on the R300: the heat-moldable materials in the upper are supplemented with other panels of synthetic leather and mesh while additional airflow is provided by vents located underneath and in front of the toes and beneath the arch. Even on longer rides through a hot Sydney summer, our feet remained as cool and comfortable as could be reasonably expected.
Toe jam
Gripes were few in number and relatively minor in impact. Although the R300 shoes offer a superb fit, all of that heat-moldable material adds up at the scale: our sz43 testers are 345g each (with insole), roughly 100g heavier apiece than the current crop of ultra-lightweight models out there. Granted, that extra heft also comes with a level of support and fit that many of those featherweights can't match but riders looking for every little advantage when heading uphill will still want to keep that in mind.
Speaking of fit, the broad main ratcheting strap works well at distributing pressure and with two thread holes provided, moving the buckle to accommodate riders with particularly narrow or low-volume feet is a cinch.
Finally, fitting cleats was a breeze although a little more fore-aft adjustment would have been handy; we had to jam the cleats all the way back in order to get our feet in the correct position. Those who ride with a cleat position far behind the ball of the foot may need to seek another option.
Two toes up
Small issues aside, the Shimano SH-R300 performed exceptionally well overall and easily rank as one of our top picks for a high-end road shoe. While not the lightest shoe around, the stylish and comfortable design coupled with the custom moldable upper and insole make for a complete package that leaves little to be desired otherwise. Add in Shimano's typically unerring dedication to quality and it's hard to go wrong here.
Price: US$349.99; AU$399
Weight: 345g per shoe (sz43, with insole)
Available sizes: Standard width: 36, 37-46.5 in half, 47, 48; E-width: 40-46.5 in half, 47, 48
Pros: Heat moldable upper and insole for custom-fit comfort, reasonable price for a high quality shoe, stiff sole and supportive heel cup, generous sizing range in the both length and width, typical Shimano quality
Cons: Non-adjustable main strap, a bit heavy for a top-end race shoe
Cyclingnews rating:


More information: www.shimano.com
Photography
For a thumbnail gallery of these images, click here
Images by Cyclingnews.com