On test: Redline Conquest Team, November 11, 2008
Race number not included
The reasonable price tag nonetheless includes a scandium alloy frame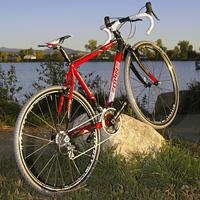 Cyclo-cross racing is taking various markets by storm but choosing from among the wealth of capable steeds is no easy task for those new to the scene. Cyclingnews technical editor James Huang samples Redline's top-end Conquest Team and finds it to be race-ready straight out of the box with still enough room left to grow as your skills (and wallet) allow.
Carbon fiber may have taken over the mid-to-high end segments of the road market but aluminum still packs a lot of punch for 'cross and few machines can match the complete package of Redline's flagship racer.
The double-butted scandium-enhanced aluminum frame weight of 1540g (actual weight, 52cm) won't set any hearts aflutter but it's still well within the ballpark for a competition-ready rig and a number of touches enhance its 'cross-specific appeal. The moderately oversized tubing uses fairly conservative wall thicknesses that are less likely to dent or crumple if things go awry on race day - something that is decidedly more common in 'cross - and the slightly ovalized top tube presents a decent amount of surface area for comfortable shouldering.
Ample mud clearance is provided by S-bend stays and a slim extruded aluminum driveside chain stay stub that also leaves enough room for aggressive single-ring drivetrain setups. Two-up/one-down cable routing keeps vulnerable mechanical bits out of the mud (and pointy bits away from soft body parts) while also eliminating the need for often-problematic front derailleur pulleys.
Up front, Redline has nixed last year's Ritchey WCS carbon 'cross fork in favor of a new all-carbon prong of its own design complete with substantially burlier dimensions for better steering and stouter braking performace. Even so, uncut weight drops from 450g to 430g.
Fitted with a superb mix of race-ready componentry, our complete tester weighs in at 8.43kg (18.58lb).
Workhorse frame, workhorse ride
The double-butted scandium frame

There's no carbon fiber to be found here;

As promised, the new Redline carbon fork

Even with 34mm tires there's a reasonable amount of room

The extruded driveside chain stay yoke

The head tube uses conventional headset cups.

Redline intends the Conquest Team as a race bike first and foremost and while there is enough versatility to expand its usage range to segments such as winter road training (there are fender eyelets front and rear), it's clearly happiest when throttled hard to the finish line.
Overall stiffness is very good with a firm pedaling platform that yields little when you need to close the gap and a front triangle that is noticeably devoid of twist as you sprint for the line. Likewise, the new fork is superbly rigid with none of the brake chatter usually associated with lightweight carbon 'cross forks.
However, the Conquest Team is also fairly rigid in the vertical plane where it arguably loses out to some more advanced (though typically more expensive) full-carbon models. Bumpier courses take their toll on the body more so than some other softer chassis we've sampled and the thicker tube walls don't yield a particularly lively ride feel, either.
The extra stiffness certainly pays dividends in terms of predictably, though, as the Conquest Team faithfully holds its line at higher speeds and on rougher ground. Add in the lower bottom bracket height and the slightly slack 71 degree head tube angle and result is a machine that tends more towards the stable than nimble end of the spectrum but power slides through loose corners like a teenager with a new Subaru WRX.
Outstanding spec
The frameset may be more workhorse than show horse but the exceptional spec makes it hard to notice as the value-laden US$2799 retail price nets what is surely one of the most comprehensive, 'cross appropriate, and best looking complete packages in the segment.
The Ritchey WCS Protocol clincher wheels are light enough at roughly 1600g per pair and wrapped in meaty 34mm-wide Hutchinson Bulldog tubeless-ready tires. After adding in some Stan's rim tape, valve stems and sealant, we regularly ran sub-40psi pressures without burping (don't try to go much lower, though) and enjoyed fantastic traction on a variety of surfaces with predictable drift characteristics, too.
The Ritchey name also graces the WCS seatpost, WCS 4-Axis stem and WCS Classic bar, all of which were made of reassuringly durable aluminum instead of more brittle carbon. We had no issues with the stem at all (and netted lots of favorable comments on the 'wet white' finish) but the cumbersome two-bolt seatpost head has to be tightly torqued to keep from slipping on remounts and we never really quite got on with the traditional bar bend.
Even the contact points are finished in matching white, red and black such as the wonderfully grippy (but hard to wrap) bar tape and lightweight San Marco Aspide saddle. However, while the latter provided excellent support during testing, the cover is arguably a little too grippy when trying to remount and the rather sharp corners and upswept tails don't help, either.
We have nothing but praise for the drivetrain whose Shimano Ultegra Dual Control levers, derailleurs and cassette offer near-Dura-Ace shift performance but with far more agreeable replacement costs. Likewise, though the FSA Energy crankset isn't as sexy as its more premium carbon cousins but the hollow-forged aluminum arms are lightweight and admirably rigid and the stock 36/46T chainrings match with the wide-range 12-27T cassette ratios for a fantastically versatile setup.
Redline certainly pulls no punches in the braking department, either, as it fits the Conquest Team with TRP's superb CR950 cantilevers. A popular choice with top pros, the CR950s provide outstanding power and modulation with their rigid carbon arms and they're also easy to live with with their fully adjustable pads and spring tension. Add in the stock supplemental top-mount brake levers and the combination is hard to beat.
Ready to run
All in all, the Redline Conquest Team presents a compelling turnkey 'cross racing package. Save for a few personal preference items and the requisite (but not included) tubeless conversion kit, the component selections are dead-on perfect for the application, the asking price offers tremendous value and hell, it even looks good.
While the frame isn't the lightest, stiffest or sweetest-riding around, it still bears the fruits of a company that has been in the 'cross game since 1994 and gets the job done with the utmost competence and with little drama. Add in a set of race wheels and you'll have few excuses for finishing second. If your primary concern is getting to the finish line, the Conquest Team should more than suffice.
Price: US$2799
Weight: 8.43kg (18.58lb) (complete bike as tested without pedals, 52cm size); 1540g (frame only); 340g (fork with uncut steerer)
Pros: Unbeatable component spec, workhorse frame, stable geometry, surprisingly broad 44-60cm size range, superb value
Cons: Scandium-enhanced aluminum frame could be lighter, tubeless conversion kit not included, saddle shape and handlebar bend might not suit all comers
Cyclingnews rating:


More information: www.redlinebikes.com
Photography
For a thumbnail gallery of these images, click here
Images by Marty Caivano
Images by James Huang/Cyclingnews.com
Frame: Redline Conquest Team, scandium double-butted alloy
Available sizes: 44, 48, 52 (tested), 54, 56, 58, 60cm
Fork: Redline Team Carbon
Headset: Ritchey Logic Pro
Stem: Ritchey WCS 4-Axis
Handlebars: Ritchey WCS Classic
Tape/grips: Velo perforated
Front brake: TRP CR950
Rear brake: TRP CR950
Brake levers: Shimano Ultegra STI Dual Control ST-6600 with Tektro RL720 top-mounts
Front derailleur: Shimano Ultegra FD-6600
Rear derailleur: Shimano Ultegra RD-6600-SS

Shift levers: Shimano Ultegra STI Dual Control ST-6600
Cassette: Shimano Ultegra CS-6600, 12-27T
Chain: KMC X10SL
Crankset: FSA Energy Compact, 36/46T
Bottom bracket: FSA MegaExo
Pedals: n/a
Wheelset: Ritchey WCS Protocol
Front tire: Hutchinson Bulldog, 700x34c, tubeless ready
Rear tire: Hutchinson Bulldog, 700x34c, tubeless ready
Saddle: Selle San Marco Aspide
Seat post: Ritchey WCS