On test: Pivot Cycles Mach 4, October 29, 2008
Stout enduro racer
The Pivot Cycles Mach 4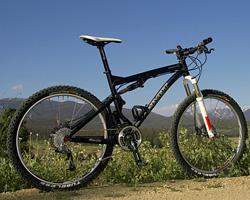 Cyclingnews technical editor James Huang builds up a Pivot Cycles Mach 4 and finds it to be a stiff, agile and bulletproof cross-country performer with excellent suspension manners … and perhaps in need of a modest diet.
Pivot Cycles' Mach 4 is somewhat of an odd beast on paper. While its short 100mm of rear wheel travel and quick cross-country geometry scream, 'race me!', its surprisingly weighty showing at the scale is more in keeping with longer-legged trail bikes.
Indeed, our medium-sized Mach 4 bare frame falls on the wrong side of the 2.8kg (6.2lb) mark (with shock, seat collar and derailleur hanger) but at least the extra mass has been put to good use as the triple-butted 6000-series aluminum frame is one of the stiffest short-travel platforms we've tested in recent memory regardless of material.
The bottom bracket area is particularly well bolstered being designed around Shimano's new press-fit bearing cups and wearing a healthy 90mm width as a result. Pivot takes full advantage of the extra real estate with a monstrously broad, ovalized and even slightly asymmetric down tube at one end and a unique wide-set split seat tube design that straddles the eight-bearing lower suspension link at the other.
The multi-shape top tube and internal-type head tube are similarly beefy in dimension and the oversized seat tube is even bolstered up top by a small cross member. Flex? Sorry, you won't find any here.
Our Mach 4 tester arrived as a bare frame so we built it up with an intelligent (and mostly familiar) mix of light-yet-durable components of our own choosing. Total weight came to 11.53kg (25.42lb), complete with a pair of Shimano XTR pedals.
Weight? What weight?
The upper link is carbon fiber

The Continental Mountain King 2.4

Easton's Monkeylite SL riser bar

The Hayes Stroker Carbon features a handy tool-free reach adjust dial.

As compared to earlier Hayes brakes,

Thankfully for Pivot, the Mach 4 nails just about every other performance metric though and it feels markedly lighter on the trail than its somewhat disappointing numbers would suggest.
The frame's bomber overall stiffness translates into nary a hint of out-of-plane movement when out of the saddle and pushing hard and both wheels stay faithfully in their intended direction even when pinballing through a field of boulders or flying across off-axis roots. Other 4" bikes are certainly lighter than the Mach 4 but few feel this solid and predictable underfoot.
Likewise, the Mach 4's dw-link rear end yields a surprisingly capable ascender with a firm and efficient overall feel. Lay down the power and the Pivot rewards you with very good overall response and the otherwise unflappable climbing performance is only slightly sullied by just a hint of feedback when climbing in the granny on technical terrain. Though we wouldn't say the Pivot is quite hardtail-quick when you drop the hammer, it's still one of the sprightlier full-suspension designs out there and we rarely felt the need to flick the ProPedal lever on the included Fox RP23 rear shock.
Bump performance was simply superb with well-tuned shock rates and excellent trail feel throughout the travel range that is neither too isolating nor too harsh provided you put in the necessary time to dial in the somewhat sensitive shock pressure. Small impacts are faithfully erased, bigger hits are swallowed up in a manner that belies the Mach 4's modest rear wheel travel, and square-edged impacts that can often disrupt lesser designs are competently evened out without impeding forward motion. Not to be overlooked, either, is the fact that the Pivot manages to do all this with utter silence.
If all of this makes the Mach 4 sound more like a short-travel trail bike, that's because that's pretty much what it is and also how we ended up using it most. In one instance in particular, we easily kept pace with (and even caught) an experienced riding partner who was on what should have been a much faster 6"-travel machine as we descended back to the vehicles coming out of Colorado's Kenosha Pass trail.
Even so, the Mach 4 is still a capable race rig as we discovered during the recent 24 Hours of Moab. Time lost on the climbs was due almost entirely to lack of fitness which we dutifully made up by bombing the technical and unrelentingly rocky descents, especially during night laps. We intentionally made no efforts to go easy on our tester during any of our four laps (sorry, Chris) yet the only maintenance required in between was some occasional chain lube.
In Pivot's defense, some of the Mach 4's heft is offset by its integrated componentry. The press-fit bottom bracket cups save a handful of grams as does the chain-tracking (and excellent shifting) direct mount front derailleur but still, the Mach 4 strikes us as a tad overbuilt and could stand to lose a good hunk of mass to make it a little more appealing.
Pivot has also introduced a new SL Carbon build kit which reportedly brings the total bike weight down to a much more race-ready and competitive 9.68kg (21.3lb) without pedals which is roughly in keeping with some of the latest and greatest carbon rigs out there. Even so, that complete bike also carries with it a hefty US$7695 price tag and it goes without saying that a lighter frame would bring the weight figure down even further.
Rough and tumble
Racers or climbing specialists looking to shave every last gram will undoubtedly scoff at the Mach 4's weight disadvantage over much of its 100mm-travel competition. However, the extra frame stiffness, vault-like feel and superb suspension that comes along with that extra weight also means that the Mach 4 can be pushed faster and harder through rougher terrain than we would typically expect of bikes in this category and we would also expect it to hold up better in the long run.
As such, riders that don't necessarily place weight at the top of their priority scale who are looking for something a little more substantial than your typical one-season race rig would be well served to pay the Pivot a closer look.
Price: US$1995 (frame, rear shock, press-fit bottom bracket)
Weight: 2.85kg (6.28lb) (medium frame with rear shock, seat collar and derailleur hanger)
Pros: Beefy chassis is stiffer and stouter than most 4" frames, intelligently integrated components, superb dw-link rear suspension
Cons: Frame could stand to lose a few grams, handling may be a bit too quick for some
Cyclingnews rating:


More information: www.pivotcycles.com
Photography
For a thumbnail gallery of these images, click here
Images by James Huang/Cyclingnews.com
Frame: Pivot Cycles Mach 4, triple-butted 6000 series aluminum, 100mm rear wheel travel
Available sizes: XXS, XS, S, M (tested), L, XL
Rear shock: Fox Racing Shox RP23
Fork: RockShox SID Team w/PushLoc remote, 100mm travel
Headset: Ritchey WCS Press-Fit
Stem: Easton EA90
Handlebars: Easton Monkeylite SL 31.8
Tape/grips: Ergon GX1
Front brake: Hayes Stroker Carbon, 160mm rotor
Rear brake: Hayes Stroker Carbon, 160mm rotor
Brake levers: Hayes Stroker Carbon
Front derailleur: Shimano XTR FD-M970E direct mount
Rear derailleur: SRAM X.0 long cage
Shift levers: SRAM X.0 trigger

Cassette: SRAM PG-990, 11-34T
Chain: SRAM PC-991
Crankset: FSA K-Force Light, 22/32/44T
Bottom bracket: Shimano press-fit
Pedals: Shimano XTR PD-M970
Wheelset: Specialized Roval Contrôle XC Race Disc
Front tire: Continental Mountain King UST, 26x2.4"
Rear tire: Continental Mountain King UST, 26x2.4"
Saddle: fi'zi:k Tundra Carbon
Seat post: Thomson Elite
Bottle cage: Arundel Dave-O