On Test: Museeuw MF-1, November 18, 2008
The Leeuw presents rigid flax comfort
The Museeuw MF-1
Photo ©: Ben Atkins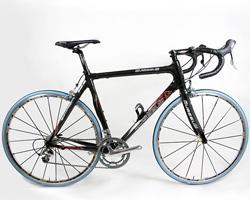 After turning out in Oudernaarde, Flanders in the middle of March to the launch of the 2008 range of Museeuw bikes we were really keen to get one home to see whether our excellent first impression over the Belgian cobbles would bear out over more everyday roads. Cyclingnews' Ben Atkins spends the best part of the summer with one and finds that there really is something to the unique flax/carbon blend.
Johan Museeuw set up his frame building company not long after he hung up his racing wheels for the last time in 2004 and while controversy and scandal may have blighted the end of his career, he is still a legend in his home region of Flanders. More importantly, with three victories each in the Ronde van Vlaanderen and Paris-Roubaix - plus a World Championship in 1996 - Museeuw knows cobbles better than nearly anyone and thus is rather uniquely suited to build bikes that can tackle them.
Huh? Flax?
Unlike most high-end frames currently on the market that use carbon fibres almost exclusively, Museeuw frames use a unique carbon/flax fibre blend. Yes, flax, as in the stuff they make linen out of. Already in use in the automotive industry, Museeuw claims flax fibre behaves much like carbon fibre but is far better at absorbing vibration without actually flexing or deforming. The obvious advantage to this is that it should be possible to build a frame that is as stiff as can be but still comfortable for the rider especially on rougher surfaces.
The carbon/flax seat tube
Photo ©: Ben Atkins

The MF-1 sits at the top of a three-model range anduses an aggressive 50/50 blend of high modulus carbon and flax fibres for the main tubes and included MF-9 fork. Carbon is used exclusively for the stays and lugs on our '08 tester but the seat stays have since been upgraded to a whopping 65 percent flax blend for '09 while the flax content in the fork has dropped a bit to 42 percent.
Tube profiles throughout have been shaped to make the whole package as stiff as possible in every direction. Since Museeuw is relying on the flax fibre's inherent characteristics - not the tube shapes - to provide rider comfort, very little has been done to build vertical compliance into the geometry.
To this end the oversize down tube has a teardrop profile at the head tube and changes to a diamond profile where it meets the large bottom bracket lug. The top tube also has a teardrop profile - with its wider side to the top - but maintains it all the way back to the seat tube. While it tapers slightly, it never becomes as slim as some frames on the market where top tubes are deliberately flat or narrow to allow for slight flexing to absorb vibrations.
Both the seat stays and fork both have a slight hourglass shape - often used for softening bumps in the road - but this is the only concession to anything other than stiffness in the entire package. To all appearances this ought to be a firm and unforgiving ride…
From Flanders to England
The large down tube
Photo ©: Ben Atkins

From the very start the MF-1 confirmed our first impressions from our short Belgian test in the spring; the stiffness that refused to give as we climbed the steep slopes of the Koppenberg and the comfort that eased the sting of the cobbles translated well to the rough roads and hills of southern England.
In long rides and short rides alike the MF-1 proved to be on par with some of the best race frames we've experienced with snappy reflexes, capable handling and a solid chassis. As is usually the case with higher-end rigid machines, there was little wasted energy on sprints and climbs alike and virtually no discernable lateral flex.
However, there was also no discernable vertical flex, either, and at no point was there any indication that the rear end was at all soft or forgiving. By conventional wisdom the MF-1 ought to be a harsh ride as a result but it just… isn't.
The drivetrain on our MF-1
Photo ©: Ben Atkins

We intentionally hit some of the roughest roads that we could find (and literally 'hit' a wide variety of obstacles - sorry, Johan), and despite being very rigid and responsive at all times the MF-1's comfort levels were always uncannily and exceptionally high.
This was an obvious bonus on shorter rides but the energy savings from the smoother ride could really be felt towards the end of longer excursions as our legs - and the rest of our bodies - felt noticeably fresher than some full-on race rigs we've sampled in the past. The fact that this damping was provided by the frame's fibres rather than any built-in tube flex also meant that the MF-1 could be relied upon to lay that saved energy down on the road on that final climb or sprint.
Comfort-oriented frames made of more 'conventional' materials (such as steel, titanium, aluminium, and carbon) almost always carry with them a certain amount of noticeable vertical compliance. The sensation is akin to suspension but can sometimes also make a frame feel dead and unresponsive.
The MF-1, on the other hand, never actually feels like it's damped at all and that's the strange thing about it: you're on a stiff, responsive carbon bike (though probably not as stiff as something like a Scott or any one of a number of German brands), but one that doesn't kill you nor ever lets on about its bump-smoothing backbone.
What a build up…
Ultegra Dual Control levers
Photo ©: Ben Atkins

Our test bike was built up with a complete Shimano Ultegra groupset including a standard 53/39T chainset paired with an 11-23T cassette. At the time Museeuw sent us the bike they were still in negotiations with a wheel supplier - as well as developing its own carbon/flax hoops - and so unfortunately it came without. No matter, we simply attached our reference set of Mavic R-SYS wheels which we would have done for a large part of the test anyway.
The finishing kit was mostly provided by relative Belgian component newcomer SX-Force whose badging appeared on the carbon bars and stem, saddle and single bottle cage. The whole package came through at a not-particularly-flighty-but-not-too-bad-either 7.56kg (16.7lb) without pedals.
As we've come to expect, the Ultegra parts offered a near-Dura-Ace experience in terms of function and feel with spot-on braking and shifting that stayed consistent throughout the test period. Even so, Shimano's second-tier package accounted for 300g over Dura-Ace (and more over some others), which was almost half the pre-pedal weight that the bike had over the UCI's minimum limit.
Likewise, we had no cause to complain about any of the SX-Force bits but the no-frills appearance and rather generic feel were a little on the utilitarian side for our tastes and we couldn't help but wonder about their relatively unproven reliability record.
Overall, our general impression is that while all of the included componentry worked well enough the exceptional frame somehow deserved better.
Worth more than its weight in flax
The SX-Force saddle was comfortable
Photo ©: Ben Atkins

Once you get over the unconventional material, the Museeuw MF-1 is quite simply one of the best frames we've tested in quite a while. Despite the slightly disappointing component setup, the frame itself managed to shine through and performed outstandingly.
This long term test was a little longer than we expected (though we're not complaining) but only served to confirm the excellent first impression that we got from our visit to Belgium earlier in the year. Somehow, the material characteristics of the flax fibres serve to simultaneously make the MF-1 a super stiff frame yet also one of the most comfortable with race bike handling and feel to boot.
Though the price tag is steep, the performance is undeniable and the cost will also bring with it a certain level of exclusivity as well as the kudos of the name of the greatest classics rider of his generation. If all of those things appeal to you and you have the wallet to back up the desire, there are some cobbles in Belgium that are waiting for you.
Price: US$6500, £2999 (frame, fork and seatpost)
Weight: 7.56kg (16.67lbs) (as built, large frame)
Pros: Magic ride quality is stiff like a race frame but smooth like a comfort frame
Cons: Not as light as some, expensive
Cyclingnews rating:


More info: www.museeuwbikes.be
Photography
For a thumbnail gallery of these images, click here
Images by Ben Atkins/Cyclingnews.com
Frame: Museeuw MF-1 Carbon Flax Hybrid
Available sizes: XS, S, M, ML, L (as tested), XL, XXL
Fork: Museeuw MF-9 Carbon Flax
Headset: FRM "Museeuw" I-Set
Stem: SX Force carbon
Handlebars: SX Force carbon
Tape/grips: Pro-Lite with "Museeuw" embossing
Front brake: Shimano Ultegra BR-6600
Rear brake: Shimano Ultegra BR-6600
Brake levers: Shimano Ultegra STI Dual Control ST-6600
Front derailleur: Shimano Ultegra FD-6600-F
Rear derailleur: Shimano Ultegra RD-6600-SS
Shift levers: Shimano Ultegra STI Dual Control ST-6600

Cassette: Shimano Ultegra CS-6600, 12-23T
Chain: Shimano Ultegra CN-6600
Crankset: Shimano Ultegra FC-6600, 53/39T
Bottom bracket: Shimano Ultegra SM-FC6600
Pedals: n/a
Wheelset: Mavic R-SYS (Cyclingnews' own)
Front tire: Michelin Pro2 Light 700x23c (Cyclingnews' own)
Rear tire: Michelin Pro2 Light 700x23c (Cyclingnews' own)
Saddle: SX Force
Seat post: Museeuw Carbon
Bottle Cage: SX Force Carbon
Bike Weight: 7.56kg (16.67lb) without pedals