On Test: Jamis Supernova, January 25, 2008
Jamis' high-end 'cross machine gets facelift
Jamis enters the higher-end 'cross bike scene
Photo ©: Mark Zalewski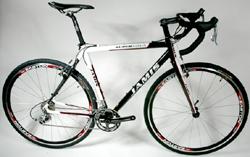 Jamis has been making bikes for more than a few years, including its Nova Pro model that was initially more of an all-arounder than a dedicated race machine. But now that 'cross has taken off in a big way in North America, the need for race-ready models in the line has also increased. Enter Jamis' updated Supernova that incorporates upgrades to the frame's tubing as well as the components. Cyclingnews' Mark Zalewski gives the new Supernova due diligence for a season at the local 'cross races and comes out smiling.
The popularity of cyclo-cross in the United States has finally begun to catch up with Europe and with it has come an increase in the number and variety of 'cross bikes available. Last year's Interbike trade show arguably offered more 'cross frames and complete bikes than every before, plus companies were positioning them more prominently than in years past. One of those companies is Jamis who has entered the higher-end 'cross market with its race-ready Supernova.
"We wanted it to be an elite competition level bike," said Jamis Product Manager Steven Fairchild. "There is a bike below it, the Nova Pro, that has a lot of the design but it's essentially entry-level. But the Supernova has Kinesium tubing which is stronger than conventional tubing so you can build a lighter frame. It's 1600 grams with the carbon rear, which is pretty light for a mostly aluminium frame."
Jesse Anthony puts his Jamis Supernova to the test
Photo ©: Dave McElwaine

A flattened top tube
Photo ©: Mark Zalewski

Carbon fiber seat stays
Photo ©: Mark Zalewski

Clean cable routing
Photo ©: Mark Zalewski

The bridgeless chain stays
Photo ©: Mark Zalewski

The solid build spec
Photo ©: Mark Zalewski
KORE's Kross Race cantilevers
Photo ©: Mark Zalewski

The FSA Gossamer crank
Photo ©: Mark Zalewski

Jamis was also motivated to develop the Supernova due to its sponsorship of American professional Jesse Anthony. Anthony has been riding the frame throughout the 2007-08 season and providing valuable feedback to Jamis' design team who will reportedly integrate those suggestions into future models. Fairchild said that the relationship with Anthony is already paying dividends with mid-season feedback. "We got some good feedback from Jesse and we are already incorporating those into the next model design. We are also trying to get the frame below 1500 grams and we are moving towards it. But he was pleased with the geometry and the ride quality."
"The ride quality is very solid," confirmed Anthony. "The carbon rear end helped this. I used to ride a full aluminum [frame] but the rear triangle gave it a nice punch."
Anthony also added that the look of the bike is a feature he hears about a lot. "It's also nice looking -- I got a ton of comments about how sharp the paint job looked. A very clean design!"
Out of the box
It's hard to argue with Anthony's description of the bike's aesthetics as the balance of white and black with minimalist red highlights gives the frame a striking look. The painted-to-match Easton EC90X full carbon 'cross fork is also a nice touch and its graphics neatly line up with those on the head tube for an integrated and pro-quality look.
Jamis says that Anthony uses a stock Supernova frame but his other sponsorship arrangements result in a slightly different spec from what's listed in the company catalog. The consumer version is fitted with a SRAM Rival group instead of the top-end Red and an Easton Vista SL wheelset in lieu of Anthony's Mavic Ksyrium ES hoops (although both are fitted with Vittoria rubber). Other deviations include KORE Kross Team cantilever brakes, a Selle San Marco Ponza saddle, and a Ritchey seatpost, bar, and stem. Jamis wisely fits the FSA Gossamer compact crank with more 'cross-friendly 36/46T chainrings.
The Kinesium tubing used on the Supernova is a significant update over the Nova Pro. Its claimed 15-30% strength advantage and improved fatigue properties over more commonplace aluminum alloys means less material can be used without sacrificing durability, while better elongation properties yield even more weight savings by allowing for thinner tube walls. The carbon seat stays likely add a bit of weight relative to a full-Kinesium frame but carbon's superior damping properties still make it a wise choice to take the edge off of rough 'cross courses.
Thoughtful frame details include a flattened section on the bottom of the top tube for more comfortable shouldering, although it could be argued that it should be moved more towards the head tube where 'crossers actually carry their bikes. Top tube routing keeps the cables at least partially protected from mud and the rear brake housing stop is neatly integrated into the seat post clamp.
On the road, er... mud
The initial test run was a quick spin around the local park, garnering odd stares from the kids and parents on the playground. "Mommy, he can't ride a bike there!" Oh, but this bike can. What was supposed to be a reasonably easy 'let's get to know each other' introduction quickly turned into a full-on training ride. Even though our 54cm tester was a bit smaller than what I usually ride, I had little problem adjusting.
Part of that first spin also included a foray on to a vacant baseball diamond to briefly check out the Supernova's handling in loose terrain. Thankfully, I immediately felt at home with the bike's behaviour and it responded to minute adjustments without hesitation. Some thanks here should go to the Vittoria Cross XG tires, which were aggressive enough to handle the rougher stuff while not overly hindering performance on pavement.
Naturally, we eventually headed out to the local 'cross races where the Supernova's sharp appearance actually did turn some heads and draw some comments, much like Anthony said it would (sadly it was not because of my 'cross racing abilities). Handling was pleasingly nimble and the carbon rear triangle did its part in absorbing vibrations on the bumps.
The strength and relative rigidity of the Kinesium frame was readily apparent -- both in terms of hard handling situations and from dropping it after clearing a barrier. Whoops! While a complete carbon fiber frame would likely be lighter (and probably stiffer where you want it to be), cyclo-cross' inherently abusive nature can make it a risky investment. Since most of us do not have a line-up of bikes in the pit (or any bikes in the pit for that matter), the one you buy is often the only one you've got so it needs to last.
Anthony echoed this sentiment as well. "It is relatively light weight, not the lightest. But that is the thing -- I always felt really planted on it. I crashed plenty of times and I never felt worried about it. I hit it hard a few times in Kansas City and it went really through the wringer."
Mounts and dismounts were actually eased somewhat by the more compact dimensions of my slightly small frame and the flattened top tube felt comfortable on the shoulder. However, this is where the marginally extra weight of the bike became more noticeable. Longer running sections, such as steep run-ups, did take some extra effort. While we're nitpicking, I also found that the bottle cage bolts were a little uncomfortable when putting my arm through the entire frame and I promptly removed them. Bottle cages aren't needed on a frame made for elite competition anyway, though having the option understandably expands its versatility and market appeal.
The unseasonably mild fall unfortunately didn't offer too much opportunity to test the bike's mud-clearing ability and once the weather did turn bad, it was so cold that the ground quickly froze. During our limited muddy outings, though, the clearances around the fork crown and both seat- and chain stays seemed ample enough. Moreover, watching Anthony compete in horrendous conditions at this year's US 'cross nationals confirmed that this bike can handle the worst Mother Nature has to offer.
A super Supernova
Jamis' use of light-but-durable Kinesium tubing, comfort and traction enhancing carbon fiber seat stays, and an intelligent component spec make this a solid race machine for those either entering 'cross as an experienced road racer or for someone who is just plain hard on his or her frames. The bike could admittedly be a little bit lighter, but at just US$1,850 the Supernova offers an awful lot of high-performance bang for your buck and that reasonable price tag might even leave some money left over for upgrades. Did I hear someone say 'race wheels'?
Price: US$1850
Weight: 8.2kg (18.0lb) (54cm)
Pros: Reasonably light but durable frame, great looking, smart component picks, excellent value
Cons: A little portly for carrying
Cyclingnews rating:

Photography
For a thumbnail gallery of these images, click here
Images by Dave McElwaine/www.trailwatch.net
Images by Mark Zalewski/Cyclingnews.com
Full specification: Jamis Supernova
Frame: Jamis Supernova, triple-butted Kinesium main frame, butted chain stays, carbon fiber seat stays
Available sizes: 49, 53, 54 (tested), 56, 58, 61cm
Fork: Easton EC90X CNT full carbon monocoque
Headset: Cane Creek integrated with integrated housing stop
Stem: Ritchey Pro Road 31.8mm
Handlebars: Ritchey Pro Road 31.8mm
Tape/grips: Jamis gel tape
Front brake: KORE Kross Race
Rear brake: KORE Kross Race
Brake levers: SRAM Rival DoubleTap
Front derailleur: SRAM Rival
Rear derailleur: SRAM Rival

Shift levers: SRAM Rival DoubleTap
Cassette: Shimano 105 CS-5600, 12-27T
Chain: SRAM PC-1050
Crankset: FSA Gossamer Cross Compact, 36/46T
Bottom bracket: FSA MegaExo
Pedals: n/a
Wheelset: Easton Vista SL
Front tire: Vittoria Cross XG, 700 x 32c
Rear tire: Vittoria Cross XG, 700 x 32c
Saddle: Selle San Marco Ponza
Seat post: Ritchey Pro Road