On test: HED Ardennes, August 21, 2008
Wider is better
The HED Ardennes is without doubt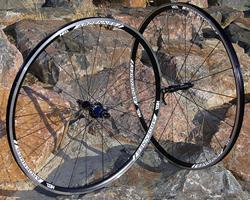 HED has long been synonymous with its rarely beaten (and seemingly eternal) three-spoke aero wheel but Steve Hed is now looking beyond aerodynamics for his new aluminum clincher wheelset, the Andennes. Chris Davidson puts this new design through its paces and comes out smiling.
HED has taken a unique approach with its new Ardennes aluminum clincher wheels, fitting them with an unusually spacious 23mm-wide rim shape it calls 'C2'. There are some lofty claims for this wider profile: improved aerodynamics, lower rolling resistance and a ride quality that can supposedly go toe-to-toe with tubulars.
Huh? How can something bigger and bulkier be better and faster?
The details
HED claims the C2 rim shape allows typical 23mm-wide tires to spread out more, thus producing a wider contact patch, reducing sidewall flex, and yielding a more aerodynamic shape to the passing air as the cross-section is now more akin to an airfoil instead of an incandescent light bulb. In addition, the wider base also effectively increases the tire's interior volume.
The 24mm-deep and 23.4mm-wide (outside-to-outside) C2 rim extrusion is noticeably bigger than most road rims; in fact, they're so wide that they could easily pass for 29er mountain bike rims. For the sake of comparison, a DT Swiss RR 1.1 measures just 19.5mm, the Shimano R600 is 21.4mm, and Mavic's Open Pro falls neatly in between at 20.1mm.
The key to the Ardennes' performance

The C2 rim lets typical 23mm-wide tires

The Ardennes is equipped with HED's own Sonic hubs

…and svelte rear.

HED offers a ceramic upgrade for the Ardennes

Although the rim is clearly bigger, the complete wheelset is anything but bulky: HED's claimed weight of just 1361g (591g/770g front/rear) is about 120g lighter than Mavic's Ksyrium SL Premium and nearly 200g lighter than the Bontrager Race X Lite. Even better, our actual weights undercut official claims at 588g and 757g, with the skewers adding another 104g to the total. If nothing else, it's refreshing when a company is conservative (or at least accurate) on its published figures of targeted lightweight wheels.
HED hits those impressive numbers with a welded and machined scandium-enhanced aluminum rim extrusion, 18/24 Sapim CX-ray spokes (straight-pull radial front, radial/2x straight-pull/J-bend rear), alloy hex head nipples, and HED's own Sonic hubs which have been updated with larger sealed cartridge bearings (2-bearing front, 4 bearing rear) and stiffer axles than previous versions. The hubs themselves are also quite svelte, with a claimed weight of just 72g front and 210g rear.
Each HED wheelset is also fully hand-built and numbered: based on the individual rim labels, 'Reed' apparently built our test wheels in Minnesota less than a month before they arrived back in May.
The results
Based on HED's recommendations and a few quick test rides, we ultimately settled on 85-90psi for the first round of testing with Vittoria's Open Pave open tubulars. At 1.83m tall and 73kg (6' 0", 160lb), that pressure may seem unnervingly low but we found it to provide the best balance of feel, rolling resistance and comfort. On the contrary, the additional casing support provided by the broader C2 rim soundly squelches any anticipated sidewall flex and there's no sense of sluggishness at all.
In fact, not only did the setup feel fast but the overall grip from the larger contact patch was simply amazing. We had a 'glued to the ground feel' on paved roads and loose dirt alike and had an enhanced confidence when descending and cornering, knowing we were stuck to the road more securely than our riding partners. In addition, we were overwhelmed with how smooth and comfortable the ride was at that pressure, especially after one particular ride that spanned over six hours in the saddle. .
We had a similar experience with a set of more conventional 120 TPI Kenda tires that we thoroughly throttled during a local crit series. Even though its less pliable vulcanized casing meant the gains weren't quite as dramatic, we still got a more comfortable ride, a surprisingly fast roll and, most importantly given the situation at hand, increased confidence in the cornering grip. With either tire though, we didn't feel any increased risk of pinch flats and never suffered from one throughout testing.
The Ardennes' performance advantages aren't solely limited to the C2 rim though. According to Dino Edin of HED, the company really tightened up the tolerances on the bearing bores in the hubs and the axle diameters in an attempt to optimize the bearing loading. The result is some of the smoothest rolling wheels we have ever observed, ceramic or otherwise (free-spinning time on a repair stand was measured in minutes, not seconds). HED does offer a ceramic bearing upgrade but the stock stainless steel bearings in the Sonic hubs are so amazingly good that we truly wonder if it would make any perceptible difference in the real world.
Lastly, while the C2 rim clearly has much to offer its wider dimension could potentially create some problems in competition. We had to set our brakes much wider to accommodate the Ardennes and even had to reset the pad angle for proper contact. This is a non-issue for riders who don't regularly swap wheels but it's absolutely something to keep in mind if you're in a race and have to use a neutral wheel after a flat. The width difference is so substantial that huge barrel adjustments would be required to get any braking power on the narrower rim.
The conclusion
When we think of the lure of tubulars, we think of their light weight, the great cornering grip and the smooth road feel that they provide. Thanks to its decidedly unconventional design, the Ardennes manages hit on all these areas, even with tires that we normally use for training and without any of the usual hassles associated with tubulars.
While we don't have any independent scientific data to verify HED's claims of improved aerodynamics and lower rolling resistance, we can comfortably say that they don't feel any slower yet offer a much-improved ride quality, a smoother feel overall and vastly improved grip. At under 1400g a pair, they are also some of the lightest non-carbon clinchers we've encountered.
Simply put, these are the best-feeling clinchers we have ever ridden and we see no reason why their sublime qualities should be limited solely to competition use. Use them for training, use them for climbing, use them for race day… but just use them. They're that good.
Price: US$1,000
Weight: 1345g per pair (588g/757g front/rear plus 104g for skewers)
Pros: Light, great road feel, killer grip, smooth, no more gluing
Cons: Probably not as aero as a deeper-section rim, tubulars are still lighter, wider rims may be problematic when using neutral support
Cyclingnews rating:


More info: www.hedcycling.com
Photography
For a thumbnail gallery of these images, click here
Images by James Huang/Cyclingnews.com